A few weeks back I asked for recommendations on a small bag suitable to carry my Olympus Micro Four Thirds kit, consisting of an E-M10 Mark II and four lenses.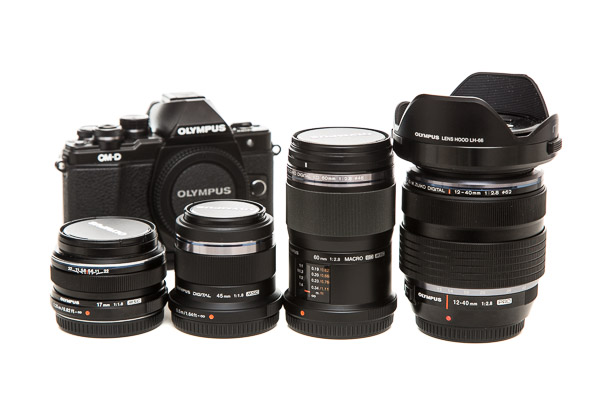 While I received various recommendations on bags, none of them really appealed to me. Someone responded to me with some lens pouches, which I did also order, but will discuss later (perhaps in another post).
So I decided to risk getting the Think Tank Photo Mirrorless Mover 25i. I have used Think Tank Photo products in the past, and still own a TTP Streetwalker Pro backpack and a TTP Airport Navigator rolling bag, so I had no doubts of the build quality of the Mirrorless Mover 25i. My one concern was whether or not it would fit my needs in a small, lightweight, but protective bag that is properly sized internally to correctly hold the small Micro Four Thirds equipment.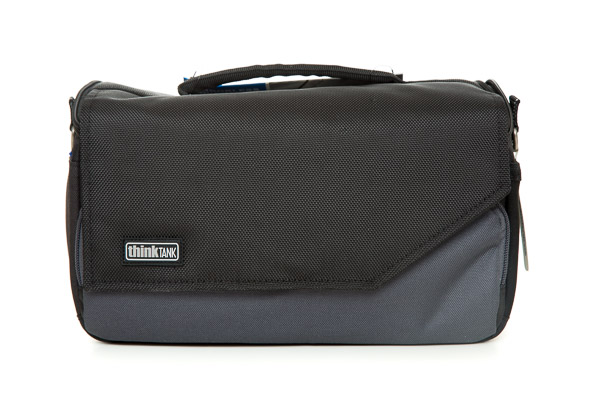 The Mirrorless Mover 25i has a main compartment that is sealed with a zipper. The top flap that covers the main compartment also covers a front zippered accessory compartment.
The top flap itself has a small zippered pocket which can hold other loose items.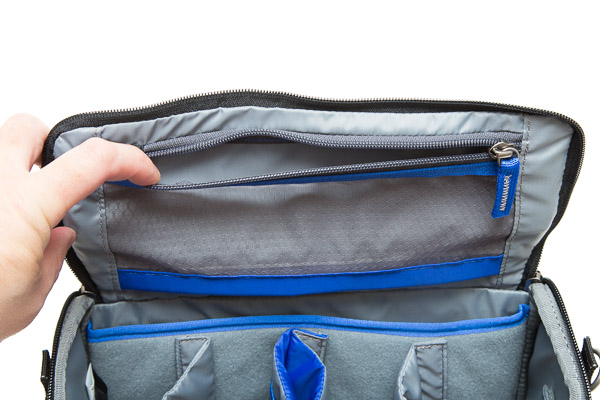 The main compartment comes with three big dividers and a half sized divider. One of the full sized dividers is also has a small pocket to hold flat items (e.g. smart phone, batteries, etc).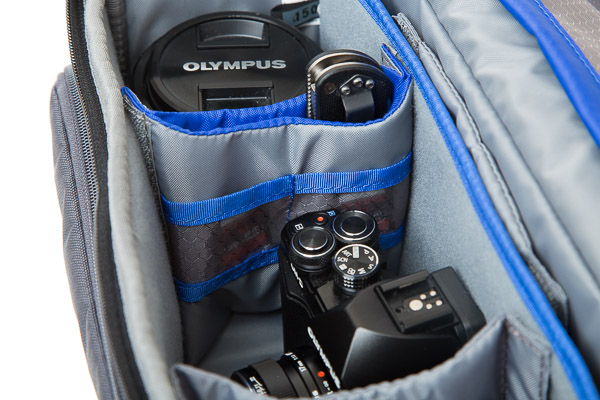 The small front compartment contains two individual pockets which can also hold some flat and/or small items (e.g. memory cards, batteries, small hand tools), and also contains the included rain cover.
While the top cover of the bag zippers closed to seal off the main compartment, the top cover's flap still flips up to allow access to the small front compartment. This flap actually has magnets sewn into it, which align with magnets sewn into the front of the bag.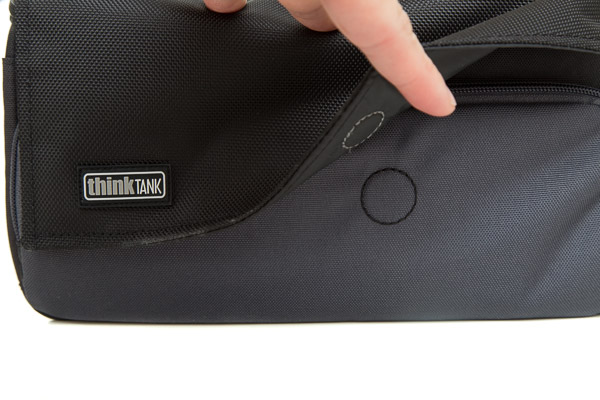 What makes standard photo bags less than optimal when it comes to Micro Four Thirds cameras is the fact that the bags are too tall, and the divided sections or compartments are too big for the small form factor of MFT lenses. I didn't want a bag that was unnecessarily tall, which would mean a large bag with wasted internal space.
Thankfully, the Think Tank Photo is not as tall as a typical messenger style photo bag. The Mirrorless Mover 25i is appropriately sized for a Micro Four Thirds kit such as mine, so it is not bulkier than it needs to be. The next two photos are a side by side comparison of the Mirrorless Mover 25i and a Tenba Messenger Mini.
For my one camera, four lens setup, the Mirrorless Mover 25i seems to be quite ideal, and I have a lot of flexibility with regards to carry configuration depending on what lens is mounted on the body at the given moment in time.
So with all the features laid out, what are my overall opinions of the Think Tank Photo Mirrorless Mover 25i?
The size and dimensions of the bag itself, and the divider set are what I was hoping for in a mirrorless camera bag. Again, the reason why I wanted a bag designed specifically for mirrorless is for size and form factor, and the Mirrorless Mover 25i fits the bill.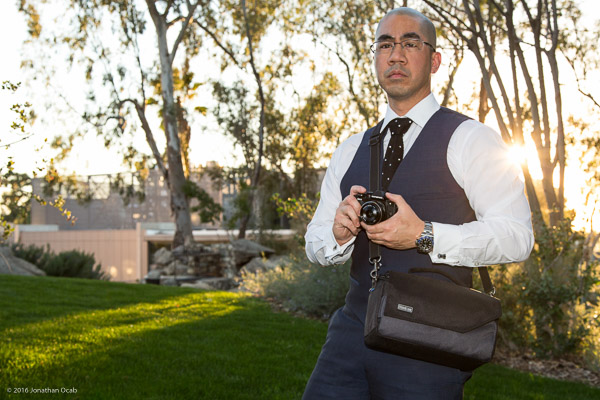 The overall build quality of the Think Tank Photo Mirrorless Mover 25i is solid. Stitching is excellent and the structure of the bag itself feels sturdy enough to handle the gear placed in it.
The dividers provide enough flexibility to accommodate my kit, and should be able to handle one more small lens if I were to expand my kit further (e.g. Olympus 75mm f/1.8).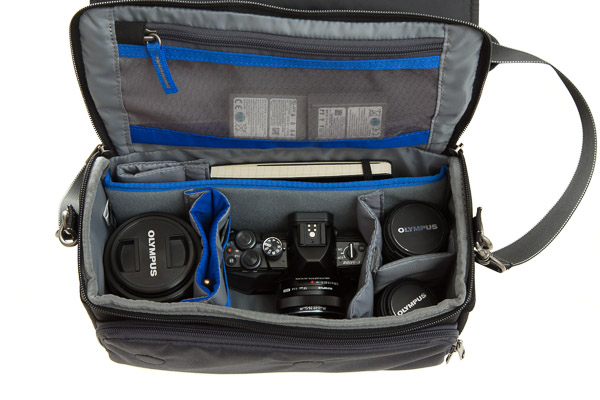 The front pocket is a nice addition, but I don't anticipate storing much in there due to the fairly small storage space. The internal top flap zipper pocket is a nice addition to help make use of the dead space that exists above the dividers in the main compartment.
As far as the magnet closure, while an interesting design feature, I'm not a huge fan of using magnets in a photo bag, especially when you might want to put in a small USB hard drive in the bag. Also, since I wear mechanical watches, placing my hand against the bag while walking with the bag around my neck is something I need to be aware of.
The iPad Mini slot in the main compartment didn't factor into my buying decision since I don't own an iPad Mini. Though, it is a nice place to store a small notebook (e.g. Moleskine) or some smaller documents.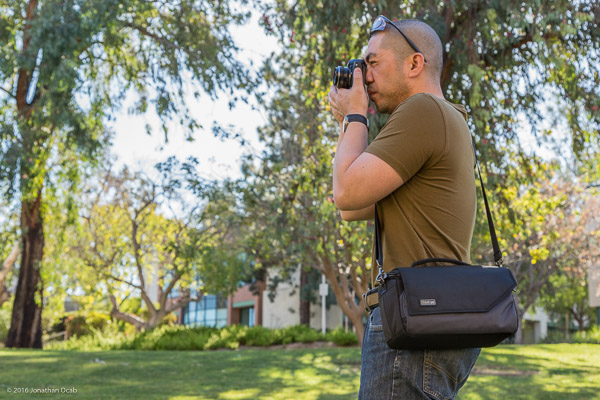 I do wish the strap were wider (and perhaps thicker). Think Tank Photo used a 1″ wide strap and a fairly thin shoulder pad. Even though the bag itself is supposed to be for a lightweight kit, having a wider (1.5″) strap with an respectively wider shoulder pad would have been a nice touch for comfort and stability if carrying the bag for a long period. The strap is on a quick release hook at both points, so I am actually going to swap it out for some other strap (e.g. I have some unused two-point rifle slings that might work).
But when it's all said and done, I highly recommend the Think Tank Photo Mirrorless Mover 25i if you have a mirrorless camera kit similar in size to mine. The bag is about as good as it gets as far as being sized just enough for my gear, and keeping the overall size of the bag as minimal as possible.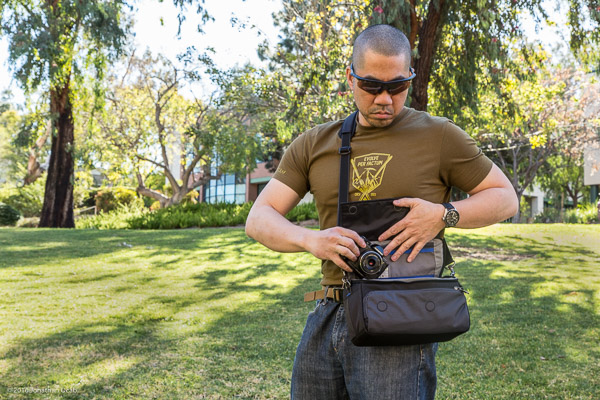 Not to mention, the Think Tank Photo Mirrorless Mover 25i is moderately priced at $65 USD MSRP, so it is a bag that should fit most budgets.