After the crown on my Hamilton Khaki Field Automatic H70685313 came off (and am still trying to get fixed under warranty) last week, I realized I don't have another 'field' watch or 'beater'. Something that I can wear to the shooting range or while doing some physical work that could put a beating on my timepiece.
So I decided to go low cost and get a Casio G-Shock.
I was in Macy's last weekend and the only G-Shock that appealed to me was the GW2310FB-1. It caught my eye simply because of it's very 'stealthy' look. It's dubbed the 'Blackout' due to the subdued nature of the watch dial/face, case, and digital readout.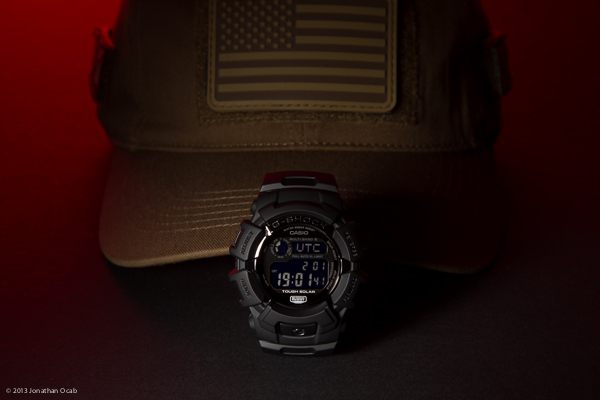 Incidentally, I was browsing G-Shock watches on the Casio G-Shock website a few months ago, and became aware of both the atomic synchronization and solar battery features offered on some G-Shock models. The GW2310FB-1 actually features both of these options since it is part of Casio's "Tough Solar" line of G-Shock watches.
The atomic synchronization is great since I don't need to ever set the watch manually. The GW2310FB-1 has automatic and manual syncing features, but I never got the manual sync to work. Every time I initiate the atomic GET, it errors out. But when I check when the last time the atomic sync took place, the watch did it on it's own in the middle of the night (typically just after midnight local time; the watch automatically syncs between midnight and 0500 for Pacific according to the manual).
Note: When you put the watch away at night and want it to sync to the NIST signal from radio station in Colorado, you should place the watch near a window facing in the direction of Colorado. Since I'm California, I place the watch near a window facing East when I want the time to sync.
Another feature of the GW2310FB-1 I appreciate is that it can display GMT/UTC/zulu time simultaneously with local time.
Anyway, this is my new field watch. It was $150 retail and rung up less than that after a Macy's coupon and taxes. Not much else to say about it except that it should take a lot of punishment and I won't care if I put beating on it.