Last month I blogged about my trip to the OMEGA Boutique at the Beverly Center in Los Angeles to preview the 2014 Basel releases. In that visit, I discovered that the OMEGA Boutiques are going to start offering in-store service for basic work including pressure testing, rate testing, and even regulation. The kicker: There is no cost for to get a watch checked and regulated.
When I found out about this program that night, I was wishing that I had my OMEGA Seamaster Pro 300M 2220.80.00 with me at the time, because I felt like it was running too fast (+10 sec a day). The technician told me to come back again and with the watch and he would be happy to look at my Seamaster Pro.
So today, I did a brisk drive out to LA on Saturday morning and brought my 2220.80.00 me. Jeffrey Pietz, the current technician assigned to the OMEGA Boutique at the Beverly Center did the initial rate check and found it running +7.1 sec per day (average).
It's important to note that the rate testing done in-store is only a sampling. Watch rate can vary slightly if it is fully wound vs partial wound vs only a little energy left in the mainspring.
The amplitude was running at 269 degrees (average). The technician said he could try to get it as close to zero as possible, since that was what I was hoping for. In order to perform the regulation, it needed to pass a pressure test. This is the one requirement / caveat to the no-cost basic service check in the OMEGA Boutique. If the watch fails the pressure test, the technician will have to recommend that the owner send the watch to get actually serviced (e.g. Swatch service center for full service breakdown, including movement disassembly, replaced parts, new seals, etc).
Fortunately, the seals in my 2220.80.00 were still good so the technician was able to continue with the regulation. About a half hour later and some brisk shopping at a few other stores in the Beverly Center, my Seamaster Pro 300M was regulated.
The technician was able to get it to an average of +0.7 seconds per day with the following position rate averages:
Dial up: -4.2 sec per day
Dial down: +0.7 sec per day
9 o'clock up (crown down): +3.7 sec per day
6 o'clock up: +1.8 sec per day
3 o'clock up (crown up): +1.4 sec per day
It's interesting that dial up measured -4.2 sec per day after the regulation considering dial up before regulation was +6.2 sec per day which was only 1.8 sec under the 6 o'clock up, which measured +8.0 sec per day. The greatest deviation is now 7.9 sec vs 1.8 sec prior. Not sure what to think of that.
But for now, I'm going to test it out and see how it behaves after regulation.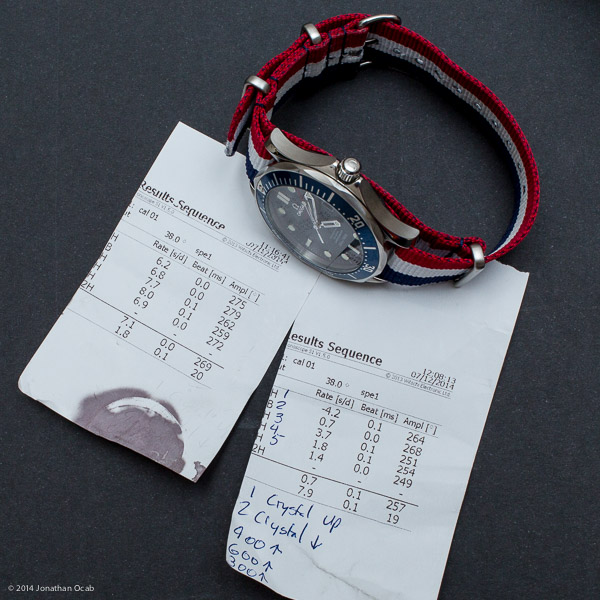 That being said, this new in-store 'basic' service program is slowly being rolled out to the other OMEGA Boutique locations. From what I was told, the South Coast Plaza location (Costa Mesa, CA) should have a technician in the next few months, and most of the OMEGA Boutiques should have a technician on staff by early 2015. OMEGA has not made this program publicly known and probably won't make an announcement until most if not all the boutique locations have their technicians staffed.
The great aspect of this program is that it's hard to find any place to get an OMEGA watch with a co-axial movement rate tested. Many watch repair shops don't have equipment that can properly read the beats of a co-axial movement. Not to mention, many places don't have the necessary tools to work on OMEGA watches. The fact that you will be able to walk into an OMEGA Boutique, get your watch pressure tested, rate tested, and regulated (if applicable) for no cost and without having to send it off to the service center is a fantastic new benefit for OMEGA owners. Not to mention, if this program is nationwide (and even worldwide), it's going to be a huge selling point for OMEGA to prospective watch buyers.
So until then, if you own an OMEGA Watch and need an excuse to go to an OMEGA Boutique and ogle some great watches, give your nearest OMEGA Boutique a call and see if they have a technician on staff. If so, head on in and get your watch pressure tested and rate checked.