When I got around to acquiring and installing a Warn Industries Zeon 10-S winch on my 2018 Jeep Wrangler JK Unlimited Rubicon a few months back, I also acquired a Warn branded neoprene winch cover to put on it.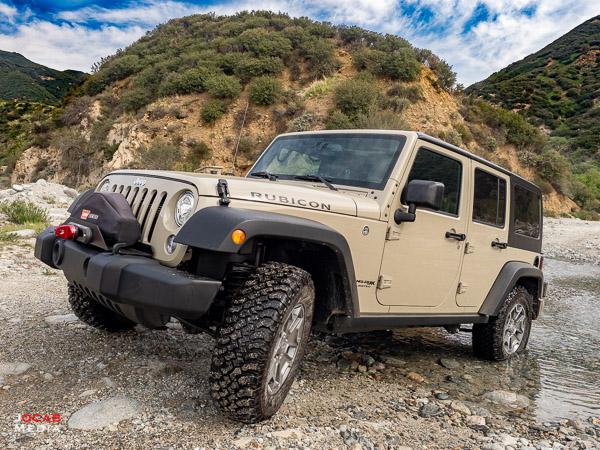 Unfortunately, over the course of several weeks it started to discolor and begin to fade. In a re-posted Instagram photo of mine on the Power Tank Instagram feed, STEP 22 Gear tagged me in a comment regarding their USA made winch covers.
Of course, I was intrigued and asked for more information. Apparently, STEP 22 Gear makes winch covers that are not yet available on their website for the Warn Industries Zeon winches, but are sold face-to-face at various off-road vehicle events. STEP 22 Gear is producing the winch covers for the Warn Zeon in two forms: vinyl and a UV stable fabric. The vinyl winch cover is in-line with their original hi-lift jack boot designs, while the UV stable fabric cover was made for those who do not like how the vinyl holds dirt and dust.
EDITED: I originally posted this write-up indicating that the STEP 22 Gear winch cover comes in neoprene and vinyl versions. This is incorrect. The covers are either in vinyl shell or a UV stable fabric. Neoprene is not used because it will fade, just as I experienced with the Warn branded winch cover.
As the weeks passed after that interaction, I noticed the fade on my Chinese made neoprene Warn Zeon winch cover begin to increase dramatically and so I reached out to STEP 22 Gear via Instagram asking about when the winch covers would be available on the website.
The founder/owner of STEP 22 Gear (Adam) responded and said they are not putting the winch covers on the website right now due to the high demand and quick sales at events where they setup vendor booths. But Adam indicated he could hold one for me out of the next run of winch covers if I wanted. I told him to reserve a vinyl winch cover for me and let me know when it is ready for payment.
I wanted the vinyl version because vinyl should be more durable than most materials, and even though STEP 22 Gear found that vinyl picks up and retains dust and dirt more that the fabric version. I can deal with the dirt and dust since I wash my Jeep fairly frequently.
It just so happened a couple weeks ago I was in San Diego taking a 5-day course at a Cyber Security conference. Adam noticed one of my Instagram posts while in San Diego and asked if I wanted to come by and pick up the winch cover since he was nearby, so I went over to get it.
The STEP 22 Gear winch cover that I acquired is a vinyl shell with neoprene lining.
The rear facing side of the winch cover is a mesh material.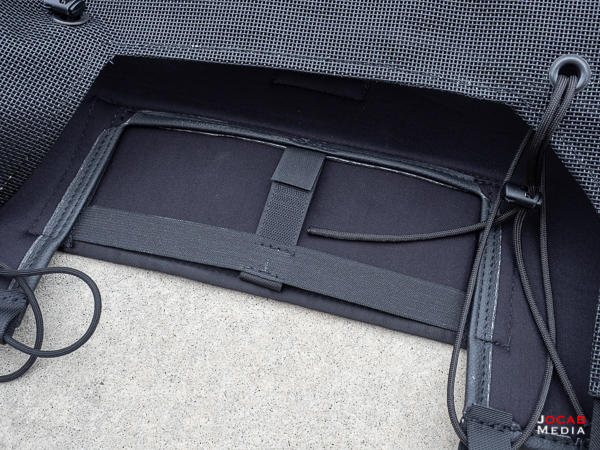 As you can see in the above photo, there is a small flap. This functions as a door for better access to the spool.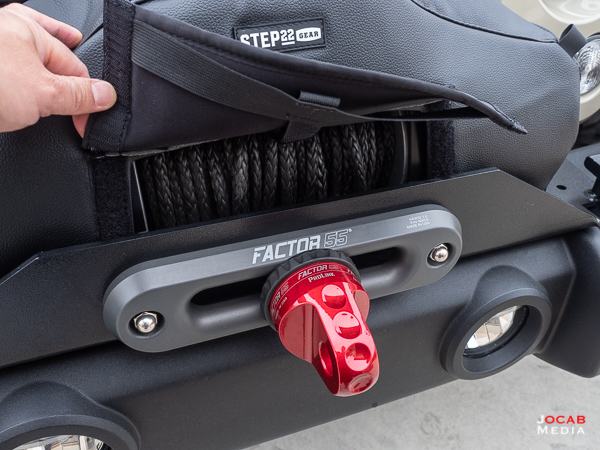 When I installed the cover onto my Warn Industries Zeon 10-S winch, I wondered why the door existed. Then I realized quickly that this flap allows you to make for clearance for the winch rope so that the winch can be operated while the cover is on, and that the mesh back facilitates head dissipation.
Furthermore, there is the zipper opening that exists on the top rear of the STEP 22 Gear cover.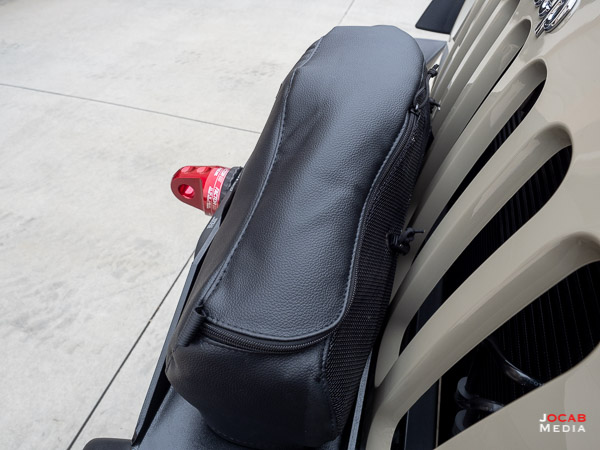 This zipper opening is designed exactly to allow the operator access to the winch clutch release lever and the wired winch controller port.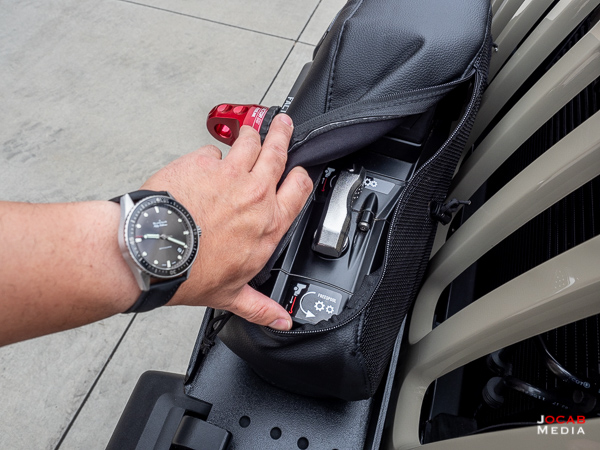 This top opening flap, the front flap, and the rear mesh ventilation allow work in conjunction to allow the Warn Zeon winch to be operated without removing the cover. This is a thoughtful design if you ask me.
Overall, the STEP 22 Gear winch cover for the Warn Industries Zeon fits like a glove on my Zeon 10-S. The quality looks solid from the materials and zipper to the stitching.
The cover has elastic straps on the bottom of each side (see the first photos of the STEP 22 Gear in this post), along with corresponding draw strings and spring cord locks.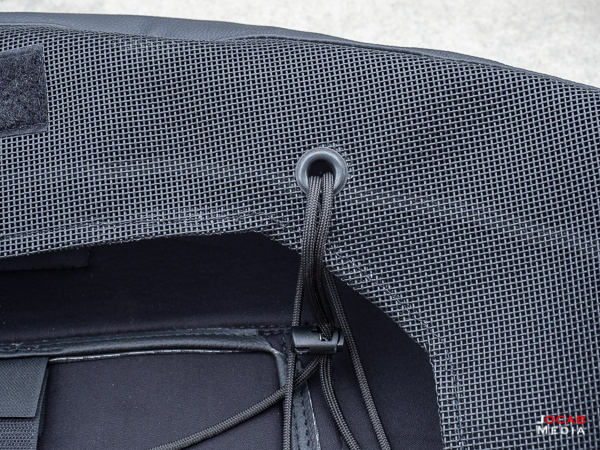 I feel like the elastic straps are enough and that the cords are unnecessary for the most part, and actually seem like they get in the way. But I left them on for safety purposes in the event the cover decides to fly off while driving.
As far as the protection for the winch, some may feel like the mesh back will allow rain to get on the winch, which is true.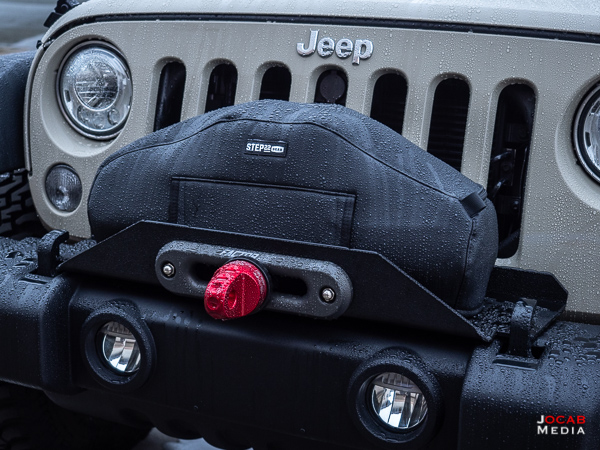 For me, the reason why I run a winch cover is to protect the synthetic line and not so much the winch itself. The Warn Industries Zeon is IP68 rated, which by definition is dust sealed full submersion in 1.5 meters of water for 30 minutes, and thus, the Zeon winch can handle the elements without a cover.
But synthetic line is the weak point and can deteriorate with exposure to UV light, which is what prompted a cover to begin with.
The price on the STEP 22 Gear vinyl winch cover is currently $65 USD. Although this price may vary depending on the venue where the winch cover is sold and as time progresses where STEP 22 Gear can produce these covers at a higher volume and can get these stocked on their website for wider sale.
Is the STEP 22 Gear winch cover for the Warn Industries Zeon worth the price? It is all subjective.
Aside from the fact that my Chinese made neoprene Warn branded cover discolored to a purplish hue before fading to grey, it actually did the job of protecting the Zeon winch and the synthetic line.
But I wanted a winch cover that didn't looked beat up, which is why I decided to seek out and acquire the winch cover option from STEP 22 Gear.
One item of note is that I did treat the STEP 22 Gear vinyl winch cover with 303 Aerospace Protectant. I use this liquid spray product on plastic, vinyl, and rubber interior and exterior parts as well as my Jeep Wrangler hard top to increase the durability against UV light degradation.
Considering the Chinese made Warn branded neoprene winch cover runs for about $40, the ~$25 premium isn't that much of a stretch for the STEP 22 Gear winch cover, especially considering the design features, quality, and that Made in America stature.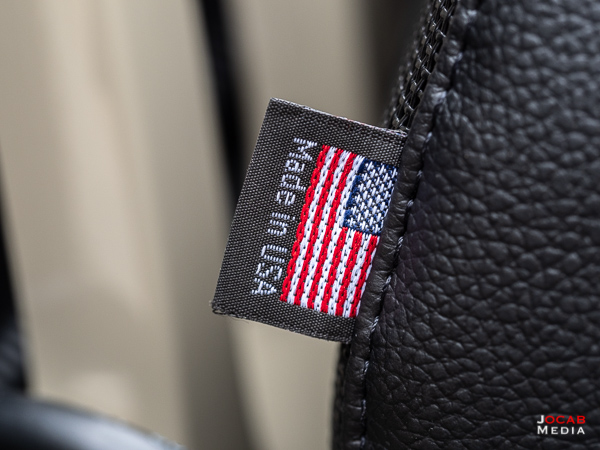 If you have a Warn Industries Zeon winch and are looking a cover to protect the unit or the synthetic line, definitely reach out to STEP 22 Gear to see if you can get one of their winch covers. Again, these are not on their website, so you will have to contact them directly to see if they have any available. As stated before, they come in a UV stable fabric and vinyl version. Talk to STEP 22 Gear to find out which one will best fit your needs and/or desires.
STEP 22 Gear Website – https://www.step22gear.com

STEP 22 Gear Facebook – https://www.facebook.com/Step22Gear/

STEP 22 Gear Instagram – @step22gear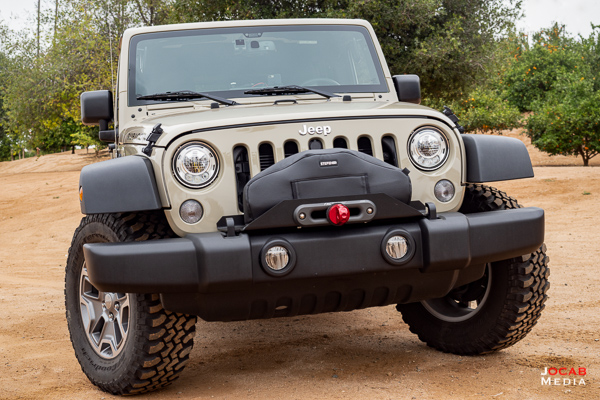 Amended 2018-05-24 @ 0933 PDT:
STEP 22 Gear reached out to me after seeing this write-up and indicated that they anticipate having their winch covers on their website in the next couple of days. So check their website frequently if you are interested in getting one.