As indicated in Part 1 of my 2012 SHOT Show after-action report, new subcompact/compact pistols offerings were significant with the big name manufacturers. But there were plenty of other notable products not "pocket pistol" related.
Heckler & Koch always shows off a lot of eye candy, much of it unavailable to the lowly civilian market.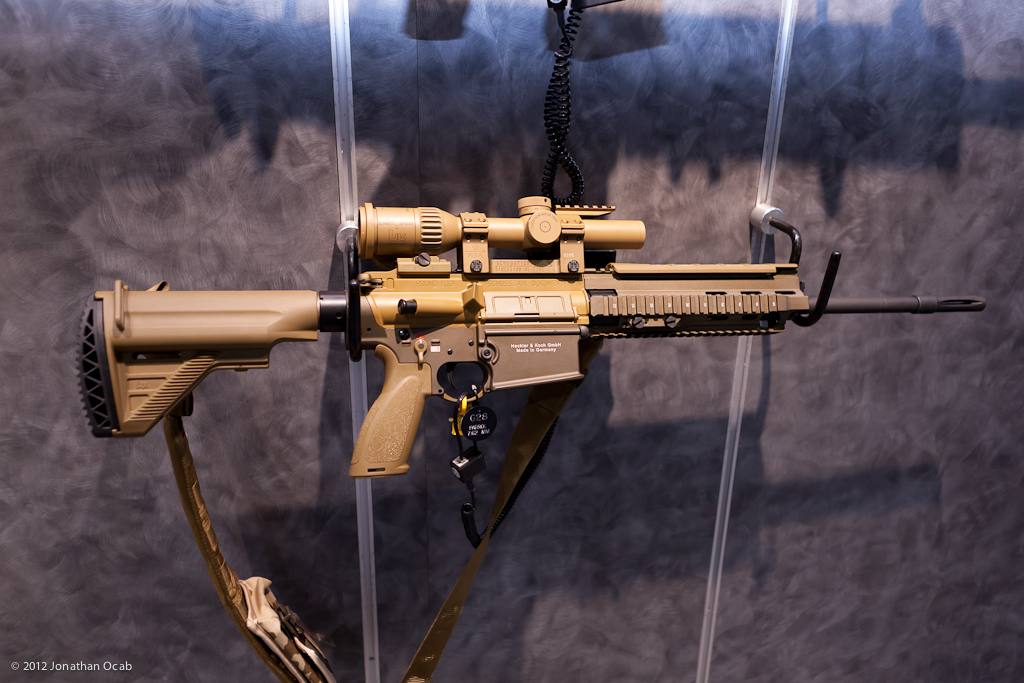 While the 7.62 NATO G28 is semi-automatic only, it will not be available to the US market. But, H&K is going to make a 5.56 NATO gas piston upper receiver kit available for sale to the US civilian market, the HK MR556A1.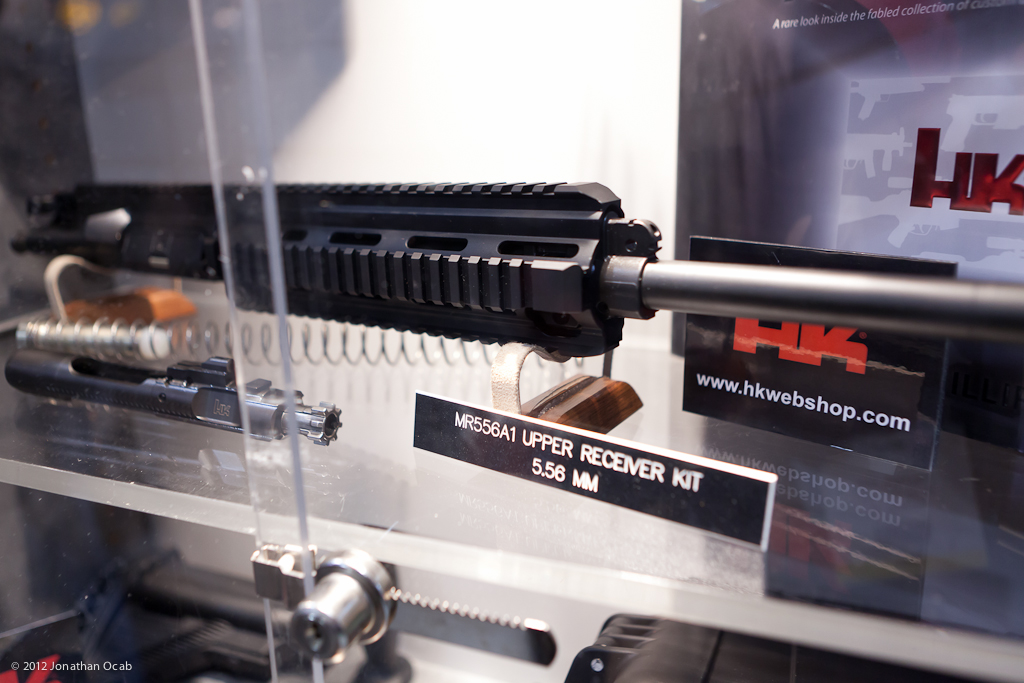 No estimated MSRP or an ETA to market on this particular upper receiver kit, yet.
If you're a shooter, odds are you have heard of the Hornady Zombie Max ammunition.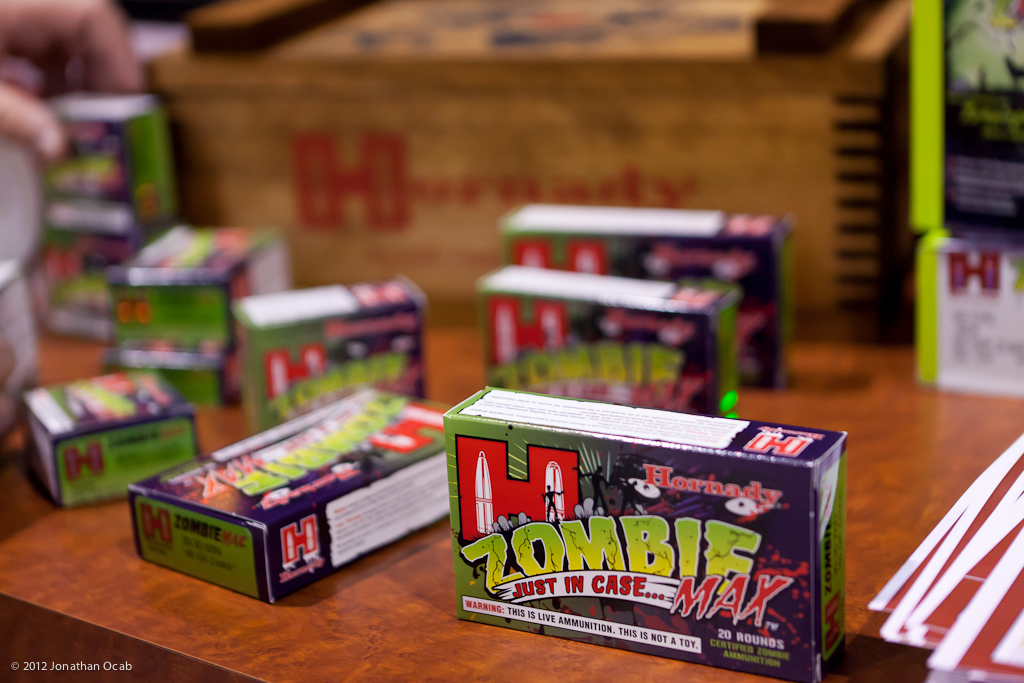 The zombie craze is pretty heavy as of late. I think it's due in combination with the success of The Walking Dead series on AMC in combination with the apocalyptic, end-of-the-world, armageddon theories proliferating in pop culture (e.g. 2012 and the Mayan calendar).
It seems like Hornady and other companies are riding this wave and is evident in Leupold's collaboration with Hornady on the Zombie Max trademark by producing their VX-R Zombie scope line.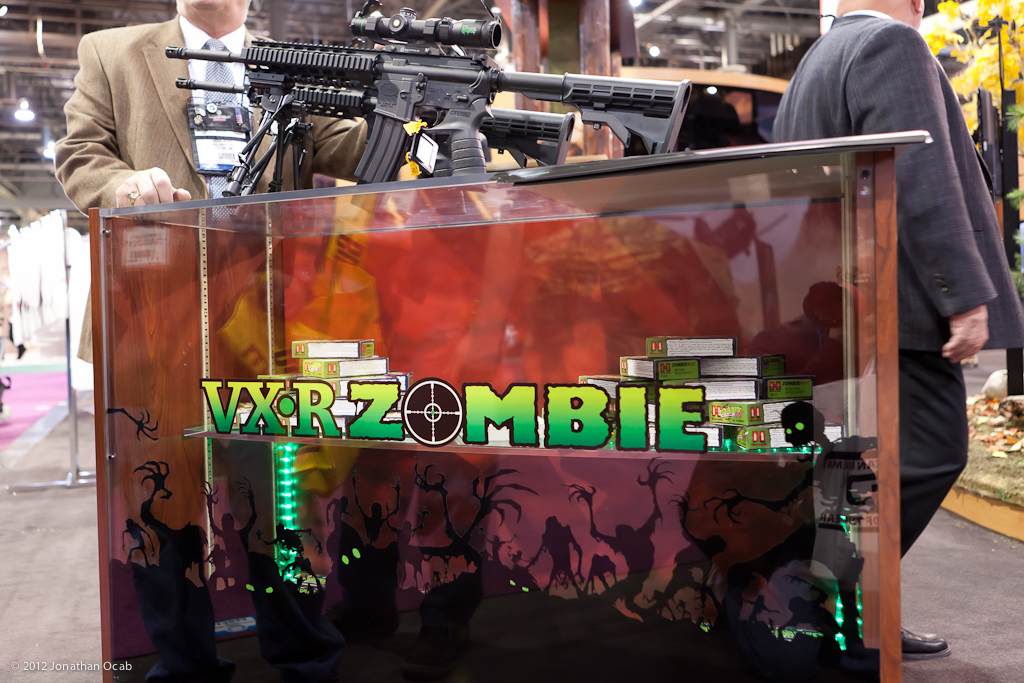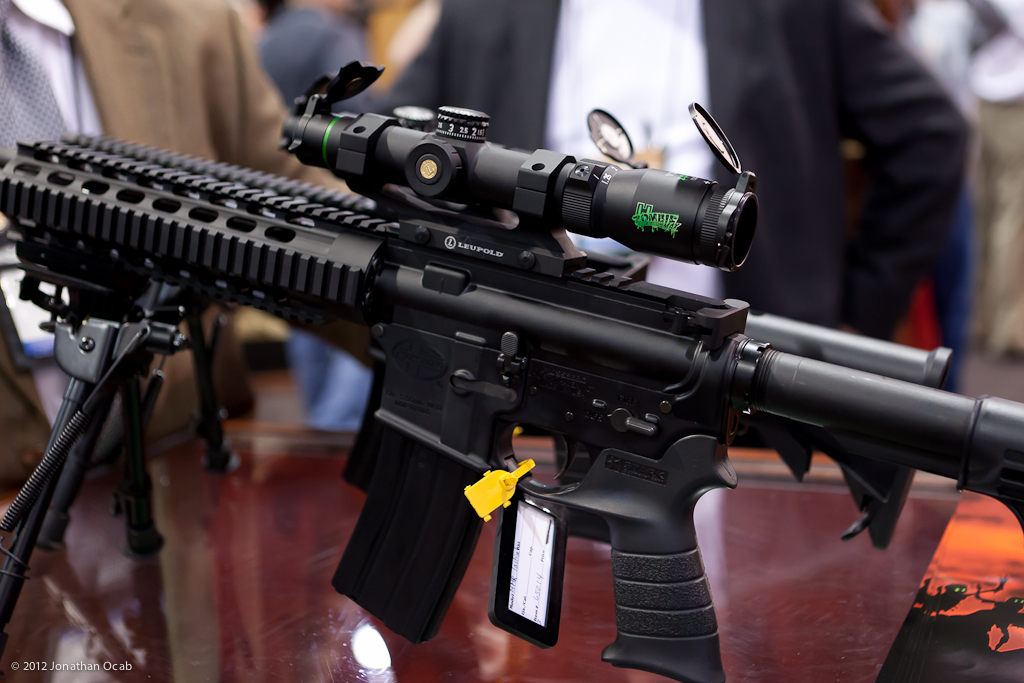 While the branding is a little cheesy for serious shooters, the rifle scopes are very high quality and carry the Leupold reputation behind it.
On the ammunition related front, I had a chance to talk with the guys at Stan Chen Custom who manufacture ASYM Precision ammunition. I had seen some references to ASYM in the past, but the company has only been producing ammo for a couple years, and what caught my eye is their 77gr .223 Remington offering (using a Sierra Match King).
I am a competitive High Power Service Rifle shooter (AR-15) and am always trying to promote the sport. Any production ammo suitable for competition use is of interest to me since I can make recommendations to competitors who need quality match grade ammo, but don't make their own ammo.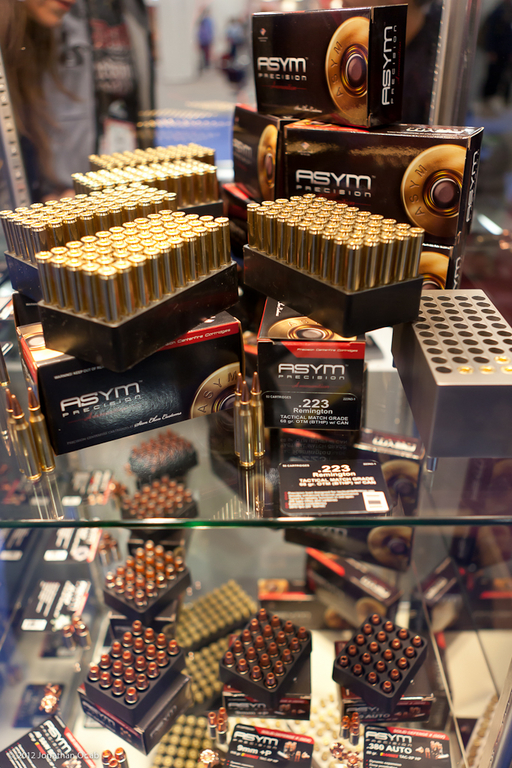 After speaking with the representatives and Stan Chen himself, I can say I am very impressed at least with their attention to detail in the manufacturing process and recommend ASYM to anyone who needs a quality factory 77gr .223 cartridge.
They explained to me how every single cartridge they produce goes through a chamber/case gauge and even had one of their custom in-house 50 round chamber/case gauges on display.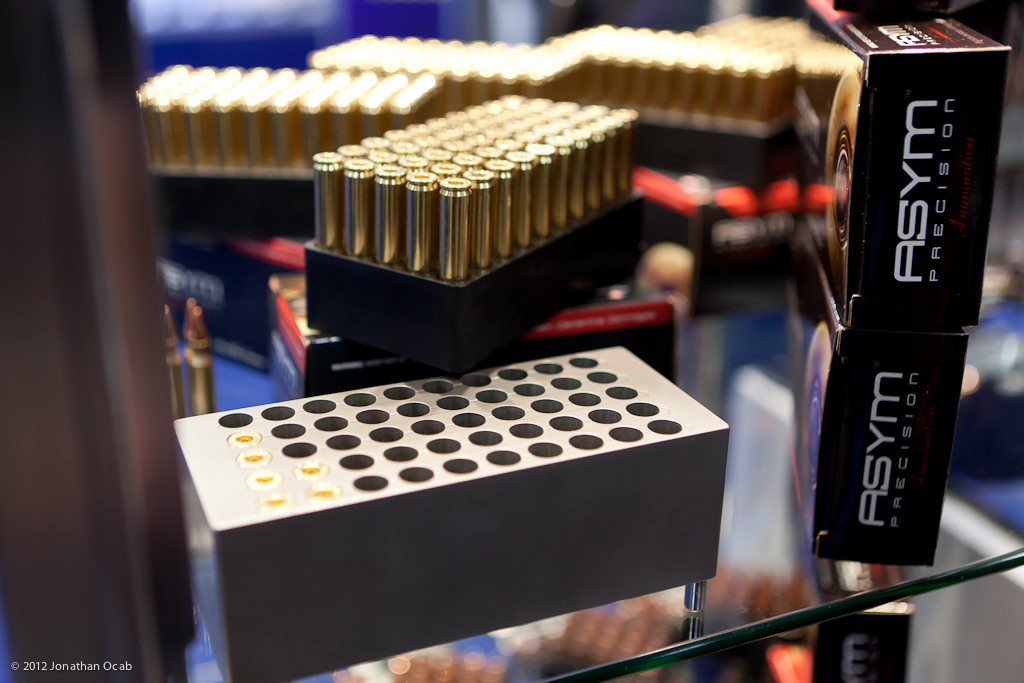 I may get a few hundred rounds of the ASYM 77gr .223 for myself just to test out.
Staying on the Service Rifle topic, I stumbled across the Rail Vise AR-15 cleaning vise for the first time. Rail Vise Technologies out of El Cajon, CA has been making their cleaning vise for a few years now, but this is the first time I've ever heard of them or seen their product.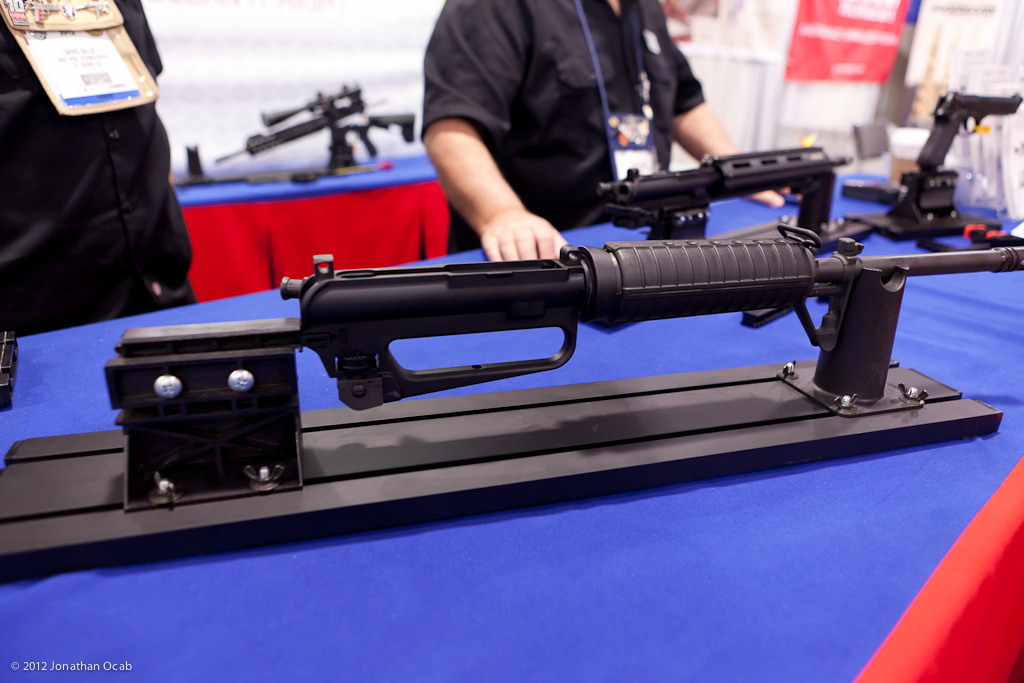 It is designed to handle all types of barrel diameters including heavy, and will handle both A2 carry handle uppers (with an adapter) and flat-top uppers. Currently priced at $60 USD, the Rail Vise is a great cleaning vise for AR shooters. Rail Vise Technologies sells direct to customers via their website, www.railvise.com.
Kel-Tec was showing off their KSG Tactical which was big news at last year's SHOT Show, but still hasn't shipped to dealers yet after setbacks and delays. Word is that they expect to ship to dealers by June 2012.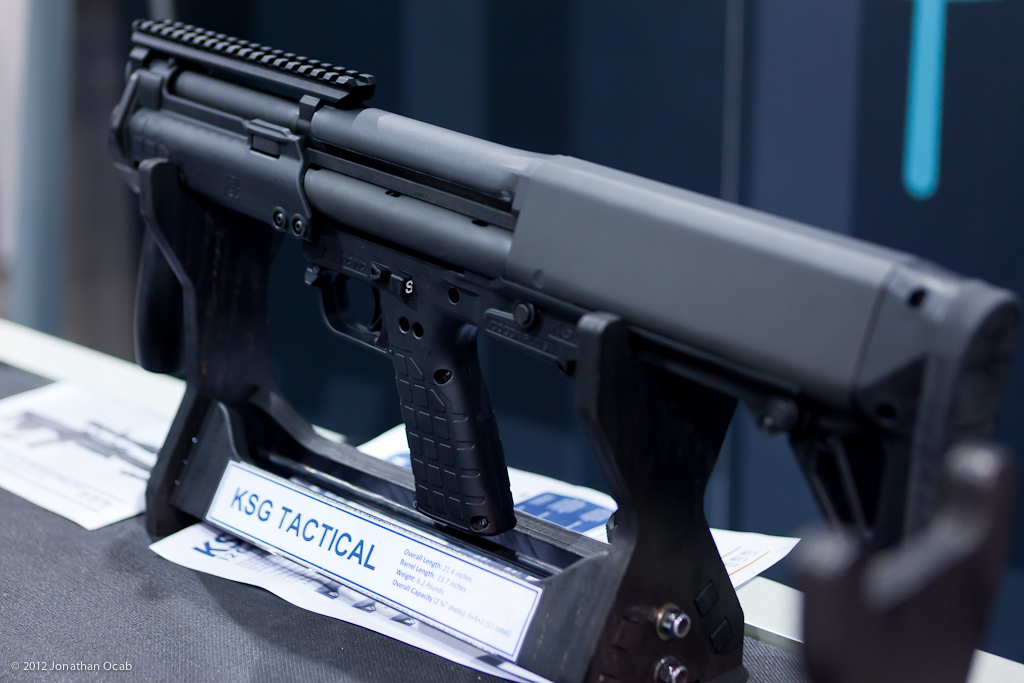 I was really excited about the KSG shotgun last year, but that excitement and enthusiasm about the KSG has fallen off dramatically and I'm not sure if I will even buy one now.
Stay tuned for Part 3 of my 2012 SHOT Show after-action report with coverage of the shooting celebrities and social aspects of this year's show.
Added 2012-01-20 @ 19:51 PST – 2012 SHOT Show: After-Action Report (Part 3)