Last year's (2011) SHOT Show was indistinct with regards to a theme or trend. The 2010 SHOT Show was defined by an explosion of AR rifles and AR related parts and accessories. Is there a defining theme for the 2012 SHOT Show?
Actually, it appears that the defining theme of this year's SHOT Show is concealed carry due to the fact that all of the major manufacturers introduced "pocket pistols" and small form factor (sub-compact/compact) handguns. In the past couple years, Concealed Carry Weapons (CCW) permits have become quite prominent in the news. The political and social climate of the United States is making more citizens interested in carrying a firearm (legally). CCW reciprocity has also become a hot issue as well as Open Carry.
With that, I believe that the introduction of new sub-compacts and compact pistols for 2012 is the firearms industry reacting to the increased interest in CCW.
That said, there were quite a few new concealable pistols that I took note of at the 2012 SHOT Show. The one(s) that I personally favor is the new Sig Sauer P238 and Sig Sauer P938.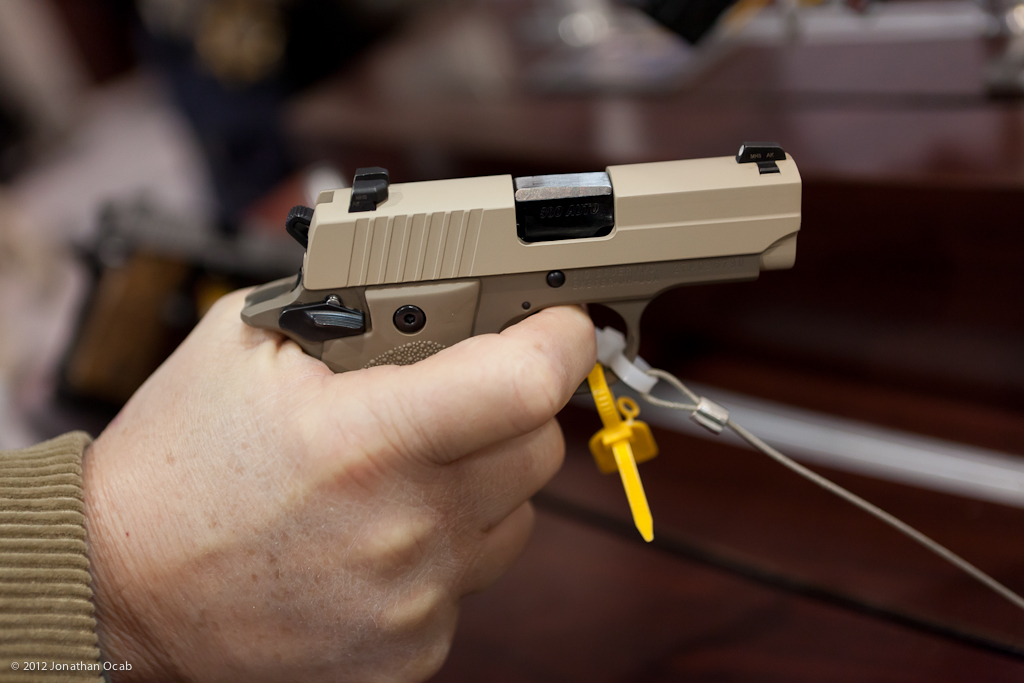 The P238 is chambered in .380 ACP and the P938 is chambered in 9mm. Both have very similar dimensions. These pistols have the fit and finish reflecting the quality of Sig Sauer quality control. They both are single action only and have an excellent feel for a stock trigger. The design is sound and I would love to carry one of these for a self-defense firearm.
Walther had introduced the PK380 a couple years ago, but is making the effort to promote CCW to female gun owners with more feminine colored frames.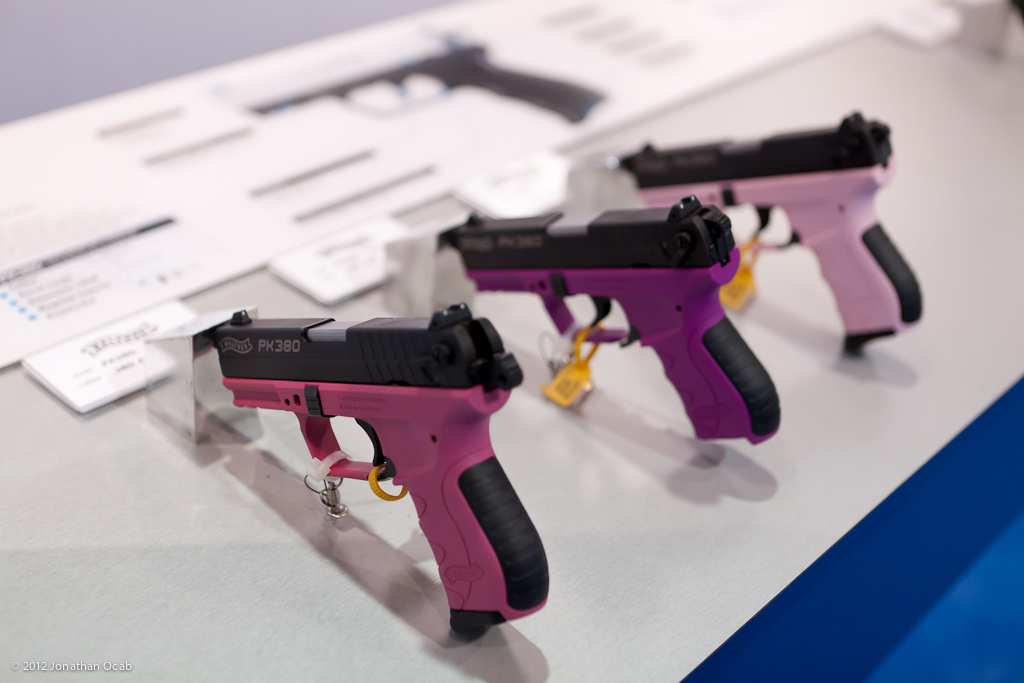 Beretta also jumped into the sub-compact game with their new Nano.
I handled the Beretta Nano and it unfortunately has a poor trigger. It has a lot of pre-travel and creep, with no discernible break. I wouldn't want to carry one. I want a gun with at least a half-decent trigger out of the box.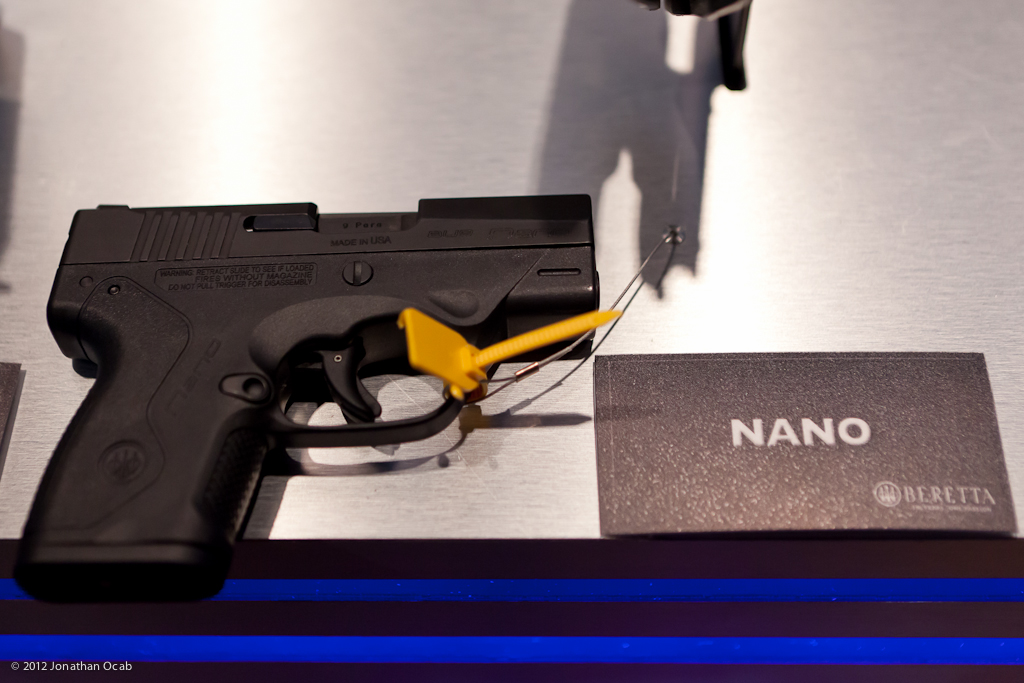 Colt introduced a new pocket pistol dubbed the Mustang Pocketlite.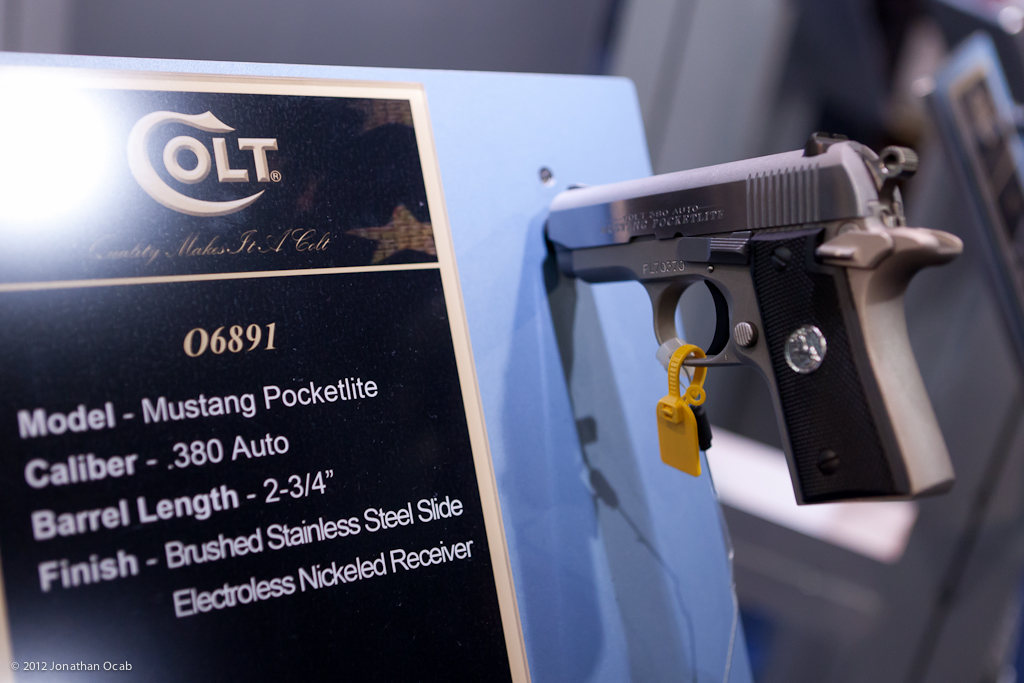 I'm not a fan of ultra/sub-compact 1911 pistols. The ergonomics are fine, but historically, the feeding reliability of short 1911s is suspect.
Aside from the new CCW pistols, there were quite a few products that caught my eye. Staying with Colt, I was personally interested in the newly released Colt Gold Cup National Match.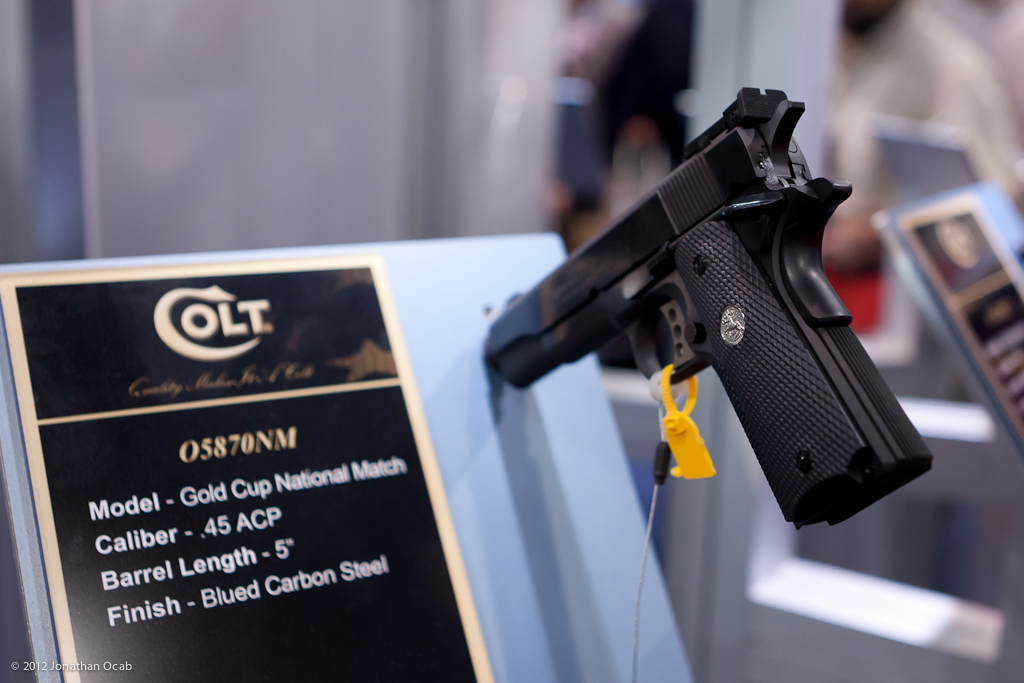 This new Series 80 pistol is not flashy like all the modern 1911s being sold on the market, and it doesn't even have a beavertail grip safety and I overheard many people voice negativity about it because of the lack of features. But what people don't realize is the National Match is designed for people who want to shoot EIC (Excellence in Competition) Service Pistol matches. It has a Bomar adjustable rear sight and features a match tuned trigger and at a MSRP right around $1100, it is the least expensive EIC Service Pistol production gun available on the market (e.g. Les Baer National Match Hardball model is $2000).
But the odd thing about the Colt Gold Cup National Match is that the grips are actually not legal for EIC Service Pistol. It is a wraparound grip (front strap). Why did Colt do this? Either way, it's easy and inexpensive to replace the grips with EIC legal grips.
Unfortunately, this gun is not going to be on the California safe handgun list. There are legal ways to get one in California, but it's going to take some extra leg work (and a little more money).
Surefire introduced a wrist worn flashlight, the 2211 Wristlight, available as a light only or in combination with a watch.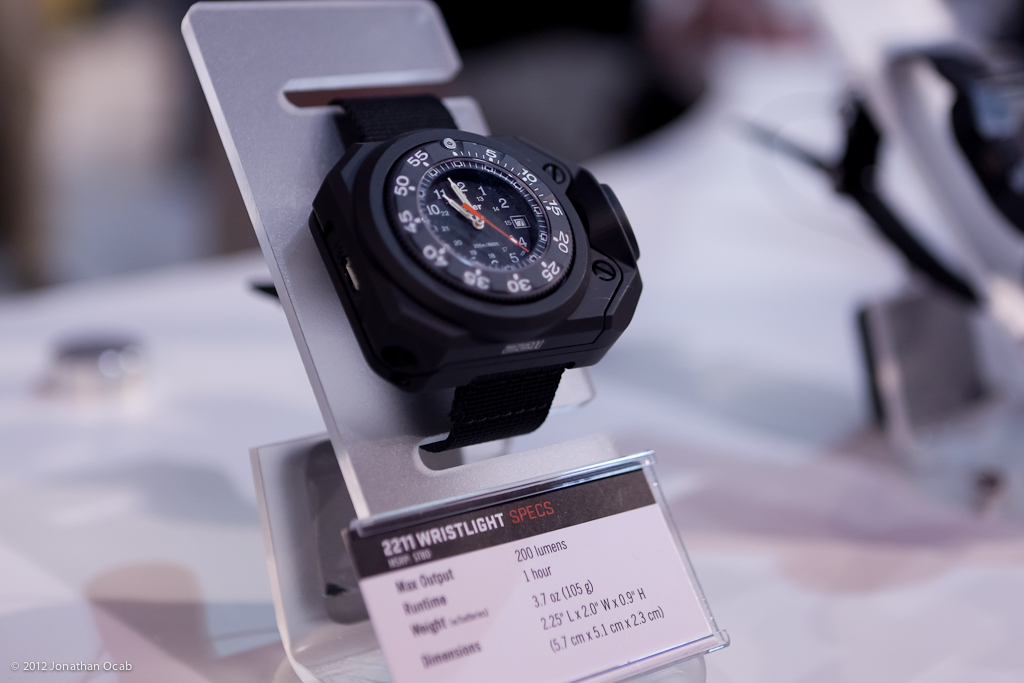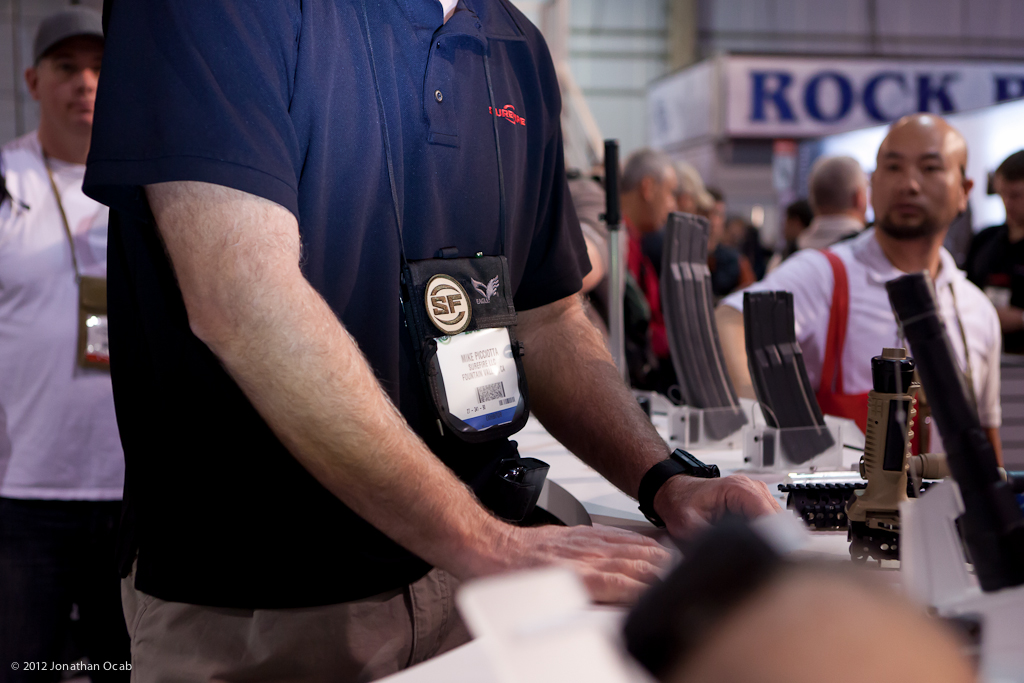 The idea is that you tap the face of the watch/light and it turns on and you have a hands-free light when using a pistol with two handed grip. The light is very bright at 200 lumens and it does point the beam in the direction of the pistol muzzle. But it just feels and looks gimmicky. We'll see how operators, law enforcement, and the general public feels about these lights when they hit the market.
Stay tuned for part 2 of my 2012 SHOT Show after action report with coverage of more products that caught my eye at this year's show.
Added 2012-01-20 @ 14:17 PST – 2012 SHOT Show: After-Action Report (Part 2)