In the last segment of my 2017 SHOT Show After Action Report, I want to discuss some various administrative details of my trip to SHOT 2017 and my thoughts and opinions regarding the event this year.
As I had mentioned in one of the previous segments of my 2017 SHOT Show AAR, I have been attending SHOT Show for the past several years (since 2008). I feel like I do not do much extensive planning for SHOT Show.
My pre-SHOT checklist is fairly sparse and I usually find out about the various events, appearances, and other new products real-time while at the show.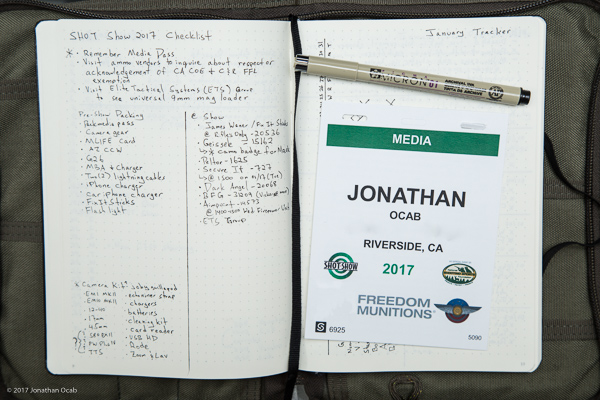 But the SHOT Show smartphone app has come a long way. I use iOS (iPhone) and I found the app to be quite handy, particularly for the map and the schedule of appearances by industry names.
I didn't even bother to carry around the fold-out map that is bundled with the SHOT Show Daily magazines they hand out on the floor and in the Press Room.
I did spend a little time debating on my load out for SHOT Show in the weeks preceding the show, specifically with regards to my camera gear. I have been a long time Canon dSLR shooter (ever since the XTi). In recent years, I lugged a Canon 5D variant and my current Canon camera is a 5D Mark III.
Warning: The next several paragraphs are getting into some photography gear. Bear with me.
Last year I finally succumbed to my desire to try the Micro Four Thirds system and acquired the Olympus OM-D E-M10 Mark II. I have used that camera extensively over 2016 and I found the camera to be more than adequate for a lot of photography work.
I was actually thinking about taking *only* E-M10 Mark II to SHOT Show (with no backup). But the E-M10 Mark II is an entry-level MFT camera and the durability is suspect (I sent it in twice to Olympus for repair), so the durability issues made be hesitant to go solo with the E-M10 Mark II.
But I do like what the MFT platform provides me in terms of the quality images to portability ratio, and lugging my Canon 5D Mark III over the course of SHOT Show can make me weary.
Olympus updated their flagship camera, the E-M1, and released the E-M1 Mark II at the end of 2016. The December 2016 / January 2017 release coincided with SHOT 2017, so that prompted me to invest in the E-M1 Mark II with the intent on running Micro Four Thirds instead of a full frame dSLR at SHOT Show. So that is what I did.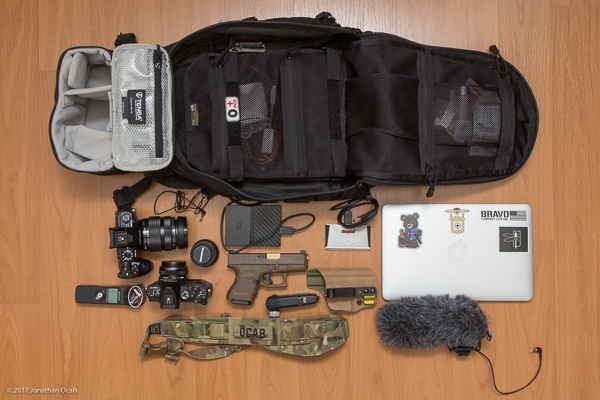 I bought the E-M1 Mark II right after New Year's and decided to run it as my primary camera, and took the E-M10 Mark II as a backup/secondary.
My SHOT Show load out ended up being:
Sony ECMCS3 Clip Mic
Apple MacBook Air 11″
Chargers and batteries
Glock 26 Gen 4 with INCOG Eclipse holster
ECHO NiNER Dee Lux Camera Strap
Other miscellaneous gear
Note: Personally owned firearms (including CCW) are prohibited on the SHOT Show exhibition floor. I carried during my trip, but not while on site at SHOT.
I brought the microphones with the intent of getting some video recorded, but I did not make use of the lavalier microphone + audio recorder combination. I thought I might try to vlog at SHOT Show, but ended up recording some footage with just the Rode microphone on camera. Even then, I am not sure if if the footage is enough to cut a video. This is to be determined after I run through the footage.
I ended up carrying my gear in a Triple Aught Design FAST Pack Litespeed which I recently acquired, along with a Tenba BYOB 9 insert to carry the extra body and lenses within the TAD Litespeed.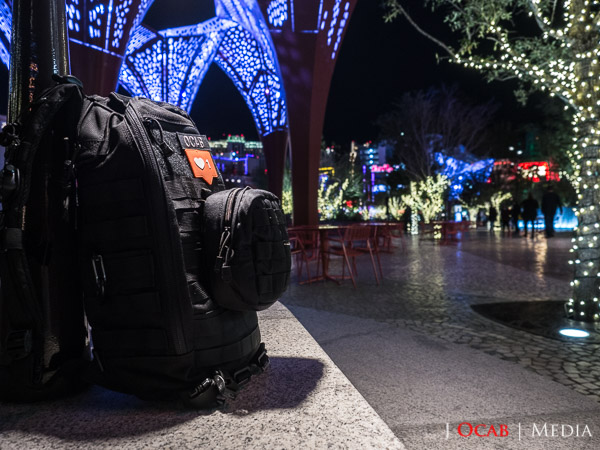 I also attached a 5.11 Tactical 6.6 padded pouch to the PALS on the exterior of the TAD backpack to stow the E-M1 Mark II when needed.
I brought a camera strap with me, but I ended up not using it because I was carrying the E-M1 Mark II clipped to my backpack strap via a Peak Design CapturePRO camera clip.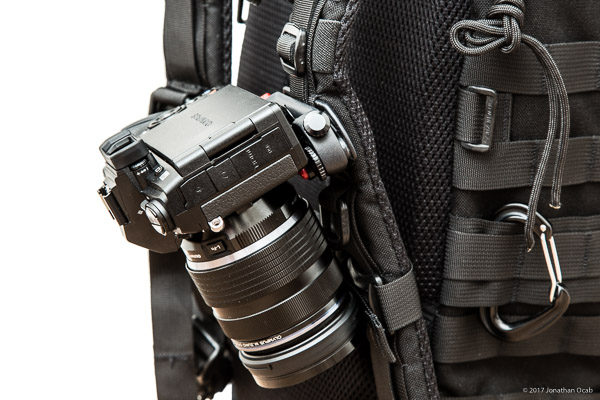 But to summarize my camera setup, it was all very lightweight and easy to carry (compared to a full frame dSLR), and it did not weigh me down at all.
Note: I stripped the pack down light when I was actually at the SHOT Show venue. I left my laptop, portable hard drive, memory card, and chargers in the hotel room. I would dump my memory cards to disk each evening.
As far as the quality of the images with Micro Four Thirds system instead of full frame dSLR, I actually found no real issues even with the terrible lighting conditions of the Sands Expo. The Sands Expo main halls are tolerable as far as the lights are concerned, but the smaller rooms where most of the tactical and law enforcement related companies are located have absolutely horrendous lighting.
If you were able to trudge through my gear breakdown above, you will notice I did not bring a flash (which I have done in the past). Thankfully, the E-M1 Mark II has excellent In Body Image Stabilization and so I was able to run very slow shutter speed and still get a good shot. Not to mention, the ISO 1600 range of the E-M1 Mark II is more than solid for documentary / journalistic work.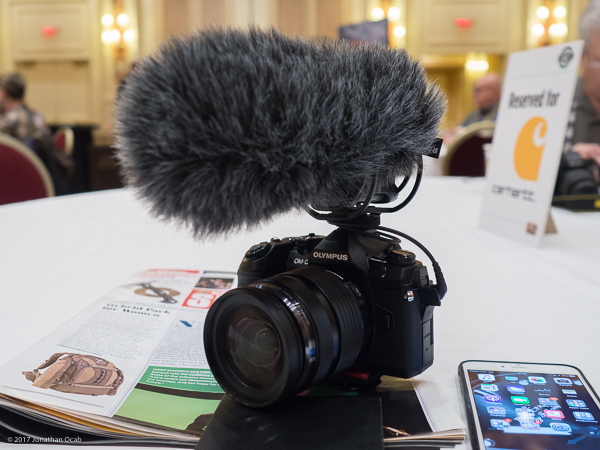 So for future SHOT Shows, I anticipate I will continue to stick with the Micro Four Thirds platform or some other mirrorless camera, and leave the dSLR at home. As I get older, camera gear weight is becoming an issue.
One notable thing at SHOT Show is the availability of hand sanitizer. I always pack hand sanitizer wipes in my backpack, and I actually did not use much of it because exhibitors actually were giving branded hand sanitizer as promotional items.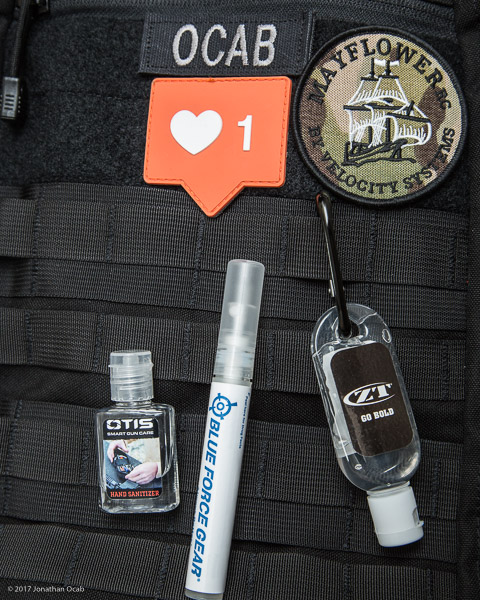 I applaud this because these are very useful in a large show such as SHOT. There can be a lot of handshaking and the cross transfer of germs when handling floor demos, and washing hands is not as frequent as it needs to be while in the exhibition halls. So these hand sanitizer giveaways are great.
To get back on track to the SHOT Show itself, I do want to say that as a Californian, SHOT Show is starting to become very discouraging because all the new pistols that continue to be released are unavailable to us. The Calguns Foundation has troubling chart that shows the rapid decline of the handguns available for sale to California residents. Since no new guns can meet the microstamping requirement and existing handguns grandfathered onto the CA Safe Handgun Roster drop off due to being discontinued or the manufacturer not renewing the gun with the California Department of Justice, Californians are effectively facing a handgun ban.
Granted, while SHOT Show is more than just pistols, the restrictions for Californians does make attending SHOT Show bittersweet for those that live in the state.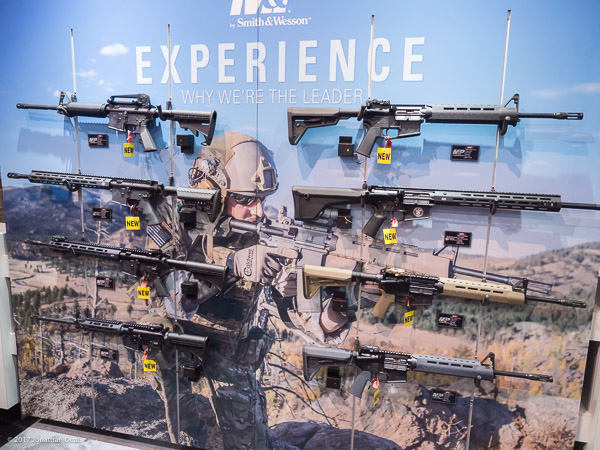 But as far as SHOT Show and new products, I do feel like there is not much more to see from firearms manufacturers for the near future. It seems like new pistols are simply revisions to existing ones. AR-15 manufacturers are simply producing new configurations. The bolt rifle arena is almost in the same boat as Modern Sporting Rifles with regards to innovation.
I think that the future of the industry will be manufacturing and infrastructure. I would like to see firearms manufacturers starting improving on quality and quality control. People complain about the rough craftsmanship of Remington and Savage rifles. Perhaps these companies can start updating tooling and what not to start improving the quality of the existing product lines. While not newsworthy, it will help bring customer confidence back to the companies.
As mentioned earlier in the discussion of Glock's lack of new products, I feel that the "custom shop" is the next step for some firearms manufacturers. For instance, Smith and Wesson has the Performance Center and Sig Sauer has the Custom Shop.
Manufacturers who do not yet have their own custom / performance division should look into doing this (hint: Glock). Obviously, the goal of the firearms manufacturer is to sell guns. But after the gun is sold, unless the customer comes back to buy another gun, the gun manufacturers are not getting more revenue from that customer. If that gun owner wants upgrades, they're going to buy third-party parts and/or find a third-party gunsmith.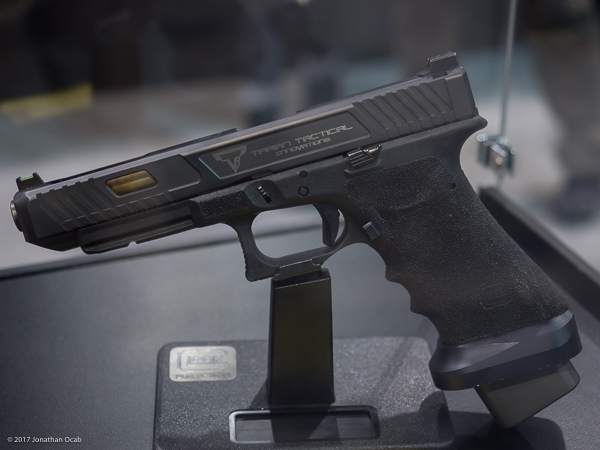 Glock is the clear example of this. When I buy a Glock 19, I might swap out the plastic sights for steel night sights, the barrel for a KKM Precision, extended magazine release, and even a replacement trigger, all from third party parts manufacturers. Glock could sell factory installed 'custom' options such as match grade barrels or even slide serrations. These modifications are common things done by gun owners and are an obvious revenue stream for manufacturers.
Even though new SHOT Show products are slowing down in innovation, in my opinion, SHOT Show is still a must attend for the industry. SHOT may be the way that retailers network with manufacturers and distributors to bring the products, new or old, to the customer, one of the other many goals for SHOT is to promote and reinforce the shooting sports .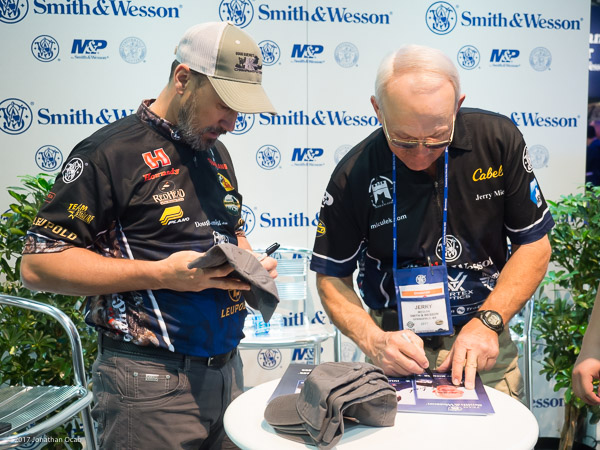 There were plenty of industry figures from all aspects of the shooting and outdoor sports at the show helping to promote the various disciplines and aspects of the industry.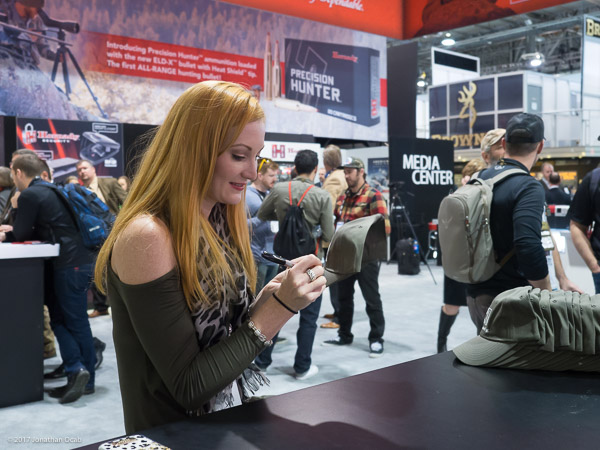 Naturally, there were plenty of media professionals representing all formats covering the show.
Speaking of media, there was a remark someone made to me while I was walking between floors of the Sands Expo and paging through my notes. Some guy with an exhibitor badge said to me something along the lines of, "You look like a serious professional, not like some of these iPhone guys."
I am not sure if he was actually trying to complement me or was being sarcastic and flippant towards me. Either way, I don't think it was appropriate to insinuate that people who are using an iPhone or some other 'lesser' gear to document or cover the SHOT Show are not professional. Assuming that "iPhone guy" delivers a solid report using his iPhone camera, that person is being a "serious professional."
With that, I am ending my After Action Report for the 2017 SHOT Show. I was a solid show as it always is and I look forward to SHOT Show 2018.
Although, I do hope hotel rates for the 2018 SHOT Show get reined in to some degree. The hotel rates across the board were up from last year and based on my memory, were the highest they have ever been for the week of SHOT Show.
I want send thanks to those who actually read my After Action Report segments. While I enjoy writing regardless of the volume of the audience, I do want as many people to read these reports as possible with the hopes people can get some information and entertainment from them.
I also want to send special thanks to the folks that actually introduced themselves to me at SHOT Show because they have seen my work either on my website or on YouTube. If any of you folks see this and thought I was not very talkative when you approached me, it was because I was actually caught a bit off guard. I am not really used to people knowing who I am, so I probably felt like a deer in headlights. But I am very humbled for the praise that you guys gave me.
Note: All published 2017 SHOT Show After Action Reports can be found in the index / Part 0 or via the blog tag of 2017 SHOT Show.