The various segments of my 2018 SHOT Show After Action Report covered a wide range of products and areas of the firearms industry, albeit slightly skewed towards bolt rifles. This is a byproduct of my own shooting interests as of late, not to mention the over saturation of the AR-15 market segment. Before I close out this year's After Action Report with thoughts and analysis, I wanted to cover a few final items that are worthy to mention.
I did stop by the Masterpiece Arms booth to get some information on their CZ 455 chassis, specifically if it could have the Arca Swiss dovetail machined into the forend. I was told that the original MPA CZ 455 chassis is too narrow in the forend to accomodate the Arca Swiss dovetail, and that MPA will be releasing a redesigned version that is wider to allow for the Arca Swiss dovetail cut. MPA anticipates this will be available later in 2018.
But Masterpiece Arms was also showing off their new MPA BA Hybrid Chassis.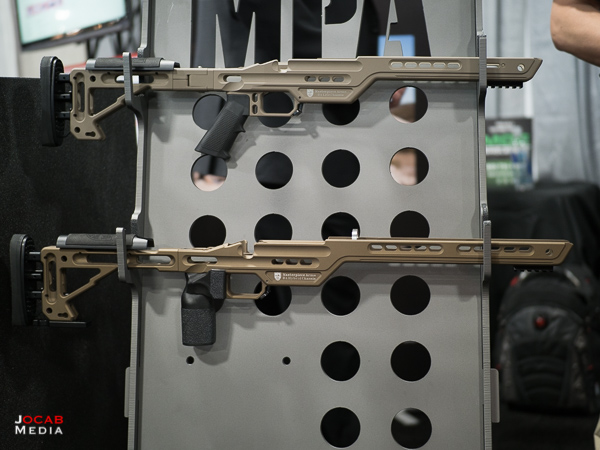 The MPA BA Hybrid Chassis is essentially a MPA BA chassis footprint (length), but at lighter weight than the MPA BA Lite. But the core feature of the MPA BA Hybrid is the ability for the user to adjust the weight of the chassis system using the MPA Weight Tuning system.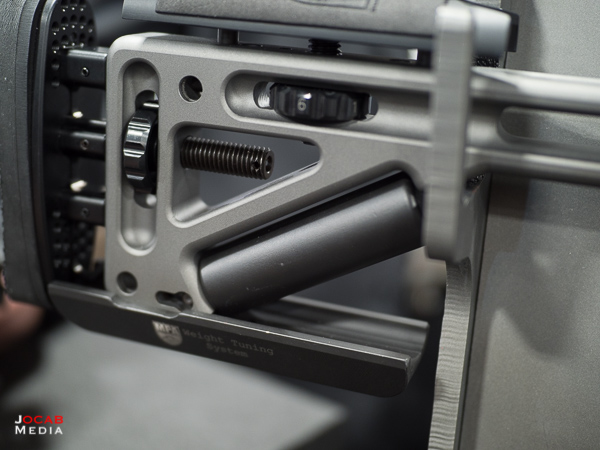 With weights that can be added into the forend and to the buttstock, the MPA BA Hybrid has an adjustable weight range from a shade under 3 lbs to just over 7.5 lbs.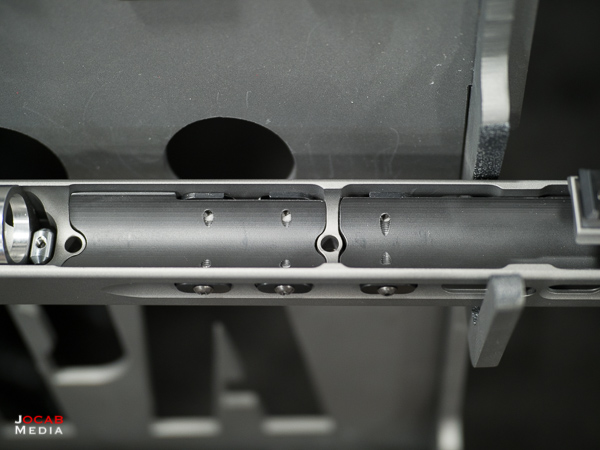 While this is a great option for shooters, I think most shooters will not understand how to setup the weights properly to their shooting style and/or applications. I understand the concepts of weights in a rifle, as I used to run an 18.5 lb AR-15 Service Rifle when I competed in NRA/CMP High Power Service Rifle. I used a Ray-Vin lead wedge in the trapdoor of the A2 stock which, if I remember correctly, weighed 4 lbs. Then I used a Ray-Vin handguard weight which runs about 2lbs, and fits between the free float tube and the outer handguard clam shell.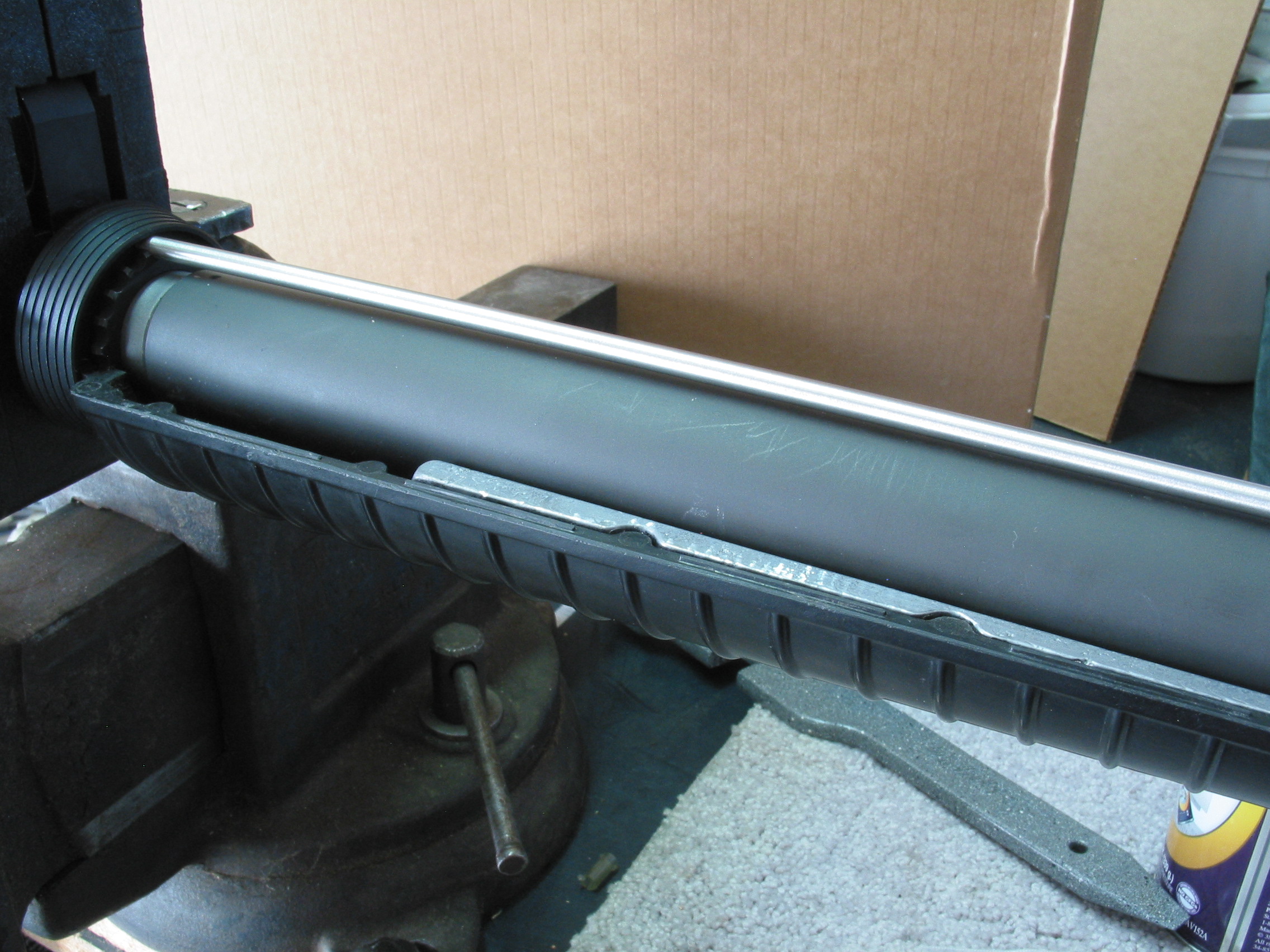 Anyway, adding weights to a rifle for a specific shooting discipline, format, or style can be detrimental if done wrong. A shooter needs to understand how their rifle handles for the given application, and if necessary, can add weights to help 'balance' or even 'imbalance' the rifle if desired.
Either way, the MPA Weight Tuning System in combination with the MPA BA Hybrid Chassis will give shooters more to play around with.
There were a couple of notable new accessories. One is an upgraded barricade stop.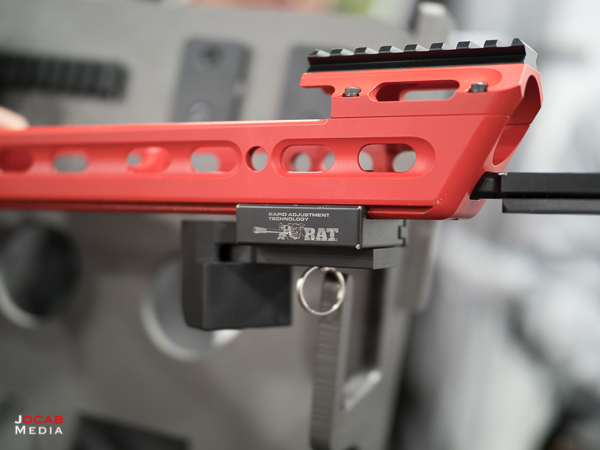 The previous MPA BA Rotating Barricade Stop was moved fore and aft via a push button on the bottom. You had to remove the barricade stop from the hole in the bottom of the forend, and then reinsert into a new spot.
This new sliding barricade stop will remain on the forend, and slide on the Arca Swiss dovetail. The adjustment / locking mechanism is a plunger that is pulled out via a ring. This makes for faster adjustments since you do not have to visually look to where you are trying to insert the barricade stop back into a hole in the forend.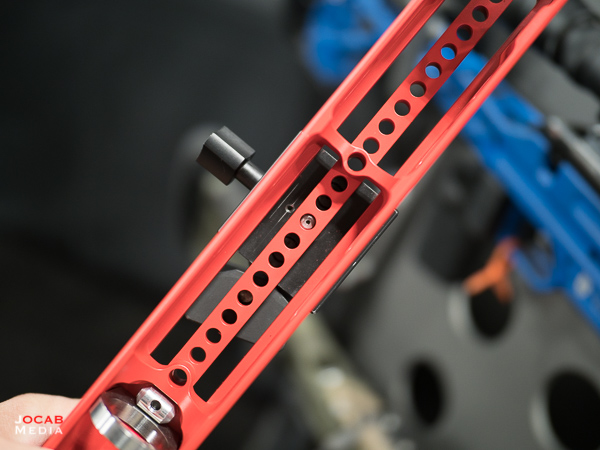 Handling this new design, I think it is much more usable in terms of adjusting where on the forend the barricade stop is placed.
But the new MPA sliding barricade stop is definitely a lot more bulkier and takes more real estate on the forend than the previous barricade stop. This predicated on the fact that they added the rotating barricade stop to their RAT base. The RAT base is definitely long. Without taking a longer look at the new sliding barricade stop, I do not know if it is out of the realm to create a RAT base that is half the length of the current design, if not smaller. If this were done, the overall footprint of the new sliding barricade stop would be much better in terms of occupied real estate on the rifle.
The price of the barricade is going to be somewhere in the mid-$100 range.
Another notable MPA accessory is a 2-round cartridge holder that integrates directly into their chassis systems.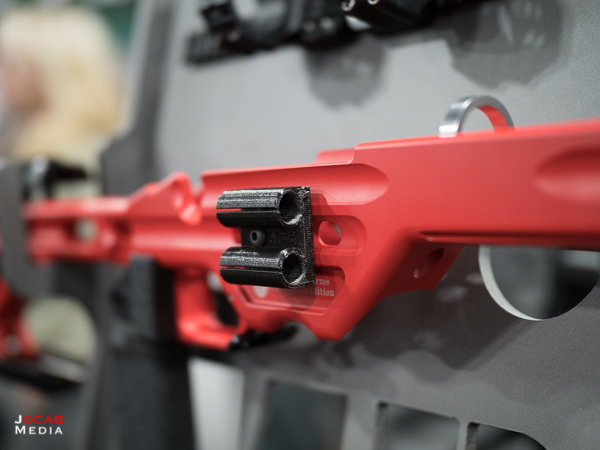 The current samples seen at the 2018 SHOT Show are prototypes, but they are very close to what should be put into production. The cartridge holder will simply be attached to the sidewall of the magazine well, by placing a nut in the hole from inside the magazine well and threading the screw from the outside. No other details on this 2-round cartridge holder, but they should be available in 2018.
One other product that I wanted to touch on is the new Remington 870 DM, or 870 Detachable Magazine.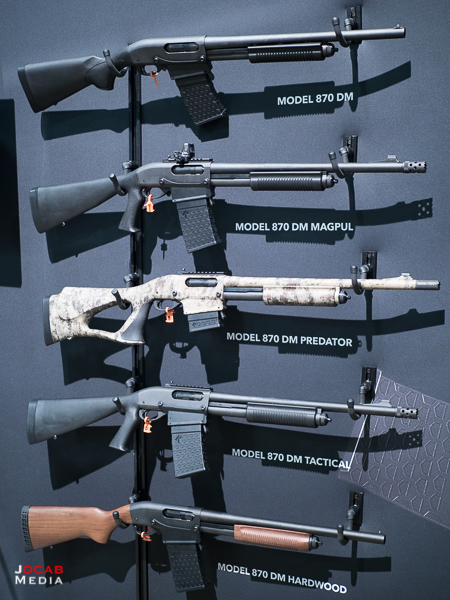 The Remington 870 DM is the classic Remington 870 pump-action shotgun redesigned to feed from a detachable box magazine. What was once the tubular magazine, is simply a empty non functional tube which is the guide for the forend. From what I understand, the 870 DM receiver is actually different than the original 870 receiver, so an existing 870 cannot be converted to a DM. I could be wrong on this, and I did not inquire at the SHOT Show about this.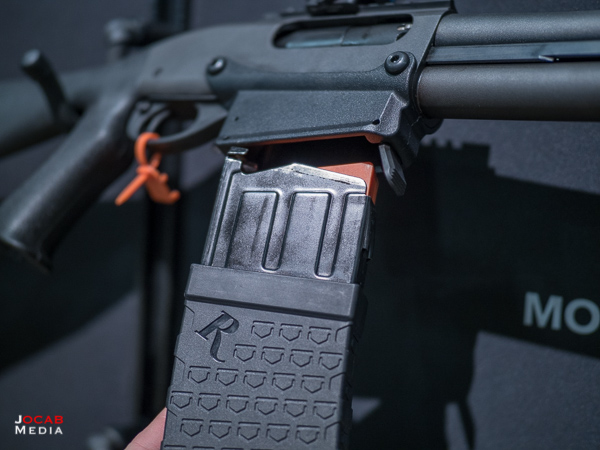 The system is very easy to operate and the magazine release lever is simple to use. The magazines insert very easily, and isn't as finicky to load like say an M14/M1A rifle.
The OEM magazines will be available in 3-round and 6-round capacities, but I can only imagine that once aftermarket manufacturers get their hands on the 870 DM, we may see some magazines with larger capacities.
When I saw this product announcement prior to SHOT Show, I was really skeptical. But the shotgun does seem to function well (tested with snap caps).
But I am still very much on the fence on the 870 DM. I have owned my Remington 870 Home Defense model for 15+ years now. It has a 6 round capacity tubular magazine and I know it will function when I need it to. The 870 DM does offer a huge upside in terms of the benefits of a detachable box magazine system. The one simple fact is that you have faster reloads.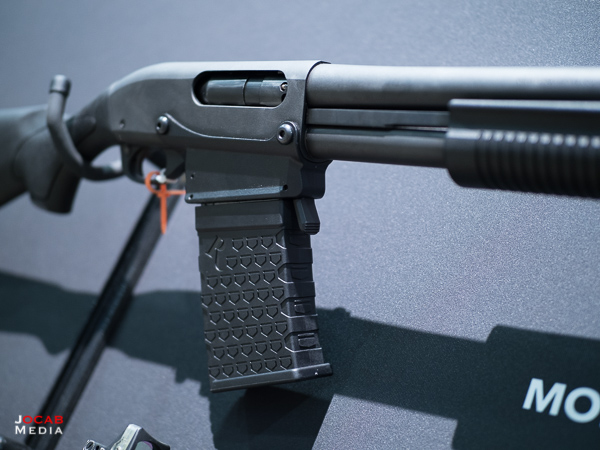 The second benefit is the easier unloading of the platform. With an 870, you have to remove one round at a time if you want to empty the tubular magazine, and many 870 owners will actually rack the slide to eject rounds from the magazine, which is not ideal because you are actually chambering the rounds to eject. Most 870 owners do not know that you can eject shells from the magazine without operating the slide, by opening the slide (bolt back), and then depressing the feed tabs for the tubular magazine through the loading port.
The Remington 870 DM carries a $150 USD premium over the classic 870, give or take depending on the model/trim type. I actually want to get some real range time with one, but I am not all that keen on spending ~$500 on the 870 DM just to try it out.
Time will tell if the Remington 870 DM will carry the same reliability as the iconic Remington 870.
SureFire always has a huge presence at SHOT Show, and this year was no different.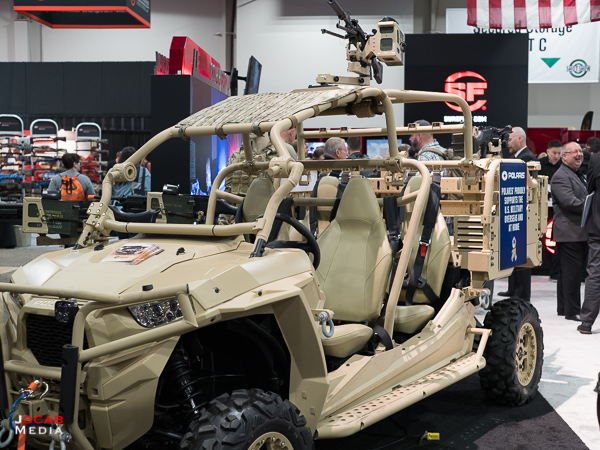 SureFire has released a multitude of new products leading up to the 2018 SHOT Show. One such product is from their new Masterfire series of weaponlights.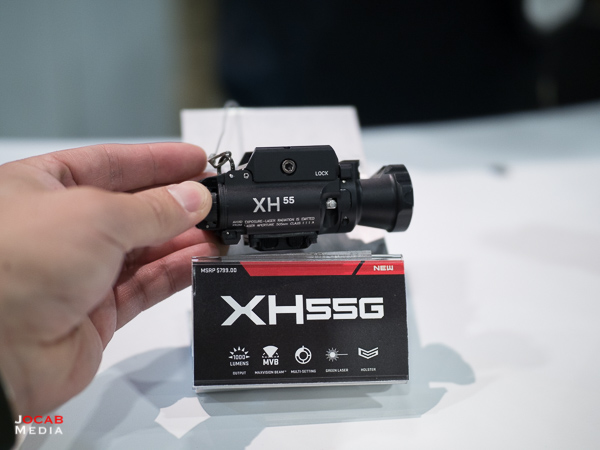 The XH55G is a new generation stemming from the SureFire X400 weaponlight pedigree in terms of a weaponlight and laser package.
But the XH55G improves on the prior generations of the SureFire weaponlight+laser models by combining a 1000 lumen light with a laser that has been moved above the light as opposed the bottom of the light. The key benefit of the laser illuminator redesign is that it removes that 'hump' on the bottom of the X400 housing where the laser used to emit from, which slims the profile down. This will actually make the XH55G a more viable light for those who want to place it upside-down on an AR-15 carbine at the 12 o'clock position of the handguard, and still have visibility through the red dot optic. The MSRP is a very wallet lightening $799 USD. Even when these are available in Q1/Q2 2018, I imagine the consumer prices will be around $700 through a reputable dealer.
SureFire actually has a lot more new products due to the fact they upgraded most of their existing line for higher lumen output. For instance, the classic budget-consumer friendly G2/G2X series is now going to be available in 800 lumens.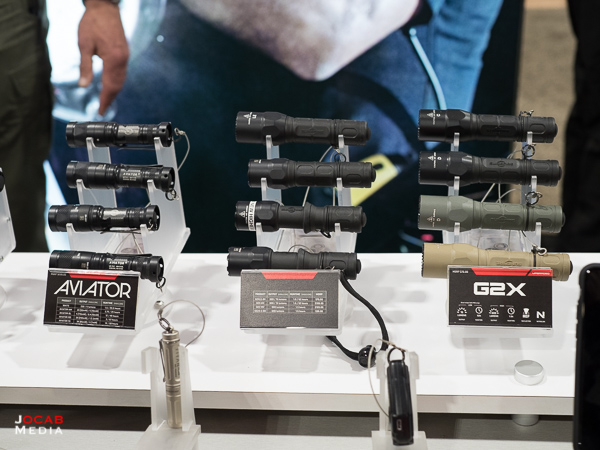 The E2 series now has an 800 lumen light in the form of the SureFire Tactician.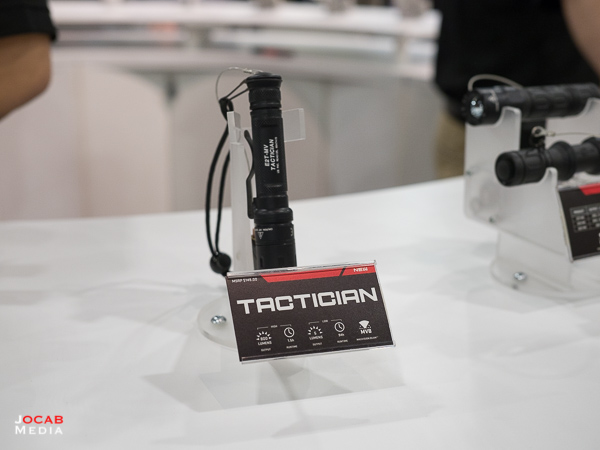 I will admit that I am a SureFire fanboy, in that I will usually go with SureFire for most of my tactical light options. I have purchased some non-SureFire products for general use, but I simply like SureFire. SureFire products are expensive and this causes many consumers to seek less expensive alternatives. But SureFire competitors have been pushing the envelope on light output at lower price points, and I feel like SureFire's recent product line upgrades are a reflection of the illumination tool industry as a whole.
Visit the SureFire website to deep dive their revamped product line.
I figure this last segment of my 2018 SHOT Show After Action Report should have some closing comments, thoughts, and observations from this year's show.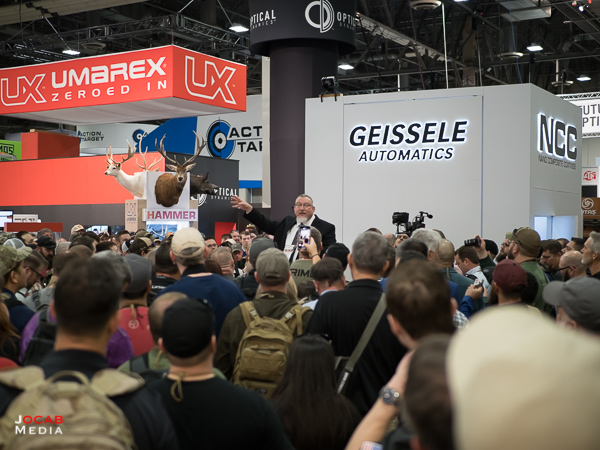 In all honesty, the new products and trends for this year's show seemed to be very diverse. No one specific segment dominated like the AR-15 platform did in some of the SHOT Shows in recent years. At this point, there is already saturation of AR-15 firearms, parts, and accessories.
If anything, I anticipate the growth or trend over the next couple years will be towards custom bolt rifles. While Remington and Savage have dominated the production bolt rifle market for the past several years, Ruger, Tikka, and Bergara (among others) are making names for themselves in the production rifle market. The bolt rifle manufacturers are trying to find a balance between keeping MSRPs affordable, but providing high quality and features. The consumers are starting to get bogged down with all of the factory offerings, and are having a hard time choosing between production rifles.
This is where custom bolt rifle actions come into play. Why buy a production rifle and spend more money trying to tweak it to your desires or needs when you can build from the ground up? Of course, gunsmithing costs do factor in and result in a higher price point. But the concept of a user serviceable bolt rifle, e.g. actions that use Savage barrel thread pitching in order to facilitate the user of pre-chambered, pre-threaded barrels is opening the door to less expensive, custom bolt rifle options for consumers. As more consumers become aware that they can built a bolt rifle using common tools (e.g. bench vise, action wrench) just like with an AR-15, we should see the bolt rifle market spike.
My prediction is that more barrel manufacturers will start offering pre-threaded, pre-chambered barrels for Savage barrel shanks. If anything, I think some gunsmiths or companies will come in and fill the void by providing pre-threading, pre-chambering services for high end custom barrels (e.g. Bartlein).
I mentioned in Part 1 of my 2018 SHOT Show After Action Report that SHOT Show security in general was more strict in terms of constant checking of badges at the various checkpoints (e.g. entrances to each hall, entrance to the Press Room).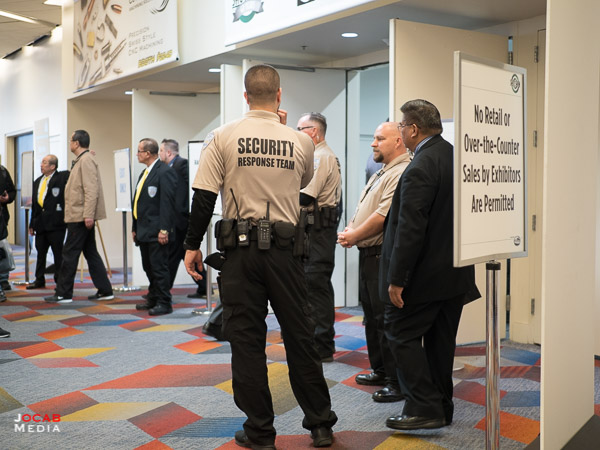 But overall, there was no change in mood or tone, or the atmosphere as a whole, given the recent shooting incident in Las Vegas a couple months prior. It appears that the future of SHOT Show in Las Vegas is fine, and any overreaction or backlash from casinos, local citizens, or city officials is not going to be a factor that will hinder or otherwise prohibit SHOT Show from taking place in Las Vegas as it always has in the history of the show.
I noticed a lot more foreign media than in previous years. Foreign exhibitors, attendees, and media have always been at SHOT Show, but for some reason, I was more aware of European media representatives.
As far as media coverage of the SHOT Show, it seems like the shift towards video is continuing to displace written coverage. Everywhere you look on the floor, more video is being recorded, whether it is formal newscasts or publications (large or small) conducting interviews, as well as live casts on social media.
It is a known fact that video is becoming more prevalent in news consumption, and the trends on social media platforms and mobile devices (e.g. smartphones) have proven this to be true.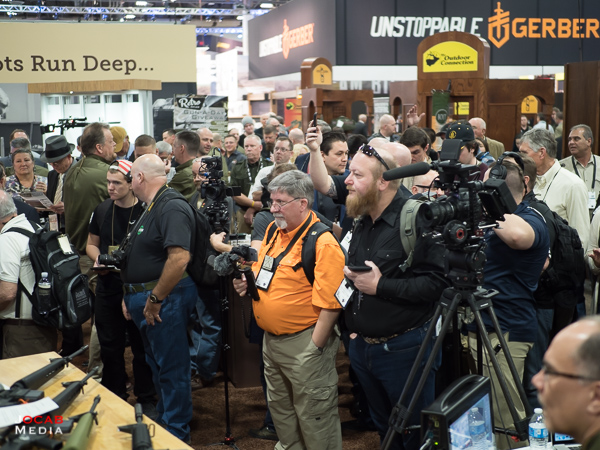 As with SHOT Shows of past, there is always something going on in the exhibition halls, and it is nearly impossible to see everything. But if you use the SHOT Show Mobile App, some of the other SHOT Show planning literature, or pay attention to the social media announcements by exhibitors, you can see some very interesting presentations and demonstrations, and meet some industry professionals.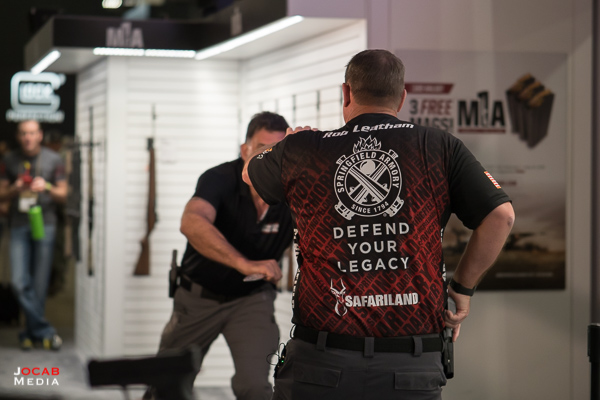 For me, the highlight celebrity meeting at the 2018 SHOT Show was MLB second baseman Howie Kendrick (former Angel, currently with the Washington Nationals).
I just happened to be walking through the main hall on the second floor and realized I was walking past Howie Kendrick. I introduced myself and spoke with him about his appearance on Hodinkee's Talking Watches, watches in general, and firearms.
Before parting ways, he allowed me a take a photograph with him, which pretty much made my SHOT Show trip. Check out Howie Kendrick on Instagram. He has an eclectic set of interests that mirror my own in terms of guns, watches, and photography.
Speaking of photography, I ended up shooting nearly the entire SHOT Show with my Olympus O-MD E-M1 Mark II paired with the Olympus M.Zuiko ED 25mm f1.2 PRO.
I published a review of the Olympus 25mm f1.2 at the end of 2017, and overall the f1.2 saved me in poor Sands Expo lighting conditions. The f/2.8 maximum aperture in my Olympus M.Zuiko Digital ED 12-40mm f2.8 PRO is usable, but sometimes f/2.8 just isn't enough for a good exposure. Given that I do not use flash for SHOT Show photos, fast aperture is my main recourse. While the 25mm (50mm effective) was sufficient, there were times I wish I had thrown on the zoom lens to get me that wide angle shot. I did carry my newly acquired Olympus M.Zuiko Digital 45mm f1.2 PRO, but I really never used it and it was only in my bag because I am still testing the lens.
For the 2019 SHOT Show, I anticipate I will carry the Olympus 25mm f1.2, and perhaps a Panasonic Lumix G Leica DG Summilux 12mm f1.4 (24mm effective), which I plan on purchasing sometime this year, unless Olympus releases a fast 12mm PRO series lens.
This ends my 2018 SHOT Show After Action Report. Hopefully my coverage of this year's show was informative and entertaining for you. If you missed any of the segments, refer to Part 0 of my 2018 SHOT Show After Action Report to get an index of all the parts that comprise this year's report.