I have several bolt action rifles, rimfire and centerfire, and all of my modern centerfire bolt rifles are 15 lbs or heavier. I do not have a lightweight rifle that would suitable for field use such as hunting. While I do not hunt, the emergence of the NRL Hunter series of matches where rifles must be under 16 lbs (or 12 lbs for light division) further piqued my interest in putting together a lightweight precision rifle.
Of course, there are plenty of factory lightweight hunting-oriented rifles on the market. However, my desire was a rifle that is precise and accurate, and can sustain this precision and accuracy over relatively long strings of fire. With this desire, the seed of this project was planted and I went into the design phase.
In discussions with my gunsmith friend, I decided to acquire the Defiance Machine anTI which debuted back in 2020 at SHOT Show.
I put in an order for the Defiance Machine anTI on 07 July 2022 and it ended up taking 10 months and 26 days to finally have it in hand. I ordered directly from Defiance Machine and specified a short action with the guardian cut (AICS or AW magazine) with a nitride finish. I could have purchased this action from a retailer, however, it would not have come with the Guardian cut and thus, I elected to order direct and wait.
Some may already be aware that between the date I ordered and the time I received the action, Defiance Machine changed hands and came under new ownership and there was a shakeup in the business, including the price points. At the time I placed the order, the anTI short action was $995 USD, with an additional $75 for the 20 MOA rail, and $125 for the nitride finish. This came out to $1195 USD.
Around January 2023, Defiance Machine released new pricing and the anTI action increased to $1645 USD before options. Thankfully, Defiance Machine honored the original price on my order (which was 50% paid for at the time of order).
During the several months between the day of the anTI order and the day I received it, I ended up ordering all the parts that I would use to build this lightweight rifle project.
Defiance anTI Lightweight Precision Rifle Build Sheet
| Part/Service | Make/Model | Cost (MSRP at time of purchase) |
| --- | --- | --- |
| Action | Defiance Machine anTI short action, .473″ bolt face, nitrided, Guardian cut | $1195 |
| Barrel | Proof Research carbon fiber Defiance Ruckus Pre-Fit, 22″, 1:8″, Sendero contour, 6.5mm Creedmoor | $1049 |
| Muzzle Brake | Area 419 Hellfire Match nitride | $195 |
| Trigger | TriggerTech Special Two-Stage Pro Curved | $260 |
| Chassis | MDT HNT26 Cobalt Green, Arca Foreend, Fixed/Non-Folding, Short Action | $1399 |
| Scope Base | Defiance Machine aluminum 20 MOA | Included with action. |
| Scope Mount | Spuhr SP-5001 35mm diameter, 30mm / 1.18″ height, 0 MOA | $410 |
| Scope | Leupold Optics Mark 5HD 3.6-18×44 M5C3 FFP TREMOR3 (Non-Illuminated) | $2299 |
| TOTAL | | $6807 |
Note: The prices listed are the MSRP of each item when I made the respective purchase. I acquired some of the components for less than MSRP by way of sales and coupons (e.g., Black Friday).
As you peruse the above build sheet, you will probably understand why these parts were chosen given that the goal for this project is a lightweight precision rifle.
I used the NRL Hunter rules to guide this build:
Open Light Division is any rifle configuration up to a 12 lbs. maximum.

a. No restrictions on gear, equipment attached, build, or configuration, as long as it is under the prescribed weight for this division.

b. Minimum Power Factor (PF) is 380,000. The Bullet Weight in (gr) multiplied by Muzzle Velocity in (fps). For example, 143 gr @ 2670 fps = 381,810 and makes the minimum. With a Muzzle Velocity maximum of 3275 fps 6mm with 115gr will not be able to make the minimum PF.

c. Use of factory sealed box ammunition, .264" (6.5mm) and 130gr or above, is not subject to meeting the PF requirement under this section, however PF will be used in the case of a tie.

NRL Hunter 2023 Rules, Section 4.A.2.
My focus was to keep it under the 12 lb weight limit for the Open Light Division, and that includes the bipod. Given that I have never tried to build a rifle to stay under a certain weight, I made an effort to select parts that would save weight.
However, while I selected parts taking into account their weights as advertised by the manufacturer, I felt that there could be some variance in manufacturer advertised weight and true weight. With this in mind, I was using a 5% pad in my total weight estimates in my notes. If I chose parts that added up to 10 lbs based on the manufacturer specifications, then I would increase the weight estimate by 5%.
Essentially, my target in planning this build was to be under 9 lbs without the bipod. I wanted the ability to run a CKYE-POD, where my CKYE-POD standard single pull Gen 2 (and RRS clamp) weighs 1 lb 9 oz, and the triple pull weights upwards of 2.4 lbs.
I selected the Defiance Machine anTI Medium (Remington Short action) which is rated at 20.6 ounces. As I mentioned earlier in this write-up, I had a conversation with my gunsmith about a lightweight action and he diverted me away from titanium. Titanium may be light, but the material will begin to wear and gall due to the pressures and continuous friction between the bolt and receiver. In a very infrequently used firearm, a titanium action can be viable, but given that I want to use this rifle at the range for general shooting, I would rather not have to worry about the nuances with titanium.
Note that I did select the guardian cut magazine well for the Defiance anTI. This is meant to be compatible with both AICS and AI AW (Accuracy International Arctic Warfare) magazines. It will also inherently support the use of No Binder Plate magazines, which allow for longer Cartridge Overall Length (COL).
Carbon fiber wrapped barrels are the defacto standard for lightweight builds. Proof Research brought CF wrapped barrels mainstream as Proof Research barrels are used in custom rifle builds and are also OEM'ed by rifle manufacturers for factory builds. Other barrel makers like Bartlein and Carbon Six now produce CF wrapped barrels, and even Bergara has in-house production of CF wrapped barrels.
I ended up selecting the 22″ Proof Research carbon fiber wrapped barrel in 6.5 Creedmoor which is rated by the manufacturer to come in at 2 lbs 14 oz. I thought about getting the 24″ length instead, which is only 2 oz heavier, but I opted to try a 22″ for better maneuverability. The barrel is a pre-fit for Defiance Ruckus actions, which share the same headspace tolerance as the anTI.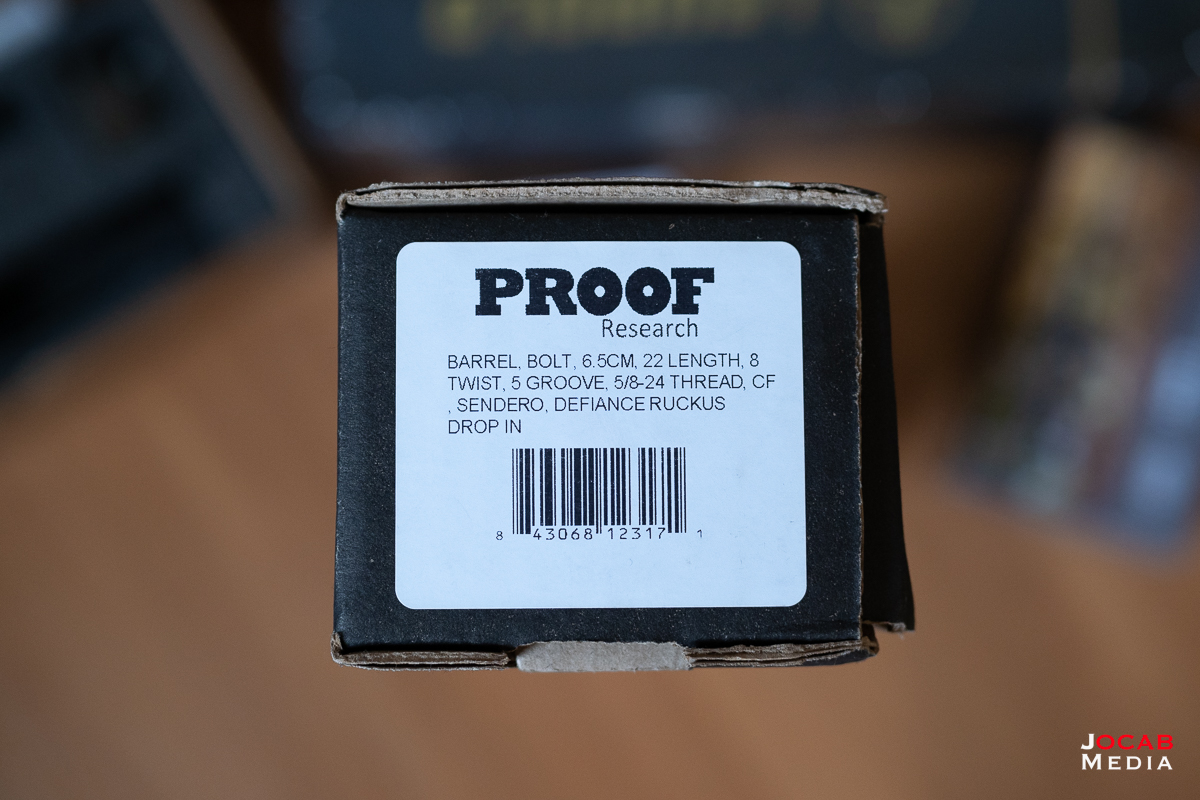 I'm sure the choice of 6.5 Creedmoor will frustrate the hunting community. However, I opted for 6.5 Creedmoor since it is an easy cartridge to load for and it is a solid cartridge to bridge range and field use. Note that I did ponder 6.5 PRC but I felt that I would have needed to go with an intermediate action length to really get a benefit out of that cartridge.
The TriggerTech is a common choice for triggers, although some will wonder why I didn't go with a Diamond instead of the Special grade. I planned on running a 1lb first stage and 1lb second stage, or something lighter on both ends (0.75 / 0.75), which the TriggerTech Special will adjust to. I did not need the 4 oz / 4 oz minimum pull weight of the Diamond. Thus, I saved $100 and went with the Special instead of Diamond.
There were no weights of the actual trigger units on TriggerTech's website. I had to weigh the TriggerTech Special on a small scale and it came out to 1.81 ounces (51.3 grams).
For a lightweight rifle, there were only two stock/chassis systems I was looking into and those were the XLR Element 4.0 and the MDT HNT26. Both have their merits, but I opted for the MDT HNT26.
I will admit I was partially swayed to the HNT26 because of the appearance. Of course, the fact that it is 26 to 31 ounces was a huge factor in me selecting the HNT26. However, I like the overall look of the design.
The optic is the one component I debated on the longest. I wanted to go with a Zero Compromise Optic ZC420, mainly because I really want to get a ZC420 as I am a fan of my two ZC527 scopes. But the ZC420 is rated at 34.8 ounces. I briefly looked into the Kahles K318 and when I saw the weight rating of 32.6 ounces, I moved on.
I chose the Leupold Optics Mark 5HD 3.6-18×44 M5C3 FFP TREMOR3 scope (non-illuminated) which is rated at 26 ounces, which is a half-pound less than the ZC420. I chose the TREMOR3 because I did not like any of the other reticle options. Leupold still does not have the PR2 reticle in the 3.6-18x, thus, I selected the TREMOR3 because it seemed like the most usable for me (Christmas tree style reticle, .2MIL hash marks) and I would not mind learning the wind dots that are incorporated in the TREMOR3 reticle.
I paired the 5HD 3.6-18x with a Spuhr SP-5001. This isn't exactly the lightest scope mount option as standard rings would be lighter. However, I decided to go with a one-piece mount for a little more versatility in moving the scope around from rifle to rifle. Note that the Spuhr SP-5001 is rated at 8.4 ounces, while American Rifle Company MBRACE rings (35mm, 28mm height) are rated at 6.9 ounces. The 1.5 ounce difference was something I was willing to compromise on with a one-piece mount.
I neglected to weigh the scope and mount separately, but the Leupold Optics Mark 5HD 3.6-18×44 M5C3 FFP TREMOR3 and Spuhr SP-5001 weigh in at a combined 2 lb 2 oz on my scale.
Lastly, I did elect to incorporate an Area 419 Hellfire Match muzzle brake. While the 6.5 Creedmoor is not a high recoiling round, comparatively speaking, I appreciate the 'controlled' recoil signature of a rifle with a brake.
If you remember, my goal was to be under 9 lbs and I was concerned when my pre-planning estimates came out to 135 ounces without the trigger (as I couldn't find a weight on a trigger). 135 ounces is 8 lb 7 oz. Assuming a trigger is about 6 ounces, that would put me right under 9 lbs. Assuming the 5% padding for possible under estimation by the manufacturer, I would be over 9 lbs by a few ounces.
However, if you were following the real-life scale weights I have been noting in the article, it actually adds up to be a bit lighter: 129 ounces or 8 lb – 1 oz.
Note that adding each weight reading individually compared to the collective on a single reading may not be exactly the same due to tolerance stacking of the readings and accuracy of the scale.
The rifle without the scope and mount comes out to a very impressive 6 lb 3 oz.
With the scope and mount, the entire platform comes out to 8 lb 6 oz collectively.
I am comfortably under 9 lbs for the rifle without the bipod, at least according to my scale. This gives me a good amount of leeway to run a CKYE-POD triple pull, and I am well under 12 lbs with a CKYE-POD standard single pull Gen 2.
What about the ammunition?
I am pretty big proponent of Berger Bullets and I use a lot of their match bullets. With my Savage 10FP in 6.5 Creedmoor, I primarily use Berger Bullets 130gr AR Hybrid OTM Tactical and secondarily use the Berger Bullets 140gr Hybrid Target. With this build in the planning stages, I decided to pick up the new Berger Bullets 6.5mm 144gr Long Range Hybrid Target. I was able to score both the bullets and some loaded factory Berger ammunition.
I also decided to acquire some Hornady 130gr ELD-X tipped hunting bullets and Barnes Bullets 127gr LRX tipped monolithic hunting bullets. Both of these are popular hunting bullets in the 6.5mm/.264″ caliber and have relatively decent ballistic coefficient for hunting rounds.
I used the Berger Bullets 6.5mm Creedmoor 144 LHRT ammunition to get some baseline data (muzzle velocity) and to get the scope relatively zeroed. Going in I was hoping to be pushing around 2650 fps in order to make NRL Hunter power factor (380,000 PF = bullet weight in gr multiplied by velocity in fps). Berger rates the ammunition to be 2830 fps in a 26″ barrel at sea level. There is no true science in velocity loss with shorter barrels, but I was anticipating that this ammunition would be pushing around 2700 fps at the muzzle in a 22″ barrel.
NRL Hunter power factor is why I cannot use the Berger 130gr AR Hybrid OTM Tactical because I would need to shoot it with minimum 2924 fps (380000 / 130 = 2923.0769) average velocity. This is not attainable with a 22″ barrel (possible with a 24″, but likely needs a 26″ to be safe).
My go to powder for 6.5mm Creedmoor (and 6mm Creedmoor) is Hodgdon H4350 and I have plenty of it on hand.
I also acquired some Winchester StaBALL 6.5 to try out as it is relatively new. StaBALL 6.5 is a ball-shaped powder which is supposed to be temperature insensitive. Typically, extruded (stick-shaped) powders are the most temperature insensitive but these do not meter very well in powder measures due to the shape of the kernels. Ball-shaped powders tend to meter the best. However, I do use an Autotrickler V3 with the A&D FX-120i scale, so high accuracy on a volumetric powder measure/meter isn't all that critical.
Lastly, I acquired 500 pieces of Alpha Munitions Small Rifle Primer brass, as I needed some new 6.5mm Creedmoor brass.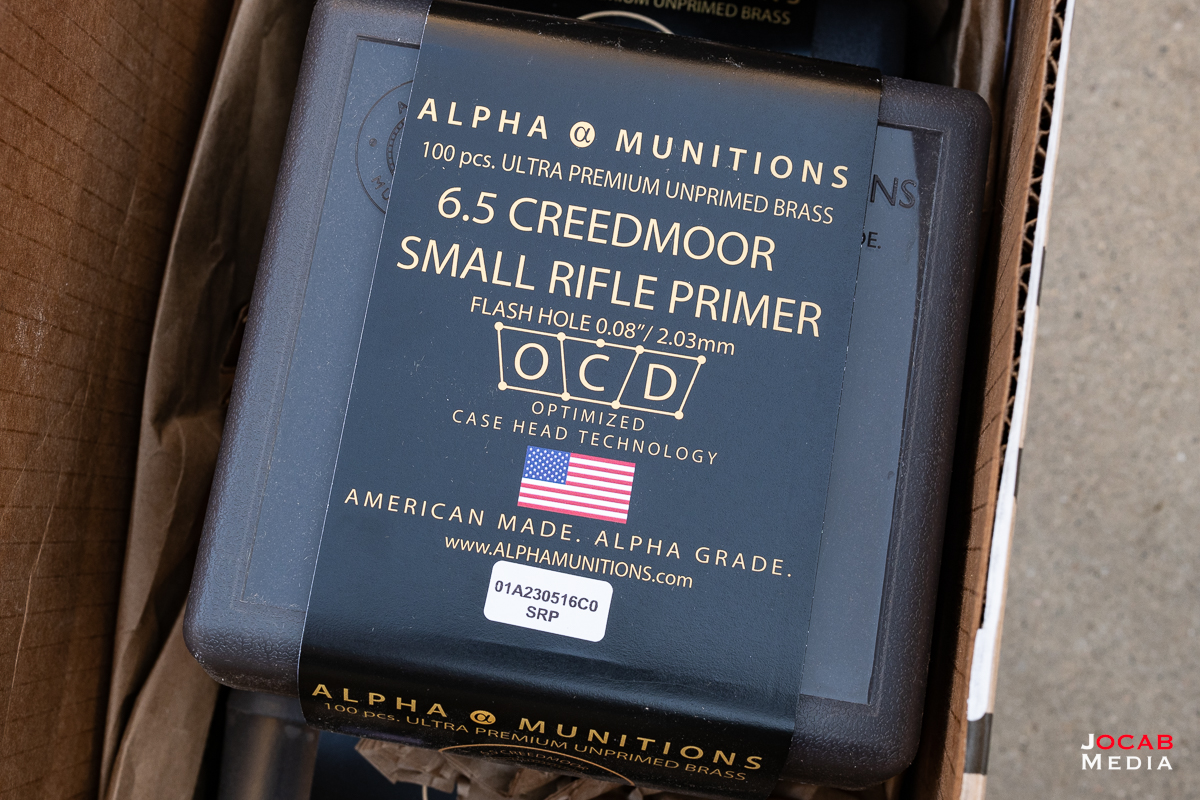 While I have used Lapua brass for many years, I am happy with the Alpha Munitions brass for my 6mm Creedmoor, so I opted to go Alpha Munitions for new 6.5mm Creedmoor brass.
How does the rifle shoot?
The first trip out was an initial break-in session using factory ammunition:
Federal Premium Gold Medal Berger 6.5mm Creedmoor 130gr OTM
Berger Ammunition 6.5mm Creedmoor 144gr LRHT
The first ten (10) rounds in the new barrel were with the Federal Gold Medal Berger ammunition listed above and shot 2791 fps average, 14.1 SD, 39 ES. Rounds 11 through 20 shot 2807 fps average, 16.5 SD, 59 ES.
The next string of ten (10) rounds were with the Berger factory ammuntion with 144gr Long Range Hybrid Target shooting 2707 fps average, 16.8 SD, 51 ES.
I then shot three 5-round strings of handloaded ammunition using:
Berger 6.5mm 140gr Hybrid Target
Hodgdon H4350
Wolf SRM Primer
Lapua brass
The strings were with 41.0gr, 41.5gr, and 42.0gr of H43500, respectively.
41.0gr: 2622 fps avg, 6 SD, 17 ES
41.5gr: 2674 fps avg, 6.5 SD, 17 ES
42.0gr: 2697 fps avg, 10.1 SD, 26 ES
The Berger 144gr LRHT factory ammunition moving at 2707 fps is encouraging as I wanted to push at least 2675 fps to stay comfortably above the 380K NRL Hunter power factor. Not to mention, a 140gr bullet typically performs better nearer to the 2700 fps range from what I have observed in other 6.5mm Creedmoor rifles.
I then made some handloads using the Berger 6.5mm 144gr LHRT with H4350 and Staball 6.5 in Lapua Small Rifle Primer brass and Wolf SRM.
41.8gr H4350: 2674 fps avg, 6.9 SD
42.0gr H4350: 2694 fps avg, 17.7 SD
44.2gr StaBALL 6.5: 2757 fps avg, 22.6 SD
44.5gr StaBALL 6.5: 2755 fps avg, 8.0 SD
45.0gr StaBALL 6.5: 2786 fps avg, 16.0 SD
I tested the following combination in 60F degree weather: Berger Bullets 144gr LRHT, Alpha Munitions brass, CCI BR4, and StaBALL 6.5.
43.5gr: 2644 fps avg, 9.8 SD
43.8gr: 2664 fps avg, 13.6 SD
44.0gr: 2692 fps avg, 12.7 SD
I tested the following combination in 94F degree weather: Berger Bullets 144gr LRHT, Alpha Munitions brass, CCI BR4, and StaBALL 6.5.
44.0gr: 2747 fps avg, 17 SD
44.2gr: 2768 fps avg, 9.5 SD
44.5gr: 2745 fps avg, 13.4 SD
I found it strange that the velocities were pretty close together during this range session, between 44.0, 44.2, and 44.5gr. It is important to note that it was approximately 94F when I obtained the above data, and I shot the 44.5gr load first and the 44.0gr load last. It is possible that the heat caused the lower charge weight loads to shoot faster as the session wore on. Note that the fifth round in the 44.0gr 5-shot string was significantly faster than the rest which I attribute to letting sit in the chamber several seconds longer.
If we exclude last shot, the average is 2737 vs 2747.
In either case, the StaBALL loads for both Lapua and Alpha Munitions brass appears to result in nearly the same muzzle velocity for the same charge weight. However, StaBALL 6.5 doesn't seem as temperature insensitive as one would hope, with about a 30-40 fps shift from 60 to 95F.
I like StaBALL 6.5 being able to get me above 2700 fps with the 22″ barrel while staying comfortably under what is supposedly maximum load. 42.0gr of H4350 with the 144gr LRHT is right at 2700 fps (in ~60F temps), but right near the 42.3gr maximum load. Granted, H4350 data tends to be very conservative and it is not uncommon to go beyond published maximum load with H4350 in a 6.5 Creedmoor without issues.
After all this testing, I have settled on:
Berger Bullets 144gr Long Range Hybrid Target
42.2gr H4350
Alpha Munitions Small Rifle Primer brass
CCI BR4 primers
On a relatively cool bore in mid-60F weather, I have seen 10-shot strings with 2695 fps avg, 6 SD, and 18 ES in the 22″ Proof Research barrel. Note that 42.2gr H4350 in Alpha Munitions brass is about the same as 42.0gr H4350 in Lapua brass. This is consistent with what I have observed in my 6mm Creedmoor loads, where muzzle velocity is just a tiny bit slower with the same charge weight in Alpha Munitions brass.
What is my assessment of the rifle build?
Overall I am impressed with the package as a whole. I was concerned I would find the Defiance Machine anTI to be underwhelming after waiting over 10 months to get the action. However, I find the action to be pleasant to operate. It is relatively smooth and the bolt lift is comparable to other 90 degree actions.
Defiance Machine did a great job shaving weight off of this short action, taking a chunk of metal out of the rear right wall, fluting the bolt, and making a hollowed bolt handle while keeping it made out of 416 Stainless Steel.
I briefly mentioned that I specified a Guardian cut for the Defiance anTI action. I specifically asked for this with the intent of running Accuracy International Arctic Warfare (AI AW) magazines. I wanted to run AW magazines to have lower profile 10-round magazines (and not so much for the longer cartridge overall length capability). The AW magazines run like a charm with the Defiance anTI Guardian cut and MDT HNT26 chassis.
The MDT HNT26 is definitely a great piece of kit for what it was designed for. It is a very light chassis while still retaining rigidity. Ergonomically it feels good to me and I appreciate how they created natural thumb shelves on both sides of the chassis by way of the lines of the chassis molding.
I do have two concerns about the MDT HNT26 and both are associated with the foreend. The main chassis body and foreend are connected by way of five small screws with not much thread length (1/4″ to 3/8″). The foreend accepts sling QD swivels and Arca attached clamps (e.g., bipod or tripod) so there is going to be the potential for a good amount of torsional force being placed on the foreend which could stress that joint where the two halves of the HNT26 are joined. I hope this can hold up to the stress.
The other item of concern was alluded to above and that is the Arca dovetail. My RRS clamps seem to grip the Arca dovetail on the HNT26 foreend fine, but is more on the lighter end on clamping tension.
It appears that my RRS lever-release clamps are not snug enough for the Arca dovetail on the HNT26 and the bipod is slipping on the rail under recoil.
I reached out to MDT about this and they offered to send me another foreend to try out. However, when I received the new foreend, my RRS clamps have the same amount of closing tension as with my original foreend, and I ended up just returning the replacement.
I did order an MDT 8.6″ Arca MLOK rail because it looked like it fit the 4.5 MLOK slots. It does in some regard, but it is not an aesthetic match to the HNT26 foreend. I tried to see if one of the fasteners of the MLOK rail lines up with the sling swivel thread in the HNT26 foreend and it does not. Is is unfortunate that MDT did not drill and tap the sling swivel stud hole a little more forward by a 2-3 mm, it would line up perfectly and facilitate securing the front of the Arca rail to the sling swivel stud hole (assuming 10/32″ thread).
Furthermore, it is my understanding that the foreend piece is carbon fiber and I do have concerns that the carbon fiber can handle repeated clamping before it starts to deform. Assuming it does wear out, I hope that MDT can provide replacement foreends given that the HNT26 is a two-piece design.
Not to mention, the Cobalt Green HNT26 is a Cerakote finish. For those than know Cerakote, it does add thickness and measured in MIL thickness (where 1 MIL = one-thousandths of an inch or .001″), a Cerakote finish can vary from .75 to 3 MIL depending on the applicator. I wonder if MDT milled or molded the dovetail on the foreend and undersized the specification too narrow for the applied Cerakote finish.
I also ended up acquiring the Really Right Stuff Universal Arca rail. It is universal and does not have to line up specifically with MLOK slots (no ridges to key against MLOK slots), so I can get full coverage of the foreend. My RRS bipod clamps secure to this rail perfectly snug. This did add approximately 5 ounces to the rifle as the 240mm RRS Universal Arca rail is 4.1 ounces without the hardware.
Someone commented on one of my videos indicating that the RRS clamps are adjustable. This is not necessarily true. RRS clamps were not adjustable until they came out with redesigned clamps using the R-Lock system. The RRS SC-ARC (ARMS17) clamp is the successor to the RRS ARMS-LR (ARMS17). I use the latter on all off my bipods and this clamp is perfect on any Arca dovetail that is within the RRS specification. The SC-ARC (and the ARC-LR which is the RRS tripod head clamp) has and adjustable clutch for the lever clamp so the closed width can be adjusted. I never acquired the SC-ARC for any of my tripods because I do not use R-Lock and I never had a reason to get and adjustable clamp for my bipods.
The 22″ Proof Research Carbon Fiber wrapped barrel is getting me acceptable velocities with the bullets I am running. While it appears I could have went with a 24″ barrel and still made weight, I do appreciate the form-factor of the rifle with the shorter barrel, as the overall length (muzzle brake attached) is 43″ (with a 12.5″ length-of-pull).
This rifle is running the first TriggerTech two-stage that I have owned and I am very pleased with the trigger. It is basically the same no-creep trigger as a TriggerTech single-stage, but in a two-stage package. I currently have it set to .75 lb 1st stage and 1 lb 2nd stage (1.75 lb total).
As far as the Leupold Optics Mark 5HD 3.6-18×44 M5C3 FFP TREMOR3 scope, I will have to say that it is the one component of this build that I find the most disappointing. The glass is not on par with higher tier optics and in my opinion is a step below the Vortex Optics Razor HD Gen 2 (but better than a Viper PST Gen 2), particularly at 100 yards and in overcast conditions.
At 100 yards, it is simply not as clear as a Razor Gen 2/3 and there is shadowing on the top edge of the image when the scope is on the bottom of end of the elevation travel. In a sunny day, the image quality does get better and the clarity does not seem as bad beyond 100 yards. At 300 yards and beyond, the image quality seems to be on par with other scopes of the same segment.
But the scope's main advantage is the weight (26 oz) and size (12.1 in length).
With that being stated, the scope is still relatively decent and it does provide an optically decent scope in small lightweight package with above average turrets.
I am pleasantly surprised to have come under the target weight with room to spare and have the ability to run any CKYE-POD I want without breaking the 12 lb limit of NRL Hunter Open Light Division. This rifle with the CKYE-POD triple pull + RRS BTC-PRO clamp and the RRS Universal Arca rail weighs 11lbs on the dot.
I am comfortably getting 1/2 MOA groups with the Berger Bullets 6.5/.264 144gr Long Range Hybrid Target using Winchester StaBALL 6.5 and getting them at a velocity comfortably over 2700 fps in the 22″ Proof Research barrel.
Is there anything I would have done differently?
I initially wanted to go with the Zero Compromise Optic ZC420 scope, but the weight of that scope caused me to select the the Mark 5HD 3.6-18x. Now knowing that the rifle weighs in at 8 lb 6 oz without the bipod, I feel like I should have just opted for the ZC420 as I should be able to accommodate the additional 9 ounces of the ZC420. The optical superiority of the ZCO might be worth the weight gain.
However, the 36mm scope mount for a ZC420 will likely also add a few more ounces and I may have to go with scope rings instead of a one-piece scope mount in order to control the weight.
I was not in a huge rush to build this rifle, but I did wait over 10 months to get the Defiance Machine AnTI action. After Defiance Machine raised prices, there was a lot of criticism on the Internet about the direction of Defiance Machine.
I have to agree that the new price points for Defiance actions make them far less attractive to their competitors such as Lone Peak Arms and Terminus Actions. Defiance Machine was well known for building a quality action and a very competitive price point, although, that meant they were in high-demand with high lead-times (as supported by my 10+ month wait for the anTI). With the high price points and long lead-time, people are more likely to go elsewhere another high-tier action maker.
However, I feel at the original, pre-2023 price point, the Defiance Machine anTI was worth waiting for. The Defiance anTI is a high quality action in a lightweight package and at the pre-2023 price, there is no competitor. At the time, I feel like I made the right choice on the action.
Fast-forward to mid-2023 and the current price of $1645, I would be more inclined to gain a few ounces and go with an alternate action like the Kelbly Nanook at 24 ounces or a Lone Peak Arms Fuzion (Alpine Port) at 25 ounces. Both of those actions are $1500 and the price includes a nitride finish.
---
In summary, this project was a very interesting endeavor and I am glad I decided to commit to this build.
Recapping the weights, we have the following:
Rifle without optics – 6 lb 3 oz
Rifle with optics – 8 lb 6 oz
Rifle with optics and RRS Universal Arca – 8 lb 11 oz
Rifle with optics, RRS Universal Arca, and MDT CKYE-POD Triple Pull – 11 lb
Before I started purchasing the components for this project, I did ponder some of the factory lightweight precision rifle options out there including the SIG Cross and the Bergara Premier MgLITE.
But having control over the various components of the rifle felt important to me.
At a MSRP build cost of $4098 USD and a true build cost closer to around $3700 (with sales and discounts I took advantage of) for the rifle sans optics, this may not be the way for others to go. The Bergara Premier MgLITE has an MSRP of $3299, and weighs nearly the same as my build at 6 lb 10 oz (22″ barrel), and is a viable factory option for a lightweight precision rifle.
Of course, if you simply want a lightweight rifle for actual hunting and not for sustained shooting sessions, you can always go with a factory Tikka T3 series, Bergara, or even step into semi-custom such as Seekins Precision Havak.
I am very satisfied with the outcome of this rifle project and it is nice to have a precision rifle that is significantly lighter than all of my other precision bolt rifles.
Note that I have written in detail about the MDT HNT26 chassis. However, I will likely write a standalone review of this chassis as I feel it warrants a deeper dive. Look for that in the future.