This is the third and last part of my 2014 SHOT Show Recap with a few final items and thoughts. Be sure to read through Part 1 and Part 2 if you have yet to do so.
I made the effort to drop in on the Raven Concealment Systems (RCS) booth while at the 2014 SHOT Show because I use their holsters and admire their gear (read my RCS Phantom LC Holster Review).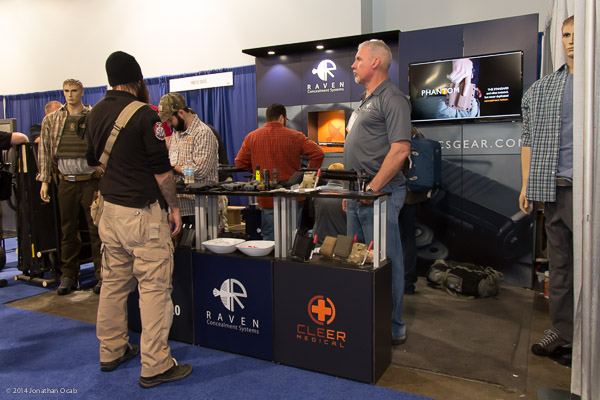 The one notable news item at RCS booth is a collaboration between Raven Concealment Systems and Eleven 10 Medical dubbed Cleer Medical.
Eleven 10 is focused on self-aid medical gear, while most know Raven Concealment Systems for their stature built upon their reputation in the dynamic/tactical community for quality Kydex gear.
The Cleer Medical will be focused on creating medical gear for operators and other personnel that may need first-aid and trauma kits in the most hostile environments. An example of what will be offered by Cleer Medical in the near future is a compressed form-factor personal medical kit.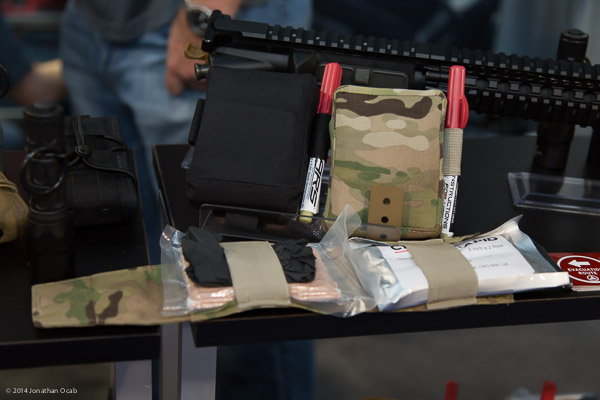 The soon to be released Cleer Medical Kit includes various trauma supplies such as quick clot and a tactical tourniquet in a very small package that can easily be clipped to the back of your belt or other MOLLE point.
Personal medical / blowout kits are becoming popular because people realize the importance having quick, immediate access to trauma kits. Obviously, you shouldn't buy a blowout kit under the assumption that simply having one on your person will be enough to save your life if you ever get shot. You need to get medical training in order to understand how to use such a kit.
That said, I feel that personal medical / blowout kits will become quite common even in civilian applications, especially with sports and recreational shooters, since more and more people are doing their sport/recreational shooting in areas far from population infrastructure (hospitals, fire stations) where a negligent discharge or a catastrophic firearm malfunction resulting in a bodily injury could be dire.
I stopped by the Hornady booth to check out their RAPiD Safe, which they announced on Youtube with a video a couple months ago.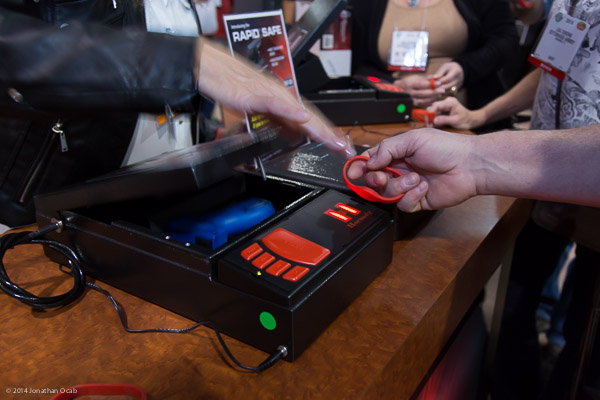 The RAPiD Safe is a single handgun safe designed for fast access to a secured pistol (e.g. home defense situation) and is highlighted by it's employment of RFID technology. There are multiple RFID chipped items the operator can use including a rubber wrist band, card, or key fob. There is also a programmable touchpad that can be used to open the safe.
Since it operates on electricity in order to power the RFID reader, it also comes with a backup battery as well as an emergency physical key lock mechanism for backup in the event the device cannot be powered on.
It's an interesting concept, but it's difficult to say how 'convenient' the RAPid Safe will be. Using one effectively will require a change to one's lifestyle with regards to keeping an RFID chipped device on one's person at all times (e.g. wearing the RFID wrist band while at home or putting on before going to bed, etc). Granted, there's always the touchpad combination panel, but if you find yourself using that, it somewhat defeats the purpose of buying the RAPiD Safe in the first place.
To be honest, I think this device would be very useful in a vehicle (e.g. trunk mount) since you would place an RFID key fob with your car key and be good to go. Granted, the power requirement would hinder this, unless you could figure out a way to wire this into the vehicle's electrical system without draining the vehicle's battery.
One last item I wanted to mention is something I discovered because of Black Hills Ammunition.
I stopped by Black Hills Ammunition to grab a bumper sticker since they always have good Second Amendment related stickers at SHOT Show. I did a quick glance over of their most recent product catalog and saw a new listing on the .223 ammo page for a 77gr TMK* offering.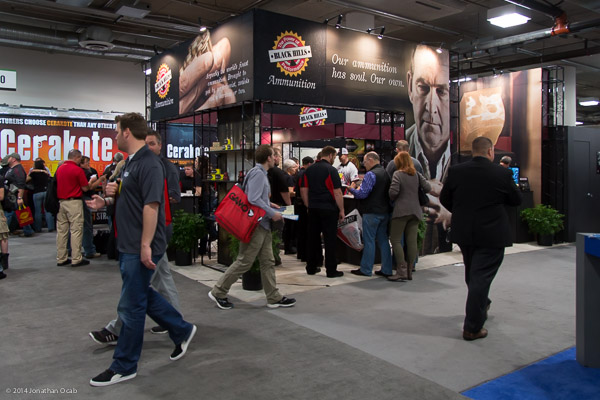 "TMK?", I wondered. In the corner of the page in fine print the asterisk indicated, "Tipped Match King." The ammunition muzzle velocity was listed as being the same as their existing 77gr Sierra Match King ammunition.
I asked the nearest Black Hills Ammunition representative for more details and he indicated the ammunition is indeed new, but not available yet, and is based on a new Sierra bullet. He couldn't give me much more details, but I was surprised by this since I didn't see anything at the Sierra Bullets booth about a new 22cal (.224″) bullet.
I did a quick beeline back upstairs to the Sierra Bullets booth to squeeze out some information regarding the TMK. What I was able to get out of the Sierra representatives is that the bullet is not available to the public, yet. It's still only being made for Black Hills.
The bullet is called a Tipped Match King (TMK) because it is a BTHP / Match King where the tip is closed. From how it was described, it sounds like the TMK will not have an exposed "hollow point tip" like a Match King or any other BTHP/HPBT bullet.
The ballistic coefficient wasn't documented on their internal company chart, but the representative said that when it was tested, it had a slightly higher (albeit minuscule) ballistic coefficient than the current 77gr .224″ Sierra Match King.
There was no date given as far as when we might start seeing this bullet directly from Sierra. The Black Hills representative indicated that they would most likely have their TMK ammo out around Q2 2014.
This could address the issue with inconsistent meplats seen in Sierra Match Kings that prompt shooters to trim and uniform their bullets for match loads. We may just have to wait until some of the Black Hills Ammuntion makes it's way to the public in order to get an idea of how this bullet compares to the existing .22cal (.224″) 77gr Sierra Match King.
Note that back in 2008, I had switched from the Sierra Match King 77gr to the Lapua Scenar 77gr because of the inconsistency in the Match King meplats. The Lapua Scenar is far more consistent with excellent quality control. But that consistency comes at a cost. The price of the 22cal 77gr Lapua Scenar is about 30% more than the 22cal 77gr Sierra Match King.
Some closing thoughts regarding 2014 SHOT Show. The tone of the show was a lot more mellow than last year, specifically because the 2013 SHOT Show followed so closely to the Sandy Hook incident and there was a lot of political and ideological fervor.
Also, to be honest, it felt like there was less media at the show. Hanging out in the Press Room in the mornings, there were still a lot of people there, but it just seemed like less than in prior years. I'm always aware of photographic and video gear and I didn't see much of it around than I expected.
Of the media I saw on the show floor, the large majority of it was focused on video, whether it be for the major television production companies or video bloggers.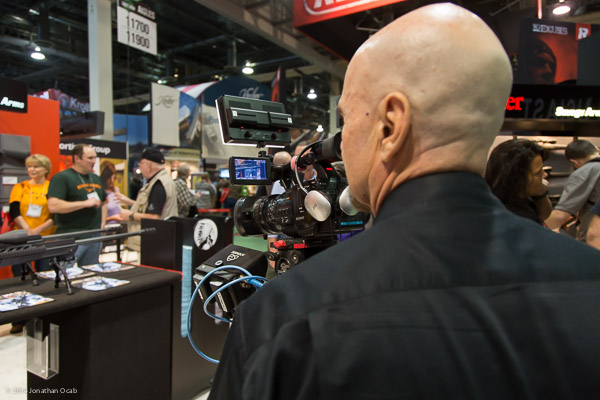 I think this is mainly because video is becoming more easily consumable on mobile devices. In conjunction with the fact that many prefer to watch and listen to someone speak the news rather than read the news, the videography trend at SHOT Show will continue become more dominant.
Added 2014-01-17 @ 1800 PST: While it felt like there was less media, I sensed that there were more attendees than in previous years. I got this feeling by the amount of foot traffic in the eateries within the Palazzo and Venetian hotels that are connected to the Sands, during all hours of the show. This hunch was confirmed by a statement from SHOT Show organizers indicating that there were 67,000 attendees at the 2014 SHOT Show, setting a new record for SHOT Show attendance.
Anyway, this completes my recap of SHOT Show 2014. The items and thoughts I discussed are not even 1% of all the items at SHOT Show, so definitely seek out other recaps on the web to find more info about any new offerings from your favorite brands that I didn't cover.
Special thanks to Team Glock for signing posters and Glock 19 magazines for me at the show. Much appreciated.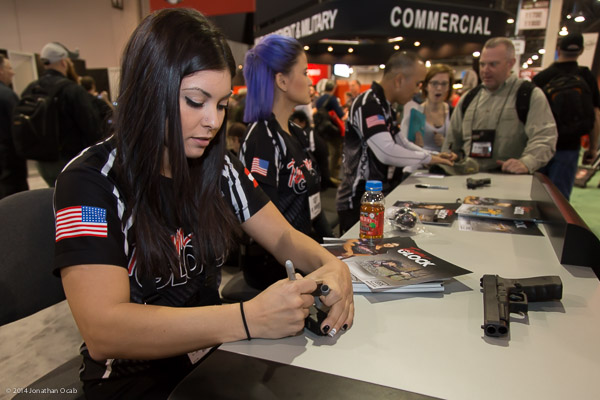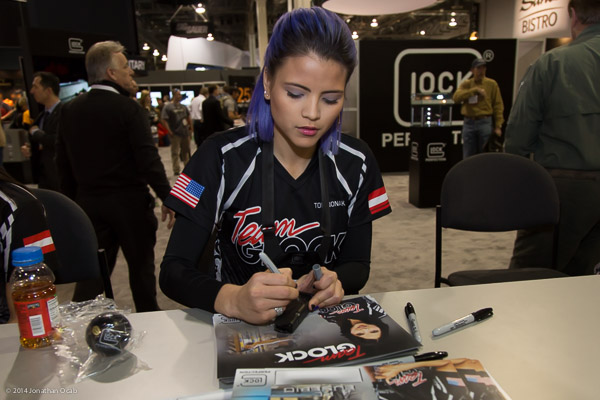 Shout out to the guys at Raven Concealment Systems for the free Vanguard 2 holster for my Glock 27. I need to give this a whirl and dedicate some time to it for a write-up.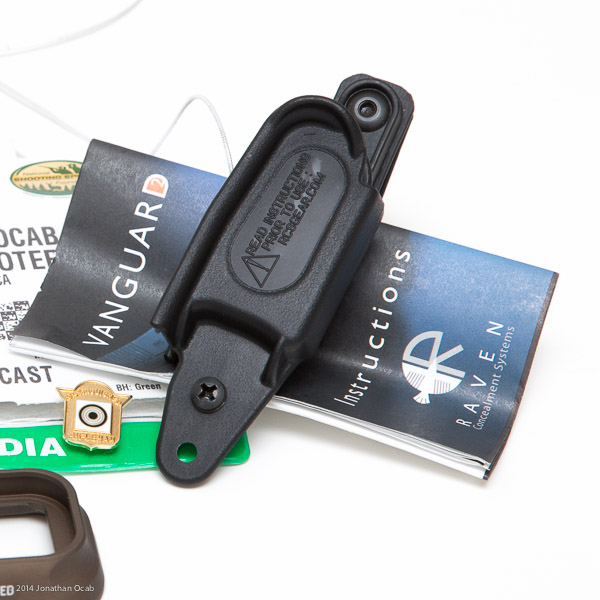 Also, thanks to the EMT on staff who wrapped up my foot and ankle on the second day of the show. I had a foot sprain that was becoming unbearable to walk on. Odd since I've never had an issue walking the show in previous years.
Come back to my blog if you are interested in the ALG Defense flared magwell see in the previous photo. I plan on committing time and effort into a write-up on it.
Please note that as I indicated in Part 1 of my 2014 SHOT Show recap, I'm taking the opportunity to give a way a Hornady hat signed by Jessie Duff, current shooter for Taurus, Hornady, and Leupold, and recently named USPSA Grand Master.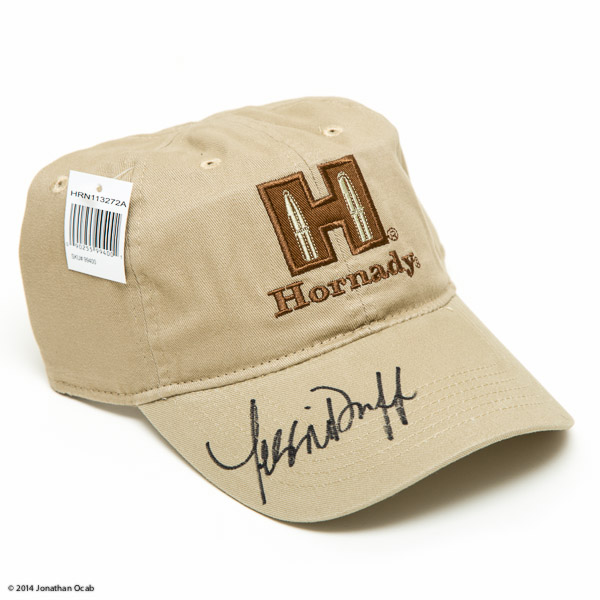 To win this hat you must do two things prior to 0900 PST on February 3, 2014.
First, simply tweet the link to this blog posting or use / retweet this tweet message:
Check out the 2014 SHOT Show recap by @ocabj at http://wp.me/p1VXFZ-1eu #shotshow
*AND* secondly, respond directly in the post comments below (or on any of the 2014 SHOT Show Recap parts) with your twitter handle/nickname. When you make a post comment, use a legitimate email since that's how I will contact the winner (your email address will not be visible to the public).
The following rules will apply to this giveway:
No purchase necessary to enter or win.
You must be 18 years or older to enter.
One tweet from a twitter account with a valid URL to the review article and a mention for @ocabj. Multiple tweets from the same twitter account will only count as one entry.
US residents responsible for any taxes (if any) incurred as winner. If you live outside the US you are responsible for any taxes, custom duties and shipping in the event you win.
Prize will only be shipped to a US address. Non-US winners must be able to retrieve the prize from a US address to be eligible to win.
Anyone using multiple email and/or twitter accounts to enter multiple times will be disqualified.
Randomly selected winner will be contacted via Twitter (if tweet entry) or email (if comment entry) when the winner is chosen. Winner will have five (5) 24-hour periods to respond. If no response received, a new winner will be randomly selected.
Prize (Hornady hat) will be sent via USPS Postal Service.
Family and friends of Jonathan Ocab are not eligible to win. You may tweet or comment on the review, but your tweet and/or blog comment will not be entered into the giveaway drawing. Sorry, but I want to keep this fair (and official). Also, anyone affiliated with ocabj.net or Jonathan Ocab Photography are ineligible for this contest.
This giveaway / contest is in no way affiliated with Jessie Duff, Hornady, Leupold, Taurus or any other company, person, or entity. This is an independent giveaway being conducted by myself (Jonathan Ocab).
This contest ends (winner chosen) on 02/03/2014 at 0900 PST.