I closed out Part 3 of my 2018 SHOT Show After Action Report with photos of Larry Vickers signing his latest Vickers Guide: WWII Germany, Volume 1. Larry Vickers is quite involved in various aspects of the shooting industry, and is affiliated with many brands including Blue Force Gear, Aimpoint, and Glock.
Speaking of Glock, I took a look at the new Glock 19X while walking the show floor.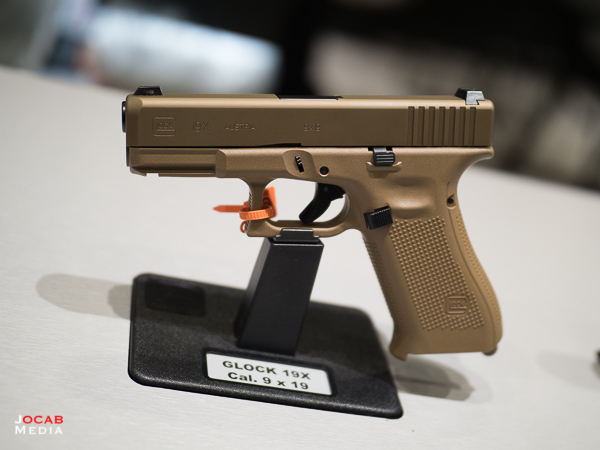 Most everyone into handguns has heard about the 19X ever since it leaked on New Years Day. In summary, the Glock 19X is a Glock 19 slide on a G17 frame. I know this sounds an overgeneralization, but this is the core of what the 19X is.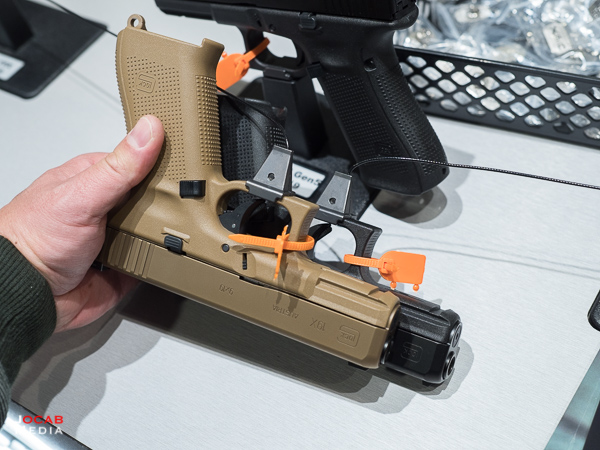 Ultimately, the G19X has all the features of the Generation 5 Glock. The G19X comes in a coyote nPVD coating, and not Cerakote like the Lipsey's Flat Dark Earth guns of years past. The G19X also sports a new Glock Marksman Barrel (GMB), as dubbed by Glock. They claim this has enhanced polygonal rifling and an improved crown for better accuracy.
The frame of the G19X has a distinctive lanyard.
I read a statement that said the G19X is Glock's equivalent of a Colt Commander. Full size frame with a compact slide.
I honestly understand why you would want this from a non-CCW standpoint, but I would have to really open carry a gun a lot (e.g. LEO or MIL) in order to gain the benefits from the G19X form factor. There is a lot of backlash saying the G19X does not make sense and for carry use, the full size grip is useless. But if you take the approach that this gun is meant for duty use and now concealed carry, then the G19X form factor does have its place in the market.
In previous years SHOT Show After Action Report, I mentioned that Glock really needs to expand into the "Custom Shop" strategy like other manufacturers (e.g. Smith and Wesson, Sig Sauer) in order to create more revenue streams. The GMB is somewhat of a step in the right direction, but the GMB is a standard feature on all Gen 5 pistols.
If Glock were to offer a 'Professional' or 'Custom' series of Glocks, it could get the new and repeat business they are needing, especially when they have already saturated the market with all variants of chamberings and form factors, from sub-compact to full size, from .380 to .45, and single and double stack.
For instance, Glock could create a "Custom Shop" G17 and G19 with a match grade barrel, user configurable sights, an enhanced trigger, and perhaps forward slide serrations, at a cost $200 to $400 above the base price. This would help Glock tap into the consumer that wants more from their supposedly perfect base Glock, and who still opts to add aftermarket triggers, sights, and barrels. If people are willing to spend more with companies like Zev Technologies and Lone Wolf Distributors for upgrades, Glock may as well offer these directly to the willing consumer.
Anyway, the MSRP for the G19X is $749 USD, but I have seen online pricing of just under $600, and supposedly Blue Label (LEO) pricing is just above $450. To be honest, I see this gun being a hard pass by most except for the true Glock fans.
There is one pistol that did get me excited and sad at the same time. Excited because I think it is a significant new handgun that could make an impact on the CCW market. Sad because we will not be able to get them (easily) in California.
The Sig Sauer P365 is the pistol in question.
The general consensus by all the Sig fans and non-Sig fans is that the P365 is the hottest pistol for the CCW market. Why?
On paper, the Sig Sauer P365 is a sub-compact 9mm with a 10-round magazine, or a 12-round magazine in an extended grip. It achieves this with a double-stack / staggered magazine. But it does all this while maintaining a slim profile on the grip, so it is just slightly wider than a single-stack 9mm, but no where near as wide as a Glock 26.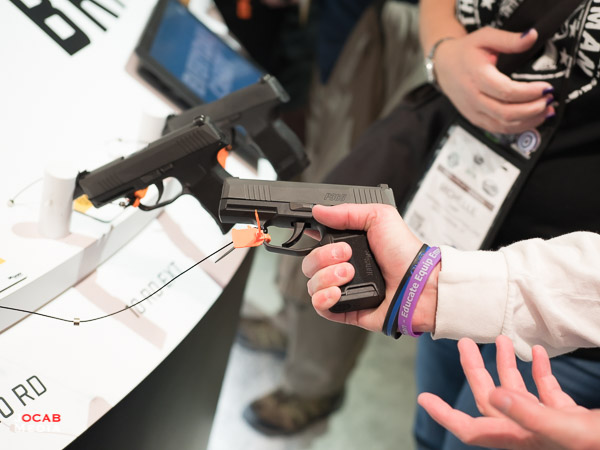 Even though it is a slim subcompact pistol, the extended grip still allows the pinky finger to get around the grip for most people. Men and women alike are appreciating the form factor of this striker fired pistol. The trigger pull is above average in terms of feel. Not very spongy, and it has a distinct break. The pull weight is about 5lbs, although this can vary depending on the springs.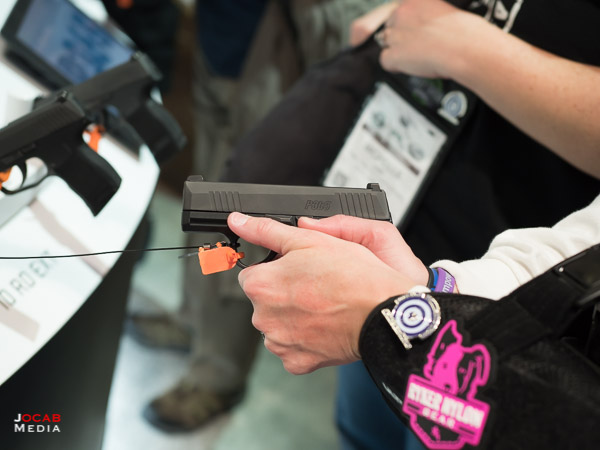 The Sig P365 comes in just a shade lighter than the Glock 43 with an unloaded weight of 500 grams vs 509 grams, which is negligible. But the key difference here is the fit of the grip in the hand. In my opinion, the P365 is just that much better than a sub-compact Glock.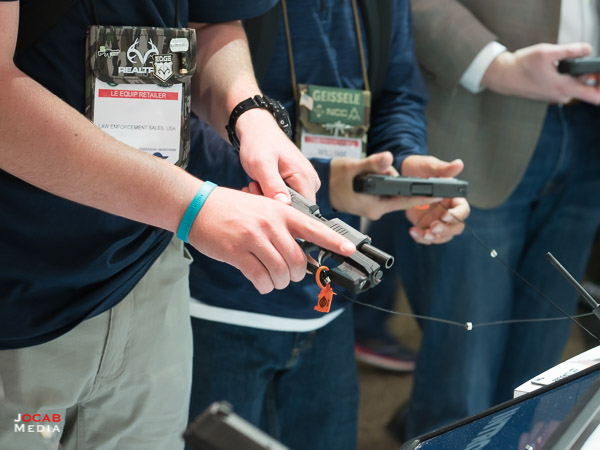 There is no doubt a lot of people left SHOT Show 2018 highly impressed by the Sig Sauer P365. Barring any bugs or production issues, I anticipate the P365 will be a highly sought after CCW pistol. With an MSRP of $599 USD, Sig Sauer P365 units will move briskly.
Sadly, just like any new pistol introduced to the market, the Sig Sauer P365 will be unavailable for sale in California, except to Law Enforcement Officers. While some units will eventually trickle down to civilian hands (and legally), general California citizens will be left out in the cold.
While on the factory firearms topic, there is one rifle that I wanted to check out and that is the Ruger Precision Rimfire.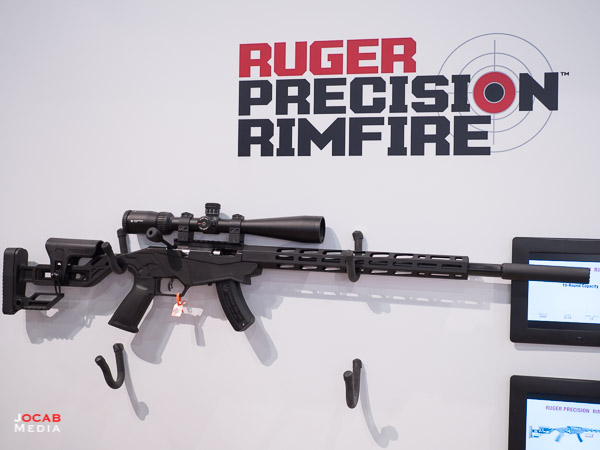 The Ruger Precision Rimfire is the rimfire (obviously) version of their popular Ruger Precision Rifle aka RPR. I will admit that I have little to no experience with the Ruger Precision Rifle, but based on what I handled of the RP Rimfire, it has a very similar feel to the centerfire RPR. The trigger is from what I understand, the same one used in the RPR.
The bolt throw is 70 degrees, and can actually be configured to either operate for the length of the rimfire bolt, or the length of a centerfire cartridge. This will allow Ruger Precision Rimfire owners to practice with their RP Rimfire as if it were their Ruger Precision Rifle in terms of operating the action.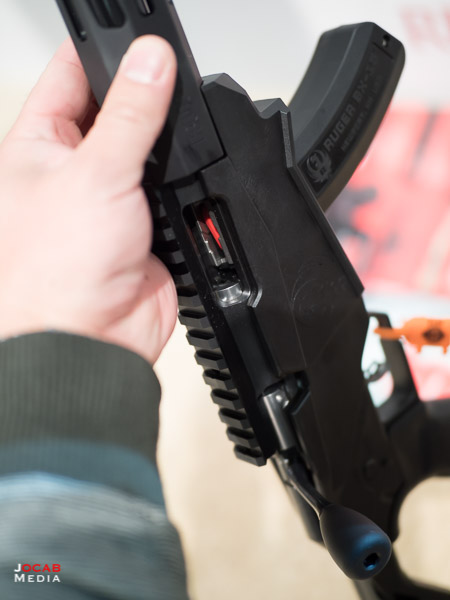 The Ruger Precision Rimfire accepts all 10/22 magazines, so magazines are easy to come by.
The Ruger Precision Rimfire also has a switch barrel feature, just like the centerfire RPR, allowing user barrel swaps with AR-15 wrenches.
While the Ruger Precision Rimfire is a very interesting rimfire bolt rifle, I think it is only going to be desirable for people who already own a Ruger Precision Rifle, or who simply like the RPR chassis system. Even though the MSRP of $529 is very enticing, I feel the venerable CZ 452/455 series of rifles are still the better budget rimfire bolt rifle platform for all other shooters.
I may be biased because I have a CZ 455, but given that you can get Varmint barrel CZ455 for $500 or less, and have access to plenty of aftermarket accessories, the CZ 455 makes more sense if you are not already on the Ruger Precision Rifle platform.
One low key rifle that I handled while at the 2018 SHOT Show that is worth mentioning is the new Mauser M18.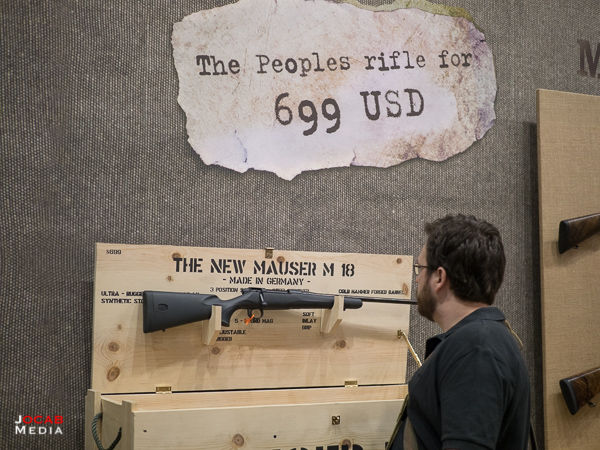 The Mauser name is rooted in the long history of German rifles and it has changed hands a few times in the course of history. Believe it or not, the current Mauser rifle company, Mauser Jagdwaffen GmbH, is owned by the same conglomerate that includes SIG Sauer.
The M18 is an interesting rifle in terms of the heritage. It is a far cry from the WWII era Mauser M98 that many firearms enthusiasts are familiar with. Lacking a full length external extractor, the M18 uses a smaller extractor for a controlled round feed design with a three lug bolt.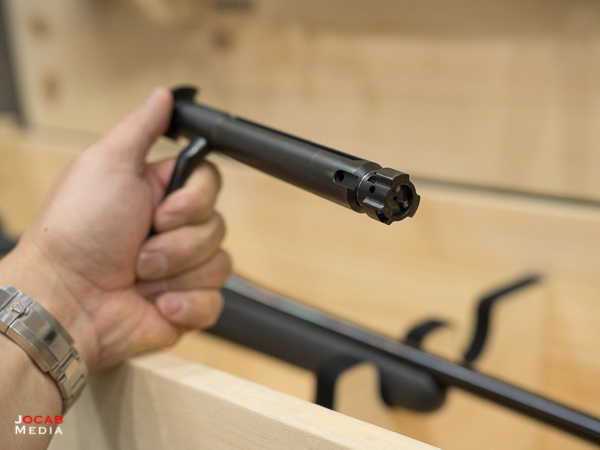 It handles nicely for a hunting oriented rifle and the action is smooth and the trigger pull is actually crisp and adjustable, and has 22″ barrels (24.5″ for the magnum cartridges).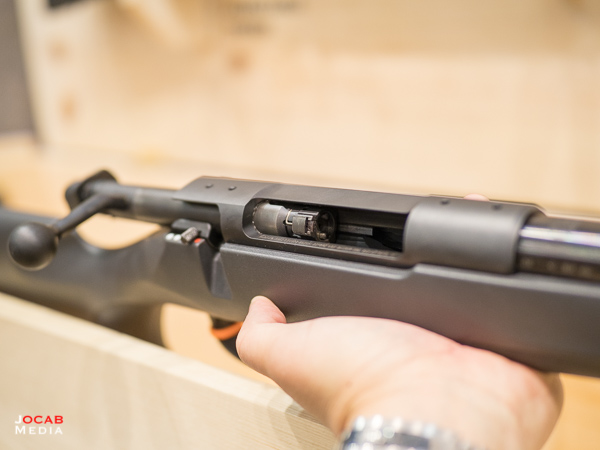 With an MSRP of $699 USD, it will be available in .308 Winchester and .30-06 Springfield, along with .243 Winchester, .270 Winchester, 7mm Remington Magnum, .300 Winchester Magnum, and 6.5mm Creedmoor. The rifle will be distributed stateside by Blaser USA.
I honestly do not see much success for this rifle in the United States. From a design standpoint, the M18 looks solid and controlled round feed rifles make for good hunting guns. But the hunting rifle market in the United States is dominated by several US manufacturers, and while Remington is losing market share in some regards due to deteriorating reputation for quality control, I do not see the Mauser M18 making much of an impact. If Mauser could come in at a sub-$600 USD price point, then I would say things would be a lot different. Of course, Mauser will need to get some really good word of mouth and favorable reviews of the M18 in order to get this rifle selling in the US.
I will end Part 4 of my 2018 SHOT Show After Action Report with a mention of the National Rifle Association, who is always visible on the show floor.
They had an interactive virtual reality concealed carry scenario to promote the NRA Carry Guard program. NRA Carry Guard is a program from the NRA designed to train persons that carry a concealed firearm on how to safely, effectively, and appropriately deploy a firearm in self-defense, but also how to handle themselves after an incident were to go down.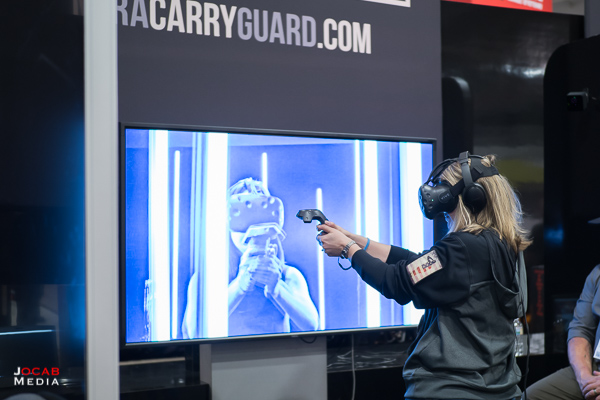 There are other issues beyond the actual self-defense action itself. There is going to be the questioning by law enforcement, possible arrest, interrogation, and the threat of charges or lawsuits. NRA Carry Guard is oriented on training and educating law abiding citizens on what it means to carry concealed.
NRA Carry Guard also promotes an insurance program meant to provide legal assistance in the event someone has to use a firearm in self-defense and needs legal representation, as well as civil protection.
Note: I ended up going through the virtual reality scenario and sadly was killed. While I consider myself and adequate pistol shot, the issue at hand during the VR simulation is when is the right time to draw and pull the trigger, from a legal standpoint. So my hesitation got people killed as well as myself in the simulation. The instructor administering my scenario let me run through it again whereby I dropped the perpetrator.
"The defense department regrets to inform you that your sons are dead because they were stupid." Goose, Top Gun
It was actually an interesting simulation to go through if you take it seriously, and not like a video game. We all train at the range on how to draw fast and shoot fast. But a very small percentage of us actually trains in any sort of true-to-life scenario or simulation to exercise *when* to actually draw a firearm in self-defense and/or to protect the life of another.
That ends Part 4 of my 2018 SHOT Show After Action Report. Stay tuned for Part 5 either by checking back on the site regularly, or referring to the 2018 SHOT Show After Action Report – Part 0 / Index article.