In Part 1 and Part 2 of my 2023 SHOT Show After Action Report, I covered bolt rifles and various optics, respectively. There were other notable new products in other segments that caught my eye.
Glock was present as usual, although they really didn't have anything particularly new. It is Glock, after all.
However, they did have one new product that could signal where I expect Glock to expand into.
Glock announced a new in-house manufactured Performance Trigger. There are plenty of aftermarket Glock triggers out there and it makes sense that Glock will try to get into the upgraded parts segment for their own pistols.
It is advertised as a flat shoe trigger and while there is no official trigger pull weight specification, claims of 3.5lbs are being thrown around via word of mouth.
The Glock Performance Trigger sells for $99.99 USD straight from the official Glock online store and is currently available for the G17 Gen5, G19 Gen5, G19X, G26 Gen5, G34 Gen5, G45, and G47.
This is not very exciting news, but I wanted to report on this because I felt that Glock has very limited growth at this point. They have full-size, compact, and sub-compact models of all their pistols in all of the popular pistol cartridges. Other than creating new generations of Glocks with design changes, Glock really has nowhere else to go but into the parts arena and possibly a "pro shop" line of guns.
I anticipate Glock will start producing magazine well flares, stylized slides, and custom barrels and then possibly start manufacturing more tuned competition and defense guns with limited production. Think Smith and Wesson Peformance Center or Sig Sauer Custom Works guns.
Time will tell if the Glock Performance Trigger is the beginning of a new direction for Glock.
Passing by the Capstone (Berger and Lapua) booth, I gawked at the display for the recently announced Lapua Long Range and Super Long Range .22LR ammunition.
These are brand new offerings from Lapua oriented towards rimfire shooters that are regularly engaging 100 yards and beyond.
Both Lapua .22LR Long Range and Super Long Range ammunition are advertised as having a 40 grain bullet with 0.172 G1 ballistic coefficient, traveling at 1106 fps muzzle velocity.
Given how Lapua tiers Center-X and Midas+ ammunition, I anticipate Super Long Range will be the same as Long Range, where lots marked Super Long Range will be those with lower standard deviation.
Lapua is expecting to release Long Range and Super Long Range ammunition in Q3 2023.
Magpul was naturally pulling in a strong amount of attendees to their booth because of their fan base.
I rolled by to take a look at a product I saw online prior to SHOT 2023 in the form of a new case divider system dubbed the DAKA grid organizer.
The DAKA grid organizer is made out of a material similar to closed-cell foam, but much more firm. The grid is sized specifically for cases and utilizes grid blocks that fit into the grid (like Lego blocks) to create the space for the items to hold
The DAKA grid is currently available for the Pelican 730 Vault and 800 Vault cases, with plans to make the DAKA grid for the Pelican 1720, Pelican 1750, and Plano AW 42 cases. I asked about heat and was told the grid and grid blocks have held up to high heat in testing (hot vehicle storage) and exhibit minor compression wear after heavy use.
It is an interesting solution for hard sided cases as opposed to cutting foam. I am not a fan of hard cases for general transportation to and from the range. They're just too heavy and bulky, when soft cases provide enough protection for most range trips. That being said, I am also not a fan of cutting foam. Cutting foam specifically for the shape of a rifle is ideal for proper protection. However, I will not carry the same rifle in a case all the time. Not to mention I am likely to change my rifle configuration which will negate the hand cut foam
The DAKA grid gives the user the ease in which the case configuration can be altered to fit the gun being transported.
The current prices for the DAKA grid system for the Pelican Vault 730 and 800 are $139.95 and $159.95, respectively, and the DAKA block expansion kit runs for $29.95. It is a pricey upgrade to a Pelican case. If you have to use a hard case (e.g., airline check-in) on a regular basis, the Magpul DAKA grid organizer might be a viable solution for you.
I came across the Leofoto USA booth in the 1st level of the Venetian Expo after noticing their banner display showing that Leofoto is the second most used tripod in PRS just behind Really Right Stuff.
It is not clear when this data was obtained, but I will hazard a guess there was a poll taken amongst PRS shooters recently.
For those who do not know Leofoto, they are a Chinese company that has been making photography support equipment for the past several years. They have received more notoriety in the past few years as they have been copying Really Right Stuff designs and selling their own versions for around half the cost of RRS. This issue is a conversation for another time as I simply wanted to share the "tactical table" that I saw on display.
This item is marked as the Leofoto FDM-05 and appears to be their version of the so-called "tactical table" or "tac table" as it is often referred to in the precision rifle community. Tac tables are used on tripods as a platform to place a bag on which a rifle can be rested to take a shot.
The FDM-05 design is a bit interesting in that it uses a multitude of what appear to be 1/4-20 and 3/8-16 threads for the attachment points and no MLOK slots. It also has an added feature of being able to fold up courtesy of a hinged design.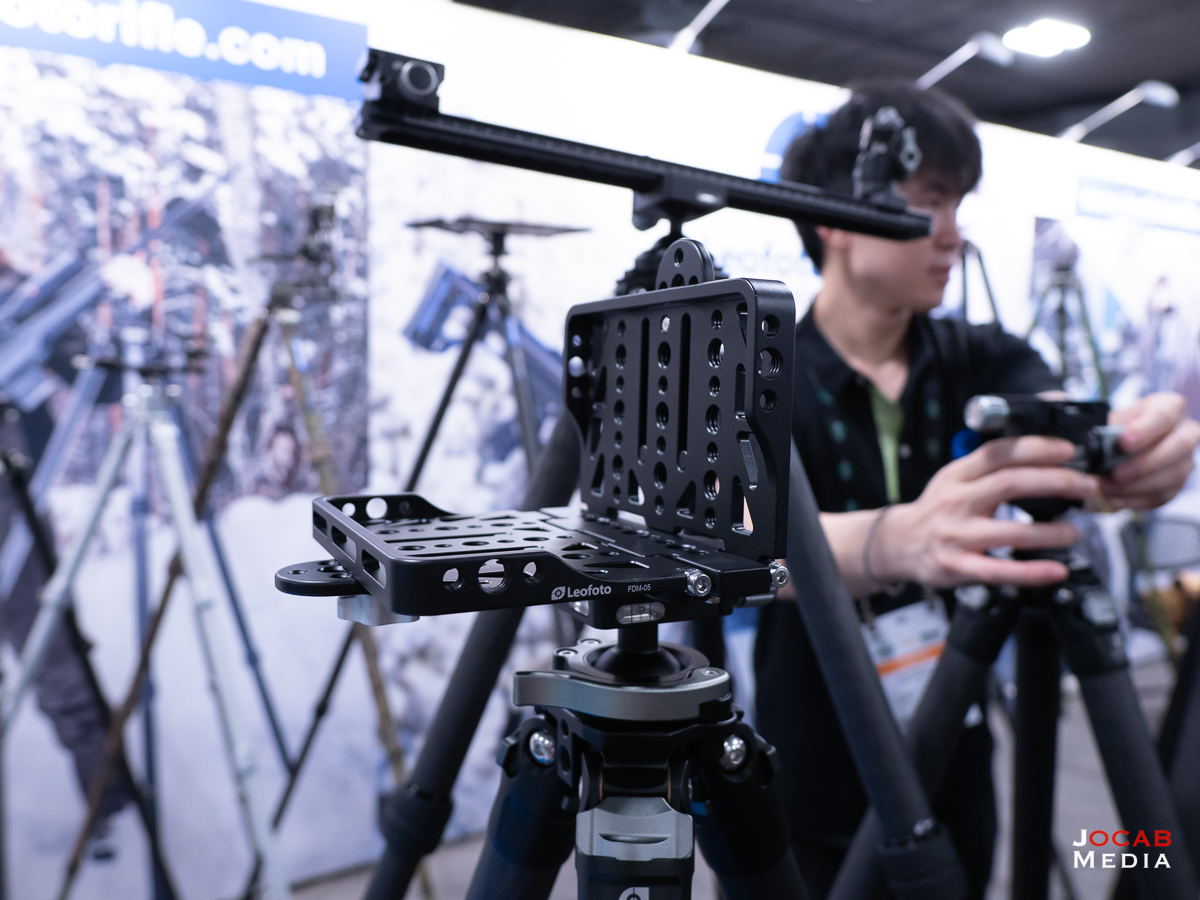 It is an interesting product. Unfortunately, I walked away from the Leofoto booth without getting further details on the FDM-05 such as pricing and availability because I assumed it would be on their website. The Leofoto FDM-05 is not on their website and does not show up a Google search at the time I am writing this. I am honestly a bit intrigued by this product and would like to see the pricing whenever it is publicly available.
In my opinion, MDT had the most interesting project in development on display at SHOT 2023.
On the show floor, MDT had a prototype of an electronic trigger. The trigger is a Remington 700 compatible trigger that is internally electronic. The trigger shoe does not move when pulled. The internal electronics sense the amount of pressure on the shoe to actuate the sear.
There is no take up or creep on the trigger shoe, however, there is also no trigger over-travel. All I can say is that the trigger just feels weird when dry firing it. The fact that there is no over-travel makes me pause to think about how the shooter's trigger pull must be even more precise in motion to prevent any improper applied force on the firearm to take it off target during the lock time all the way to the bullet exiting the muzzle.
It was interesting to observe a USB-C port on the bottom of the trigger where it can be charged.
I have some initial reservations about this electronic trigger prototype, but am willing to keep an open mind. It would be great live fire a rifle using this trigger to get a better understanding of how it responds in actual use. Granted, someone pointed out to me that this is akin to electronic triggers in paintball markers (guns), so perhaps this is the natural evolution of triggers.
Another new electronic item at the MDT booth during SHOT 2023 is their shot timer offering.
MDT refers to it as a Training Shot Timer and the name of the product actually reflects the target audience. Shot timers by and large have been produced specifically for competition use to be employed during a stage to start the shooter's run, time the run, and that's it. People have adapted shot timers for personal training use to record times and splits between shots, magazine changes, transitions, etc.
With this in mind, the MDT Training Shot Timer makes design choices to facilitate shooter personal training. For instance, the shot timer can be programmed to facilitate drills.
Here is one generic but common scenario. I will go to the range and setup two IDPA or IPSC targets at varying ranges. I will time myself drawing from holster and putting two shots on each target and repeat. This requires me to constantly hit the start button on my timer for each iteration.
With the MDT Training Shot Timer, I can set the timer to iterate this for me without me needing to hit start every time. What I can do is set the timer profile to start and have a specific set time and then have a gap such as 30 seconds to automatically restart a new iteration. Thus, I can continuously do 2×2 drills without having to look at or touch my timer.
Additionally, the MDT Training Shot Timer has a phone app feature. The idea is that the shooter can set up a phone and connect it to the timer. From there, the shooter can record video of themselves during the drills and the shot timer will send the data to the app and overlay the times onto the video. This is a great training aid in that the shooter can watch themselves post-range session to analyze their performance and areas of improvement.
The unit itself feels a little fragile. I am unsure of the materials used for construction of the housing. Although, it felt comparable to the housing of a CED 7000. It has a magnet in the housing so I can be mounted to a clip mount or attached to any ferromagnetic objects (e.g., a steel barricade).
The screen is definitely higher quality than a CED 7000 and is probably on par with the Kestrel KST1000 screen, and what I gathered, it has a proprietary internal battery with USB charging.
The price I was given for the MDT Training Shot Timer is $299 which puts it at the Kestrel KST1000 price point and above all the other shot timers on the market.
I think this timer is an interesting product. However, I don't know if I would take this over the Kestrel KST1000. While the additional training features in the MDT timer are handy, I prefer having the ruggedness of the Kestrel. I am not sure how durable the MDT Training Shot Timer will be.
I did take the opportunity to take a look at the production version of the new MDT ACC Elite chassis. The original ACC has been renamed to the ACC Premier and the new generation is the ACC Elite.
Rather than recapping all the features of the MDT ACC Elite, I will direct readers to the MDT product page which outlines all the ACC Elite features.
I will say that the MDT ACC Elite looks highly enticing with the new SRS-X Elite Buttstock that has quick butt plate adjustment and new weight system. Furthermore, they have a more tuning capabilities for the magazine fit (key for rimfire actions).
The MDT ACC Elite is $1599.95, however, it is almost guaranteed that more money will be spent on the chassis to get additional accessories (e.g., weights, foreend bridge).
I will admit that it is highly likely I will be acquiring an MDT ACC Elite chassis for my Vudoo Gun Works V-22. If and when this happens, I will give a full breakdown of why I did.
One observation many are making of MDT is that they are really trying to become the biggest name in precision rifle. While their chassis systems are well regarded, they branched out by acquiring the CKYE-POD (many don't know that MDT didn't create the CKYE-POD), and recently acquiring Long Range Arms who is known for their electronic levels. It will be interesting to see how MDT continues to develop the brand.
Closing out Part 3 of my 2023 SHOT Show After Action Report, I did want to mention that I finally got to meet and speak with Emil Praslick.
For those unaware of Emil Praslick, he is a highly-respected shooter and I was already aware of him back when I used to shoot competitive Service Rifle in the 2000's, as he was the Head Coach of the Army Marksmanship Unit at that time.
The day prior to the above photo, I was in the Capstone booth to see the ammunition and then happened to ask Emil Praslick about Berger Hybrid Target vs Long Range Hybrid Target bullets. He noticed the Distinguished Rifleman pin I had on my show badge holder and asked when I went Distinguished. We proceeded to have a conversation about Service Rifle, military ranges, and various other topics. It was very pleasing to have met Emil Praslick officially given my history in competitive Service Rifle.
Check back later for Part 4 (and likely the last segment) of my 2023 SHOT Show After Action Report.