I ended Part 2 of my 2015 SHOT Show After Action Report with a mention of the presence of shooting celebrities at the SHOT Show. It is only natural for well known industry personalities to be at SHOT Show since they not only represent shooting and the outdoor sports, but they also promote their respective sports and disciplines.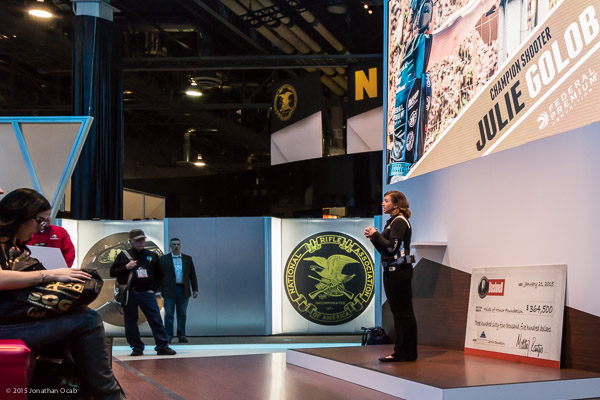 SureFire is probably one of my favorite brands and they always have a strong presence at SHOT Show. They have several new products, but I feel that the most noteworthy is the XC1 pistol light.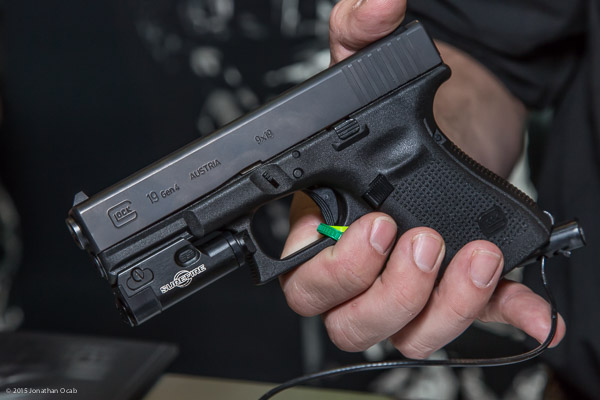 The XC1 is a compact pistol light that fits flush against the muzzle of a Glock 19. It puts out 200 lumens of light for 75 mins, powered by a single AAA battery. Quite impressive to say the least.
I think many existing X300 Ultra owners will prefer to stick with the X300U simply because of the 500 lumens of light that the X300U offers. But I know many who want a light that doesn't protrude past the muzzle of the pistol, or want a compact light for concealed use. The XC1 brings these characteristics to the table.
Unfortunately, the price is still to be determined, and the release date is targeted for Q2. Assuming this is accurate, we might see the XC1 in retailers by June, but SureFire has a reputation of running long on their release dates (e.g. X400 Ultra Green Laser).
I would expect the XC1 to probably come in at the same price as an X300 Ultra. Even though the X300 Ultra is more than twice as powerful in terms of light output, I think the compact form factor and 200 lumens from a single AAA technology will offset the lower power output in cost to benefit ratio.
While not as glamorous as the XC1, one other notable new product from SureFire is the PMX Fury.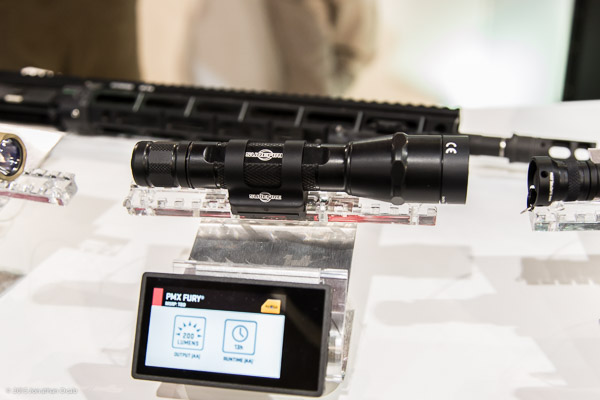 The above photo is a prototype model. The PMX Fury portrayed in SureFire product photos has the same body styling as the P3X Fury.
The PMX Fury is essentially the same form factor as the P3X Fury, but with a key difference: The PMX will accept either three CR123 batteries or two AA batteries.
When powered three CR123 batteries, the PMX Fury puts out 1000 lumens or 15 lumens (dual output) with the same runtime as the P3X Fury (2.25 and 60 hours, respectively). When powered by two AA batteries, the PMX Fury will output 200 lumens of light for 12 hours, and approximately 5 lumens on low (dual output).
I felt this new product is worthy to mention because there is the desire by some to have a light that can accept two different battery types. While CR123 batteries have been great for the handheld flashlight user in terms of providing power for high output LED lights, in an emergency situation, it will be invaluable to have a light that can accept more commonly found (note: scrounged) batteries.
Price and release date is still TBD.
I just recently started carrying a variation of an Every Day Carry (EDC) bag which I am going to write an article on in the very near future, so I find it fitting to bring up Leatherman.
One new item of note is the Leatherman Signal. The Signal is best summed up as a MUT for the outdoorsman. For those that have never heard of the Leatherman MUT, it is the Military Utility Tool specifically targeted for military use due to the various integrated firearms tools (see review). While the MUT has firearms tools, the Signal has tools for the outdoors survivalist.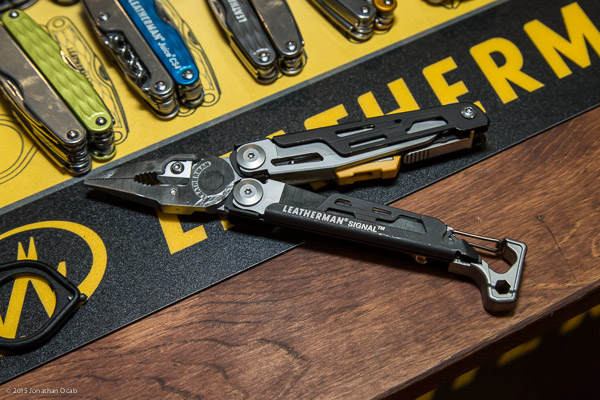 It has the commonly found Leatherman tools including pliers, can opener, saw, awl, and removable pocket clip, as well as a hammer, replaceable wire cutters, diamond-coated file, and bit driver. But the kicker is the inclusion of a ferrocerium fire starter and whistle tool. Simply take off the fire starter and rub it against the saw tool and it will create sparks to light kindling. That same fire starter tool also doubles as a whistle (signal tool).
The Leatherman Signal will definitely find it's way into the bags, packs, and/or vehicles of so-called preppers.
Leatherman also released what I think is a very interesting product dubbed the Tread.
The Tread is a wearable multi-tool that functions as standalone bracelet (Tread), or comes as a watch (Tread QM1).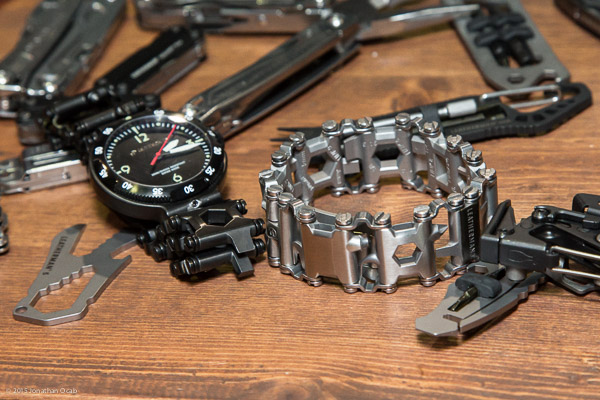 For those not familiar watch bracelets, metal bracelets are created by several links attached together (typically using screws or pins).
Each link in the Tread bracelet has 2 or 3 individual tools on it, such as a Philips head screwdriver, hex driver, cutting hook, glass breaker, or box wrench. Links are connected via a screw and connector bracket.
Since links are also individually available, the user can customize the Tread as needed based on what tools are needed or desired. Depending on how many links a person needs to get a Tread on the wrist, they could potentially have 20-25 different tools on the wrist.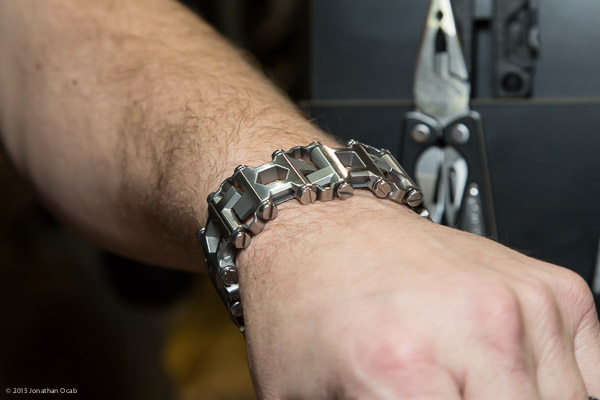 Since the Tread is user customizable, it is quite possible that the selection of 12 different links at launch could be expanded with more tool offerings, such that a Tread owner could then integrate new links as they become available.
Made out of hardened 17-4 stainless steel, the bracelet links are available in polished stainless or black DLC.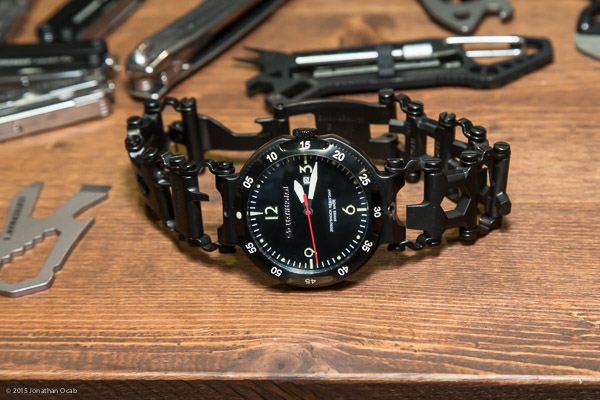 I didn't get much information from the representatives regarding the watch. All that I could gather is that it's a Swiss-made quartz movement in a 300 series stainless steel case, with a domed sapphire crystal. I figure this is just a run of the mill quartz movement. The bezel does rotate and has water resistance to 200 meters.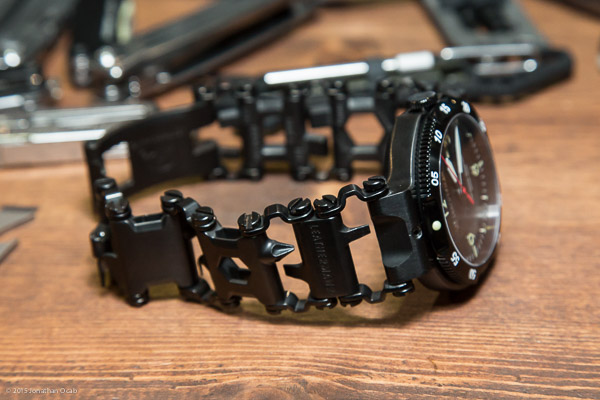 I don't put much stock in the watch, but what I did remark to the Leatherman representative, half-jokingly, is that Leatherman should make the Tread to fit watches with standard spring bars since "people with Rolex Submariners might want to wear the Tread." The response was, "that is the next evolution of the Tread." I'm not sure if this means they have already thought about this, or if he simply suggested that if they do develop the Tread further, that's one route they'll take.
Anyway, I think the Tread is a very interesting product and while I don't see myself wearing one at this point, it will be very interesting if they do make a version of the Tread that is capable to be worn with a watch with 20 or 22mm lugs and spring bars.
The Tread is technically TSA-compliant, so this could be a great option for the travelers as well.
The one reloading related item that I was interested in is the Sierra Tipped Match King in 77gr for .224″.
At the 2014 SHOT Show, I saw 5.56 77gr Tipped Match King ammunition in the Black Hills catalog and questioned them about it. They said Sierra made the bullet, so I went to Sierra's booth and inquired about it and they had zero information except that they were still testing the bullet and had no data they could give me. [ref. 2014 SHOT Show Recap – Part 3]
Sierra finally released information about the 77gr Tipped Match King in December 2014 and had them on display at this year's SHOT Show.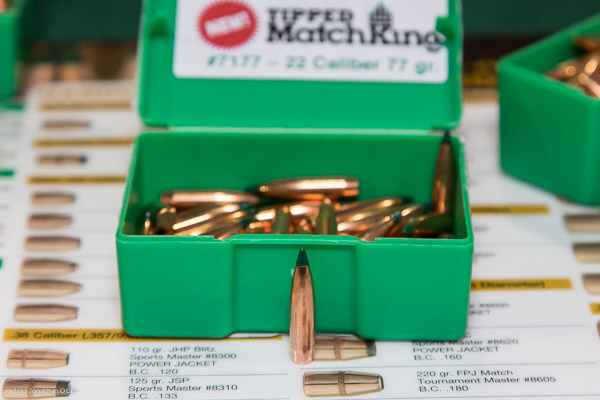 For those that don't know, I competed heavily in High Power Service Rifle from 2006 to 2010 (NRA Master classification, Distinguished Rifleman #1924). The majority of High Power Service Rifle shooters (AR-15) use 77gr Sierra Match Kings (or some other 75gr or 77gr BTHP variant) seated to magazine length (~2.260″) for the 200 and 300 yard stages, and an 80gr+ variant for 600 yards, since 80gr bullets have better ballistic coefficient (BC) than 77gr.
Sierra's published G1 BC data for the original .224″ 77gr Match King (code 9377) is:
.372 @ 3000 fps and above
.362 between 2500 and 3000 fps
.362 between 1700 and 2500 fps
.343 @ 1700 fps and below
Sierra's published G1 BC data for the new .224″ 77gr Tipped Match King (code 7177) is:
.420 @ 2400 fps and above
.415 between 2400 and 2000 fps
.395 between 2000 and 1750 fps
.380 @ 1750 fps and below
This is significantly better than the non-tipped Match King of the same weight.
Now compare the 77gr TMK G1 BC data to the Sierra .224″ 80gr Match King (code 9390) G1 BC data:
.420 @ 2200 fps and above
.400 between 2200 and 1800 fps
.393 @ 1800 fps and below
The 77gr TMK essentially matches the 80gr Match King until it drops to the ~2000 fps mark.
The fact that the 77gr TMK can nearly match the 80gr Match King has considerable impact in competition and practical applications.
From the competition standpoint, High Power Service Rifle shooters can feel more comfortable using one single ammunition / load on all three yard lines, rather than trying to run a different round (higher BC bullet) that exceeds magazine length for the 600 yard line. This saves time in match preparation time in terms of having to make two different types of ammunition.
From a practical standpoint, the 77 TMK offers a round that will allow those who have to use magazine length ammunition something that can handle the wind better.
Sierra is starting to ship the first batches now, and I would love to get my hands on a 500 count box to test them out at distance.
Brownells finally moved up to the big hall in Level 2, which is considered the best place to be (along with all the other major manufacturers and brands). While Brownells is primarily a distributor and retailer, I did approach them to discuss their order fulfillment logistics.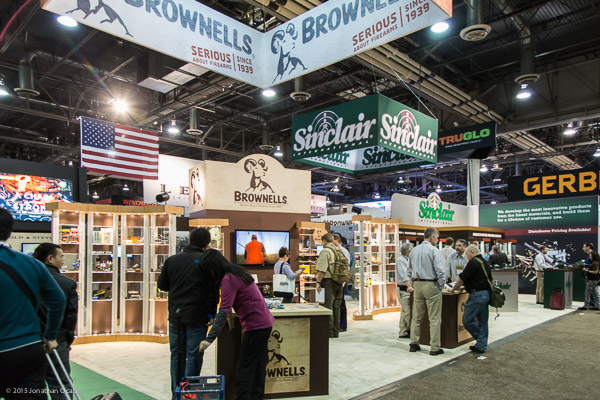 They had a warehouse move recently which resulted in slower order to ship times. Brownells has long been a same day shipping retailer, but since late November through December and into the New Year, they have been taking 24-48 hours to ship an order. The representative I spoke with indicated the warehouse move was a minor factor, but most of order fulfillment slow down was caused by changes in the ordering system and the holiday order rush. But I have been told that they are essentially caught up and they should be back to same-day shipping shortly.
I also questioned Brownells about their new Edge program. For those that haven't heard, Brownells quietly introduced the Edge program in mid-December, and is now pushing it after SHOT Show opened. It is essentially like Amazon Prime for Brownells customers.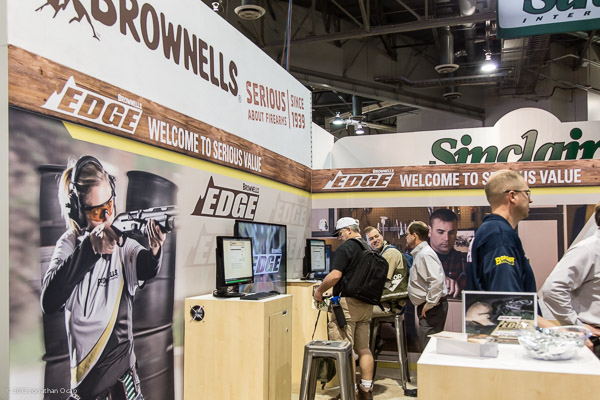 For $49.95 a year, Edge subscribers get
FREE Standard Shipping* On ALL Orders
Discounts On 2-Day & Overnight Shipping
FREE Return Shipping
Special Members-Only Offers & Discounts
As any Amazon Primer subscriber knows, free shipping is a great deal if you order a lot over the course of the year.
My inquiries to Brownells related to Edge was how Edge would affect Brownells current coupon deal patterns. Brownells has long had regular promotions, offering free shipping codes, or discount codes (e.g. $15 off $100, 30 off $200, etc) on a fairly regular basis. I was wondering if such deals would stop now that Edge is in play and the representative indicated that the promotions for the general customer base will definitely begin to slow down in regularity in order to give Edge subscribers the advantages that a paid subscription should have.
I am holding off becoming a Brownells Edge member until I have to place an order, again, but I will sign up since Brownells is where I get the bulk of my firearms parts and gunsmithing tools.
Check this site again for Part 4 of my 2015 SHOT Show After Action Report which should be posted within the next day or two.
For those wondering why I don't post video footage of SHOT Show, I simply don't have the time and resources to do it. While I do post various reviews on Youtube from time to time, video coverage at SHOT Show is an endeavor that needs more than one person to be done effectively. So I leave the SHOT Show videos to the hardcore professionals.